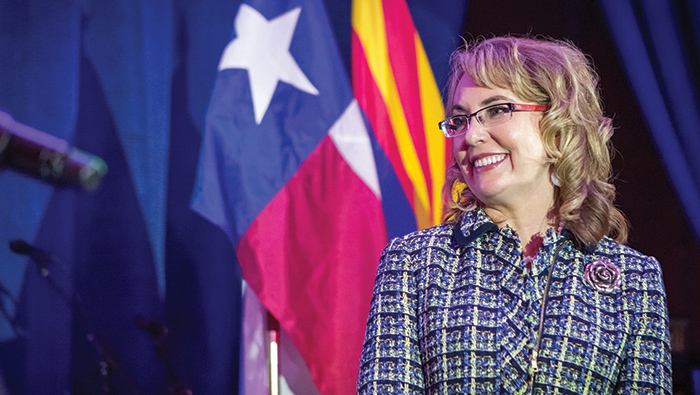 People often reflect and remember where they were and what they were doing at a tragic moment. I remember where I was on Jan. 8, 2011. It was early Saturday afternoon, and I was in the car between running errands when my friend, Gina Nunez, called me and said, "Gabby Giffords has been shot!" Gina is a history teacher and follows local politics closely, so she was keeping a keen eye on Gabrielle "Gabby" Giffords' career path, from her beginnings in the Arizona House of Representative to her third term as the congresswoman representing Arizona's 8th District in the U.S. House of Representatives. But Gabby would not get to complete that third term because a very deranged young man had just shot her in the head at point-blank range.
What began as a positive event called "Congress on Your Corner," where Gabby could meet and chat with her constituents, changed the course of her life forever. That tragic event also ended the lives of Christina-Taylor Green, Dorothy "Dot" Morris, Phyllis Schneck, Dorwin Stoddard, Judge John M. Roll and Gabriel "Gabe" Zimmerman. Twelve other victims were injured but survived.
In the subsequent six years, Gabby has made incredible strides in her recovery. Every time I see her speak publicly, I am inspired and impressed by her courage, grace and strength. While planning our October women's issue, I hoped Gabby would agree to be featured in our cover story. I can't tell you how excited I was when she agreed. We used the Q&A format because Gabby's answers reflect her personality and optimism as she continues her recovery and the public fight to keep our communities safe.
You grew up in Tucson. What are some of your favorite things about the city?
The people! My family and my friends help keep me going every day. My friends in Tucson are constantly checking in and making me smile. I'm so fortunate to have such a wonderful support system in this town that pushes me to stay positive, challenge myself and get the most out of every moment. Tucson is also gorgeous! I love taking the tram through Sabino Canyon and exploring the [Arizona-Sonora] Desert Museum whenever I can.
What jobs did you hold before being a congresswoman?
Growing up, I didn't have any big plans to run for public office. After college, I took a job in New York City working for PricewaterhouseCoopers. In 1996, I left that job to come home to Tucson and take over for my father as the president and CEO of El Campo Tire Warehouses. I wasn't very excited about entering the tire business, but my dad needed help, and when your family needs you, you show up. I had almost no experience! I had to learn the tire business from the ground up. It was a busy first year, but I managed to increase annual sales and make up our past losses. Three years later, after careful consideration, including negotiations for all of our employees' jobs, I sold the company. I then decided to pursue public service and ran for the Arizona House of Representatives.
What do you miss most about no longer being a congresswoman?
Being Southern Arizona's voice in Congress was the greatest honor of my life. I miss the privilege of representing the people of our community – both people who voted for me and those who did not. But I don't spend a lot of time thinking about the past. Today, I'm focused on my recovery and am grateful to be able to serve my community and country in a different way.
Would you consider seeking office again?
I've learned to never say "never" to anything. But right now, I'm solely focused on my recovery and using my second chance at service to help prevent other communities from experiencing the same pain from gun violence that our community has faced.
What has been the most challenging part of your recovery?
The pace. Speaking is still hard for me. My eyesight isn't great, and despite hours and hours of physical therapy, my right arm and right leg remain mostly paralyzed. But instead of focusing on the things that I cannot do, I've tried to focus on the things that I can do and live without limits. I also have a mean left hook!
What have you learned about yourself through the healing process?
I've learned the importance of staying positive and focusing on the things that really matter: my family, my friends and making our country a better, safer place.
In 2013, you began Americans for Responsible Solutions after the Sandy Hook Elementary School shooting. Was this something you and husband Mark (Kelly) had been discussing prior to that?
While our plans were finalized in the aftermath of the Sandy Hook shooting, Mark and I had begun talking about getting involved months earlier. In July 2012, we flew to Europe for a two-week combined vacation and work trip. The day before we left, a gunman opened fire in a movie theater in Aurora, CO, killing 12 and wounding 58 others. On the plane ride over, Mark and I discussed what we could do. We talked about putting out a statement, but we both agreed that wasn't enough. More is needed to be done to bridge the divide between gun owners, like us, and the vast majority of Americans who also want to make our communities safer. After 20 first- and second-graders were murdered in their classrooms at Sandy Hook, we said "enough" and launched Americans for Responsible Solutions.
What do you wish you could have accomplished by now with ARS but have not?
Gun violence is a complex problem, but we've managed to make a good deal of progress in a relatively short amount of time. Since the shooting at Sandy Hook Elementary, we've helped pass more than 200 responsible gun laws in over 45 states and the District of Columbia. However significant, it's never enough. In 2015, more than 36,000 Americans died from gun violence. We know there are some common sense measures that Congress can pass right now to help make our communities safer and reduce the number of people who die from gun violence every year. Our leaders only need the courage to act.
What is the primary goal you would like to achieve with ARS?
There are many things that Congress and states across the country can do to make America safer. One policy that our organization is focused on is closing the gaping loopholes in our nation's background check system that make it far too easy for dangerous people, including criminals, domestic abusers and even known and suspected terrorists, to get their hands on a gun without a background check. The overwhelming majority of Americans support closing this dangerous loophole. So far, 19 states and the District of Columbia have expanded background checks. But we still have a ways to go.
Earlier this year you launched the Arizona Coalition for Common Sense. Tell me about that.
Unfortunately, Arizona is not immune from the gun violence crisis that's tearing our communities apart. So, earlier this year, Mark and I traveled to Phoenix to join a broad cross-section of Arizona leaders – including veterans, gun owners, law enforcement leaders, business owners and domestic violence prevention advocates – in launching the Arizona Coalition for Common Sense. Together, we are committed to urging our leaders to do more to address the state's gun violence crisis, and help make Arizona families and communities safer. We launched this coalition to create a space for diverse voices to come together and discuss how to prevent gun violence and save lives in Arizona. Our country and state are in the midst of a gun violence crisis, and we cannot afford to wait any longer for our elected leaders to act.
What should people do if they want to see different legislation on gun control?
Get involved in your community. Learn about the issues. Talk to your friends and family. Attend town halls. Most importantly, go vote! Civic engagement is a hallmark of our democracy – it matters – and it makes a difference.
How did you and Mark Kelly meet?
I first met Mark on a trip to China in 2003 as part of a Young Leaders Forum that was sponsored by the National Committee on United States-China Relations. The first one-on-one time we spent together was actually by chance. The night before our flight left from Vancouver, I was told to meet up and have dinner with two other people on the trip. As luck would have it, one of those two missed his flight, which left just Mark and I. Our dinner was strictly professional, but the conversation was natural between us. I'm pretty sure I asked him a million questions about his job and space. We talked a little about my work in the Arizona State Legislature and my upbringing in Tucson, but the conversation remained surface
level. After the trip to China, a year went by without any contact between us. It wasn't until I hosted a gathering for all of the trip participants in Arizona that we spoke again and first discussed our personal lives. At the time, we were still just friends, but we started talking more and more, and he soon became one of my best friends. It didn't take long for me to learn that Mark was the smart, supportive and sincere man I had been searching for.
I heard you had an interesting first date. Would you share what happened?
At the time, Mark was training in Houston to pilot the space shuttle, and he was required to log flying hours in a supersonic jet – casual, right? He offered to fly to Tucson to come meet me. As a member of the Arizona State Legislature, I was working on a capital punishment bill and was scheduled to visit the Arizona State Prison system to talk to some folks about the issue. I invited Mark to tag along and give him a look at my life as a public servant. He insisted on sitting in the gas chamber… let's just say our dates after this one were less gruesome, but always adventurous.
Your 10th anniversary is coming up in November. Do you have anything special planned?
I'll choose my words carefully, so I don't spoil any surprises for Mark! I think we are both just looking forward to spending some quality time together.
What are some of the activities that you and Mark enjoy together?
We are both very positive and genuinely enjoy spending time with one another – going out to eat, biking, exploring new places, watching our favorite television shows and traveling. We spend a lot of time on the road for Americans for Responsible Solutions, both together and apart. Sometimes our schedules force us to be apart for longer stretches than we would like. During those periods we talk on the phone and text throughout the day. No matter how busy we get, we always find time to connect. We look forward to the time we get to spend at home in Tucson.
The Navy's newest combat ship is named after you. What were your thoughts the first time you saw the ship with USS Gabrielle Giffords on the side?
My first reaction was "Whoa!" The fact that our Navy chose to give my name to this ship is an awesome, humbling honor – one I would never have imagined, one I will never forget and one for which I always remain grateful. It is difficult to describe the pride and honor that filled my heart when I received notice from Secretary of the Navy Ray Mabus that a ship would bear my name. This past June, I traveled to Galveston, TX, to commission the ship and spend some time with its amazing crew. Those sailors are awe inspiring. They represent the very best of our great country.
Were you raised in a home that practiced Judaism?
My grandfather, Akiba Hornstein, was the son of a Lithuanian rabbi. My grandfather changed his name to Giffords for reasons of anti-Semitism and moved to Southern Arizona from New York more than 50 years ago. Growing up, my family's Jewish roots and traditions played an important role in shaping my values. The women in my family served as strong role models. I am a lifetime member of Hadassah, like my grandmother, and am now a member of Congregation Chaverim.
What role has Judaism played in your recovery?
Perseverance and resilience are such an important part of our heritage. It's something that I draw strength from as I continue in my recovery each and every day.
What are some of your Jewish traditions?
I love to celebrate Hanukkah every year and light the menorah! I also observe Rosh Hashanah and Yom Kippur.
Do you observe Shabbat?
Jewish traditions and customs are very important to me. My work schedule keeps me pretty busy, sometimes more than I would like. But I always try to take some time on the Sabbath to pause for spiritual reflection. A strong family unit is an important part of Judaism, and I enjoy spending quality time with my family, especially my mother, whenever possible.