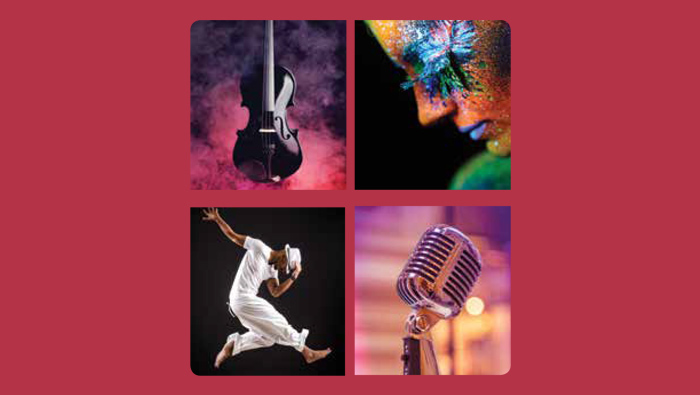 ARTISTS REPERTORY THEATRE
Jessica Gleason, Marketing Manager
1515 SW Morrison St., Portland, OR
jgleason@artistsrep.org
503-241-9807 ext. 108
artistsrep.org
Portland's longest-running professional theatre company, Artists Rep's mission is to produce intimate, provocative theatre and provide a home for artists of varied backgrounds to take creative risks.
CHAMBER MUSIC NORTHWEST
Rachael Smith, Marketing Director
5125 SW Macadam Ave., Suite 125
Portland, OR
smith@cmnw.org
503-223-3202
CMNW.org
CMNW produces and presents exceptional chamber music through over 100 events annually, including Summer and Winter festivals, year-round concerts, outreach activities, educational programs, broadcasts, and innovative collaborations with other arts groups.
LARRY & CO.
1000 SW Broadway, Ste. 1790,
Portland, OR 97205
503-766-3176
Larryandco.com
Founded by Larry Packouz, Larry & Co. is a jewelry boutique and design studio in the Broadway Building across from the Heathman Hotel. Let us custom design a piece of jewelry for you to treasure.
MITTLEMAN JEWISH COMMUNITY CENTER
Len Steinberg, Program Director
6651 SW Capitol Highway,
Portland, OR
503-535-3555
Lsteinberg@oregonjcc.org
oregonjcc.org
The Mittleman Jewish Community Centers (MJCC) offers a wide-range of social, cultural educational, and arts programs. Here at the J, you can attend concerts, films, lectures, exhibitions and so much more!
OPAL 28
510 NE 28th Ave., Portland, OR 97232
971-544-7324
events@opal28.com
opal28.com
Modern charms within a vintage building: two main rooms, full service bar, private patio and guest rooms. Catering, rentals and décor; outside vendors welcome. Parties include: weddings, birthdays, anniversaries, corporate, bar/bat mitzvah & more.
OREGON BALLET THEATRE
Natasha Kautsky
0720 SW Bancroft Street,
Portland, OR
natasha.kautsky@obt.org
503-290-0022
obt.org
A Portland cultural gem, OBT produces world-class performances including full-length, classical ballets and cutting edge, contemporary work. OBT School trains over 700 ballet students and OBT Outreach offers integrated arts learning and performance opportunities.
OREGON JEWISH MUSEUM AND CENTER FOR HOLOCAUST EDUCATION
Judith Margles, Director
724 NW Davis St., Portland, OR
503-226-3600
info@ojmche.org
ojmche.org
Main Exhibits: Through Oct. 1, 2017 – ALEFBET: The Alphabet of Memory, Grisha Bruskin; Oct. 18, 2017-Feb. 14, 2018 – I Am This, Oregon Jewish artists; Feb. 28-May 2018 – Vedem: The Underground Magazine of the Terezin Ghetto.
OREGON REPERTORY SINGERS
Allison Silverberg, Executive Director
5319 SW Westgate Dr., Ste. 134
Portland, OR
503-230-0652
orsingers.org
Oregon Repertory Singers performs world-class music accessible to all. Our professional-caliber adult choir has been lauded as "the city's finest large choir." Our education- and performance-based youth choir program serves children ages 4-18.
PACKOUZ JEWELERS
Rick Mahler, Owner
522 SW Broadway,
Portland, OR
503-228-3111
rick.mahler@packouzjewelers.com
packouzjewelers.com
Established in 1917, Packouz Jewelers is a family owned and operated business in the heart of downtown Portland's historic Broadway district. Packouz Jewelers offers the finest timepieces and jewelry combined with unsurpassed customer service.
PORTLAND BAROQUE ORCHESTRA
1020 SW Taylor St., Suite 200
Portland, OR 97205
503-222-6000
email@pbo.org
pbo.org
PBO produces intimate, historically informed interpretations of music composed before 1840 for a wide audience. PBO educates the community about the composers and historic context of this music through world-class professional performances, outreach and dialogue.
PORTLAND PIANO INTERNATIONAL/SOLO
Ellen Bergstone Wasil,
Executive Director
Lincoln Hall,
Portland State University,
Portland, OR
503-228-1388
ellen@portlandpiano.org
portlandpiano.org
Portland Piano International's SOLO Piano Series annually presents six artists of international renown. Our 2017/2018 season includes Van Cliburn Winner Yekwon Sunwoo, Christina and Michelle Naughton, Sunwook Kim, Lukáš Vondráček, Dénes Várjon and Yuja Wang.
PROFILE THEATRE
Aiyana Cunningham, Donor & Patron Relations
Venue: Artists Rep
1515 SW MORRISON ST.
PORTLAND, OR 97205
Mailing: PO Box 14845
Portland, OR 97293
Profile Theatre is unique in that we devote our entire season to a single playwright. Our 2018-19 special double season features the work of Lisa Kron and Anna Deavere Smith. Experience the world through the lens of their work at mainstage productions, In Dialogue readings and community conversations.