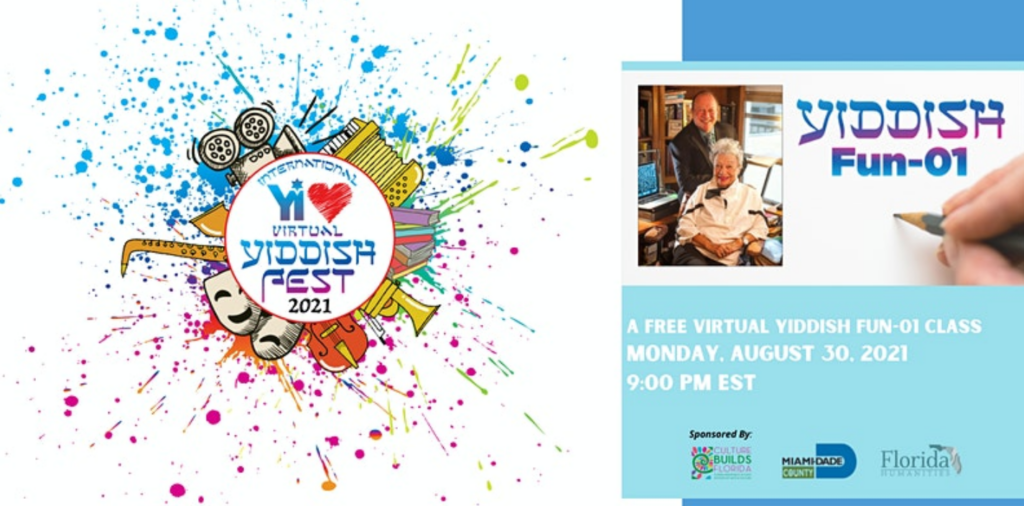 YI Love Jewish is announcing a new series of YIDDISH FUN classes. Over the span of 6 weeks, you will be engaged and entertained during a hands-on language course that will emphasize the humor and history of Yiddish culture.
Retired Columbia University Professor Miriam Hoffman and renowned actor and course professor Avi Hoffman will be teaching this course, and many previous students have raved about how their presence and connection made the class more enjoyable: "Your and your mother's class is unique. Not only is it fun, but the inclusion of history and culture provides a richness that is astounding. We think your mother is the leading world authority in Yiddish!" – Maxine B.
Around the world, there are only a few Yiddish language teachers with the credentials of the Hoffman family and none that utilize the humor, music and profound depth of the Yiddish culture in their curriculum.
On August 30, 2021, https://yilovejewish.org/ will be presenting a free preview of their Yiddish Fun 01 course.  To register for this free event go here:  https://www.eventbrite.com/e/164559888055
This is a free sample of the 6-week conversational Yiddish online course utilizing the curricula and materials developed by Columbia University Professor Miriam Hoffman and under the guidance and direction of her son, renowned actor and course professor Avi Hoffman, connecting the academic roots of the Yiddish language with its incredible contributions to mainstream modern culture.