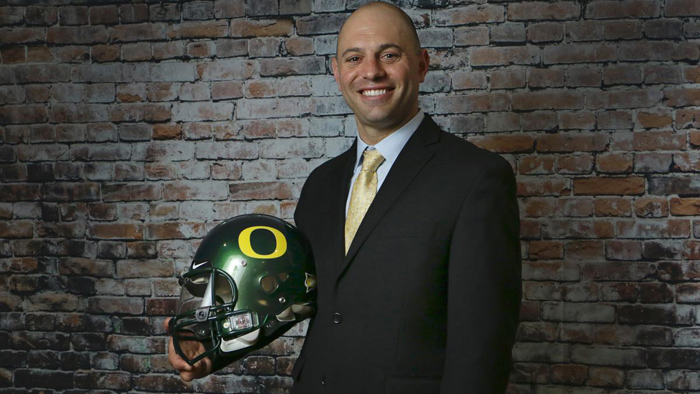 On Oct. 4, the University of Oregon honored former Duck Josh Frankel with the Leo Harris Award, an award presented to an alumni letterman on the basis of at least 20 years of achievement and service since graduation.
Josh had a successful career at Oregon as a placekicker, finishing with 150 points on 26-for-41 field goals and 72-of-77 extra points. Frankel's most memorable moment as a Duck comes in 1999 where he kicked a triple-overtime game-winning field goal against USC.
Josh has been active in his community and as a UO alumnus. The Duck Athletic Fund and UO Foundation donor is a past chair of the Oregon Club of Portland. He is also a member of the UO Mentor Program for current student-athletes and the UO Alumni Association. Josh is the current chair of the Oregon Jewish Community Foundation and is also a board member with New Avenues for Youth. In 2020, Frankel was selected for the Wexner Heritage Leadership Program.
A certified financial planner and portfolio manager, Josh has individual and institutional clients concentrated in Portland, Vancouver, Eugene, Bend, Medford, Spokane, and California. He was hired by Ferguson Wellman in 2013 to launch and grow West Bearing Investments. Since 2013, he has helped grow the company to $315 million in assets under his management.