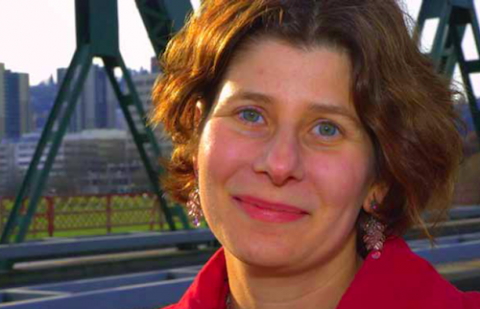 There's been a lot of news about women in the military recently, particularly women who have experienced sexual assault. But that's not what inspired playwright Andrea Stolowitz to write Ithaka, her newest play, which won the newly established Fowler/Levin Prize and is being produced by Artists Repertory Theatre this month.
Ithaka centers on Lanie, a Marine who served in Afghanistan, and her subsequent re-entry into civilian life. The play follows Lanie's emotional journey through the American landscape, as she is forced to either face her demons or be consumed by them. Stolowitz describes the play as an exploration of "the intensity of human connections in a war zone and at home. [This is] a play for our times about war, friendships, guilt, being human and staying alive."
Stolowitz, whose plays have been produced in New York, Connecticut, Los Angeles and San Diego, as well as Portland, describes Ithaka as the story of the dissolution of a friendship. "I'm 40 now and I'm no longer friends with some folks I knew when I was 20," she explains. "Why in one time and place is someone important to you, and then why does that bond go away in another time and place? That's what interested me." Stolowitz conducted extensive interviews with approximately 20 female veterans and their families at the Portland Veterans Center. "I was afraid I wouldn't be able to tell the story well, because I didn't know anything about the military," she explains. "At first I was worried that the veterans would say I didn't have the right to tell the story, but they didn't feel that way at all. Everybody was so open and sharing that I realized I had to write about it. One person said, 'Anytime these stories are put out into the public sphere, it's a success.'"
"There's this big divide between people who've experienced war and people who haven't, and that divide doesn't have to be there," Stolowitz continues. "We have this feeling as civilians that we can't possibly understand war, that we have no business asking about it. And then these other folks who've experienced it have no way to integrate their experiences into civilian life." The women Stolowitz interviewed told her how difficult it was to return from war and instantly shed their military identity as officers and combat veterans. "Suddenly they had to be a woman fulfilling a role. How should they dress, be, act; these are very different gender stereotypes in civilian and military life."
"I gave the soldiers a lot of rein to direct the interviews, and they took it to some pretty dark places. All the women I spoke to said the military is an unfriendly place for women, but promotions and pay scales are more equitable. All of these women were clear that you have to stand up for yourself in the military, that it's a sexist place to be and that contributes to PTSD. These women feel alienated from their own military units, simply because there aren't as many women there to share their experiences." That feeling of alienation and isolation contributes to the friendship that is the focus of Ithaka, and to its eventual disintegration.
Reviewers have noted Stolowitz's attraction to challenging themes in her other plays, and she agrees. "I'm drawn to difficult subject matter, because those are questions I'm actively examining," she says. "I tend to write about transformative experiences that characters can use to change or grow. Death is one subject I ruminate on; it has become prominent in my work. People in my life are beginning to die, and that makes me ask the big questions: What am I doing here? Can't we all get along?"
For Stolowitz, the best thing about Ithaka winning the Fowler/Levin Prize is that her play gets produced. "It's hard to produce new plays because they don't make money, and even nonprofit theaters have to bring in enough revenue to keep their doors open," she explains. "Since there's so little subsidy for the arts, plays have to be commercially viable in order to get produced. The reason I write plays is to have the live experience with the audience. It's awful to write a play and have it win lots of awards and then not see it staged."
In a press release from ART, Producing Artistic Director Allen Nause says, "We are grateful to Stephanie Fowler and Irving Levin for supporting Artists Rep's longstanding commitment to new work with their tremendously generous gift." Levin and Fowler are members of Congregation Beth Israel. Levin is CEO and chairman of Genesis Financial Solutions and chairman of Digital Divide Data. Fowler is an award-winning journalist and psychotherapist.
Stolowitz also recently received a Fulbright scholarship to work in Berlin, where she'll write her first play about Jewish identity. "All I can say is that Judaism 100% fits into my identity, but I can't say how, exactly," she explains. Her mother's side of the family escaped Germany in the late 1930s. "They were mostly secular Jews in Europe, but they felt strongly about not forgetting the Holocaust," says Stolowitz. "I never figured out how to be Jewish when I was growing up, because I was always dealing with the Holocaust rather than Judaism in and of itself."
Stolowitz also acknowledges that her penchant for asking questions is inherently Jewish, as is her sense of humor. "The humor in my plays comes from being Jewish. Having a history of terrible things happening and always facing death means you have to laugh at it."
Elizabeth Schwartz is a Portland freelance writer and co-host of KBOO's Yiddish Hour.