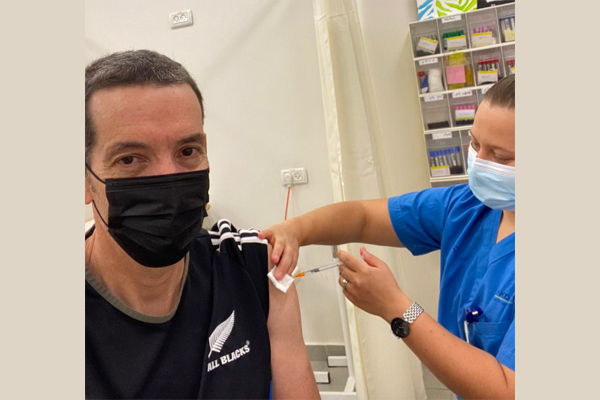 Photo: Israel resident Mylan Tanzer gets his third COVID vaccine.
By Mylan Tanzer
Tonight I got my third COVID jab.
Israel now has a government that I trust, and I have always trusted our health authorities. So on Thursday, when the government announced that due to the waning effectiveness of the Pfizer vaccine in dealing with Delta after six months, and the results of a study performed on 5,000 immune-compromised stated that a third dose massively boosts antibodies, I jumped at the chance despite being perfectly healthy (the idea is to keep it that way).
This government is determined to keep the country going at full speed and the economic recovery in high gear, despite the variants, and this is dependent on every one of us doing the right thing. Also, for me, it was important to get the jab immediately because tonight at midnight, 80,000 vaccines expire and will be thrown out, and I made sure my dose came from that batch.
These vaccines were given to the Palestinian Authority two months ago, but were then sent back to Israel by them despite their low vaccination rates, but the symptoms of that story are for another post. I'm proud that Israel has been the world's COVID vaccination lab, and if we are the guinea pigs anyway, then why not be at the front of the line? It's not like I'm skydiving without a parachute.
Mylan Tanzer is an Oregonian who moved to Israel in 1981. He was the founding CEO of the first Israeli cable and satellite sports channel. Since 2005, he has launched, managed, and consulted for channels and companies in Israel and Europe. Tanzer lives in Tel Aviv.