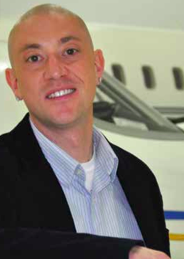 Four days a week, Sterling is line services supervisor and new employee trainer at Global Aviation, a fixed-base operator that maintains and provides hangar space for corporate and private jets in Hillsboro.
The other three days, he is an aviation illustrator who has attracted international attention from others in the field, been commissioned to draw corporate jets for retiring and sitting executives, and has created a Facebook aviation page that has attracted some 19,000 followers. When the site exceeds 20,000, he plans to launch a website to sell limited-edition prints of some of his drawings.
Sterling fell in love with airplanes when he was about 11⁄2 years old and his father, Dan Stroebel, started to take him to the airport to watch planes take of and land. Dan's father had owned his own plane, and though he died before Sterling was born, he passed on his love to his son and through him to his grandson. Sterling's other grandfather, Herb Adler, was a pilot in World War II, so it is perhaps natural Sterling wanted to fly. He started drawing planes by the time he was 3 and says his dad still has some of those early drawings.
He could also identify military aircraft from WWII at a very young age, says his mom, Becky Johnson.
When he was in fourth grade, he and his mom and stepdad, Mike Johnson, moved to a Tigard home near a small private airfield. A couple of years later, Sterling walked down the road and intruduced himself to Ray Miller, who owned the grass airstrip. He offered Sterling a job mowing the strip and said he would either pay him or teach him to fly.
"I said, 'Keep your money; I want to know how to fly,' " Sterling recalls. "So I started to fly at age 13."
He also started to take art classes in high school, and one art teacher encouraged him to pursue an art scholarship, says his mother Becky.
For nearly five years Ray not only taught Sterling to fly, he became his best friend. "He took my lifetime passion and made it reality," says Sterling.
Frequently the two would fly to the coast and have lunch, then fly home. The short grassy strip was surrounded by trees and had a rocky ledge at one end. "It was an incredible training experience," says Sterling, "but dangerous, because once you started your approach, you were committed" – there was no space to circle around for a second attempt. Later Ray started to teach another teen to fly too. One weekend when he was 17, Sterling slept in while Ray and the other teen planned a trip to the coast.
"Unfortunately a mechanical failure (occurred) on the short approach," says Sterling quietly. "They crashed in the wildlife refuge across the Tualatin River." With no roads into the area, Sterling says the plane was fully engulfed in flames by the time emergency vehicles could get near it. "It burned to almost nothing."
"It was definitely life changing," says Sterling. "It took me a couple years to get back in any way."
After five years of spending virtually all of his free time with the aviator, Sterling says he didn't want to fly or draw planes.
"For a teen to lose someone like that … it took me a couple years to sort it out in my head," he says. "I was 17 when he died, a junior at Tualatin High School."
But when he did sort it out, he decided he wanted to become a commercial pilot. He enrolled in Lane Community College, which is nationally recognized for its aviation programs. In 2005 he earned his commercial pilot's license.
But another twist of fate kept him out of the cockpit professionally.
"I met the woman of my dreams, and I set flying aside to pursue a family," he says. "I thought about how living out of a suitcase would affect family life."
Family has long been important to Sterling. His favorite Jewish experiences are the holidays when the family gets together. Often 30 to 40 members of extended family will gather for Passover seders.
So when he married Britney, he put family first. He took a job at Global Aviation nine years ago. But Britney Stroebel had heard of Sterling's earlier fascination with drawing aircraft and bought him a drawing set and encouraged him to explore that again too.
"For some reason I was able to learn at a faster pace than when I was young," Sterling says. "After a couple years I got some attention from aviation artists around the world. … I'm known for realism." In fact, some people have mistaken his work for black and white photographs. His proud mother says that pilots would see his work and started commissioning him. Before drawing a plane, Sterling says he takes photographs from every angle and looks for other photographs of the same model online. He often will spend an entire evening working on one 2-inch section of the drawing to ensure he has every detail exact.
Last year he created a Facebook site (aviation-picture/videos/ news) to build a following. The site includes a photo album of "my personal artwork" that showcases many of his 19" x 24" drawings. When he launches a website to market his work later this year, he expects to have more than 20,000 people who are interested in aviation who he can market to directly.
For those wanting to purchase or commission a drawing before then, he can be reached via the Facebook page or at sterlingstroebel@ gmail.com.