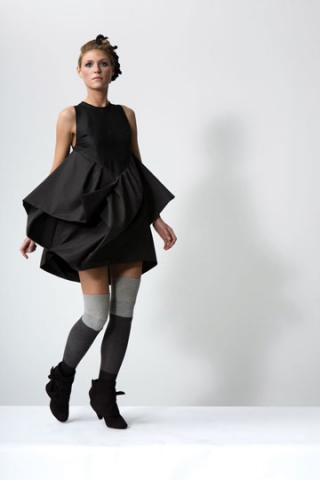 While taking a walk on a brisk autumn morning, in the neighborhood of Northwest 23rd and Savier, a rack of clothing in the window of a quaint gray house caught my eye.
Upon closer inspection, I saw some amazingly beautiful fabrics in rust and taupe embellished with specks of gold and fashioned into interesting and tempting silhouettes.
It was Sunday and the shop was closed, so I wrote down the number. Thus began my quest to own one of the beautiful dresses in the shop window. It took almost one month to have my call answered by designer Liza Rietz, who apologized profusely for the delay. She explained she had been in Europe showing her designs for the past several weeks.
While I was captivated by her artistic, wearable fashions, she also designs wedding dresses and bridesmaids' dresses.
Here is the story of Liza Rietz in her own words:
"I have been designing and making women's clothing since 2002. In 2007, I opened my shop in Portland focusing on custom-made artistic, yet wearable clothing. While I do have my loyal Portland clientele, my business is largely driven by my online sales from customers in the United States and abroad.
"I offer custom-made garments to both my local and online customers. My made-to-measure garments provide customers with unique pieces that are tailored to their specific measurements. Women can come into my shop or order a design from my online shop. I take their measurements and they choose a fabric from my stock and their custom garment is ready within weeks. My goal is to offer women artistic and timeless garments that fit their bodies, and at reasonable price points.
"My designs are modern and sculptural, elegant and classic. I design in neutral colors using primarily natural fabrics such as silk, wool, cotton and linen.
"I also make bridal wear. Often I have brides who are overwhelmed and not satisfied with larger, more corporate bridal shops. I offer a more intimate, customized experience for the nontraditional bride. I work directly with them to make a custom dress that is right for them. I often special order fabrics in their desired colors, and I stay within their budget. Many of my designs make great bridesmaids' dresses as well."
Liza's portfolio can be viewed online (www.lizarietz.com or www.lizarietz.etsy.com) or by appointment in her shop at 2305 NW Savier, Portland.
This writer strongly suggests that you visit Liza in her shop.
I did, and I am enjoying my very un-basic black cotton dress and my black linen jacket. They always get a second glance, and they work with so many pieces in my wardrobe.
Besaws, a favorite Portland cafe, is just around the corner, so take a friend and make a day of it!
Adrienne Souther-Geffen started her career in San Francisco with I. Magnin, then moved to New York City, where she was the fashion director for the Allied Corporate Buying Office. She returned to her native Portland as fashion director for Nordstrom Portland stores and then opened up the Saks Fifth Avenue Market in the Pacific Northwest.