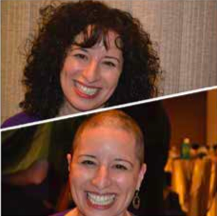 On April 1 I had the overwhelming, emotional, terrible, sad, joyful, exuberant and powerful honor of having my head shaved on a stage surrounded by my similarly shorn colleagues. We came together to raise money through shaving our heads for St. Balderick's Foundation (not a religious organization – no such saint exists). St. Balderick's raises money for research grants to fight pediatric cancers.
Several months ago, Sam Sommer, the 8-year-old child of my colleagues Rabbis Phyllis and Michael Sommer, had a third occurrence of his acute myeloid lymphoma. Though no medical options remained for "Superman" Sam, Phyllis and another colleague, Rebecca Einstein Shorr, wanted to fight it in some way. They wanted to raise money and awareness for childhood cancer, and thought they might find 36 rabbis willing to help.
Though more than 70 of us heeded the call to shave our heads, the group remained "36 Rabbis Shave for the Brave" to retain the significant number of double chai or double life. To date, my hair has sold for $7,600. Altogether 100 have helped with fundraising and volunteering at the event. We have raised just shy of $600,000, but our goal is to make it to $613,000.
Superman Sam died in December. Our hard work could not save him. But in his honor, we (those of us who shaved, those who helped, those who donated) have raised enough to fund almost six one-year research grants, making this the top fundraising effort St. Balderick's has ever had. Less than 4% of all cancer research money in the United States goes toward pediatric cancers. There was no cure for Sam, but together we hope to help cure the next child – to keep the next family from losing a dear one.
I did not know the Sommers personally before I agreed to shave my head, but I was so moved by their family's pain and struggle. Their pain spurred me toward action. Taking part as one of the "36 rabbis" reminded me that each one of us has so much power to add blessing into the world. Each of us can add hope, each one of us can do the work of tikkun olam and heal the world just a little or a lot. The evening of April 1 was filled with so much love for the Sommers, pain for their loss, joy and exuberance at the feeling of making a difference in the world, and the feeling that I was so very lucky to be included in the work. In my work as a rabbi, I find many moments of blessing taking part in people's lives – sharing their painful moments and joyous ones. This year marks my 18th year, my chai year as a rabbi, and this moment was one of the most moving I have had the privilege to take part in.
So I am shorn. My hair went to save lives, and it was the easiest donation I have ever made. My bald head and those of my colleagues is a symbol that changing the world is within the grasp of each one of us. In her blog, Phyllis Sommer wrote a beautiful Dayenu tribute to the event and ended it with "if only Sammy had been here to see it …" If only.
To help us get to $613,000 visit: stbaldricks.org/participants/mypage/660841/2014.