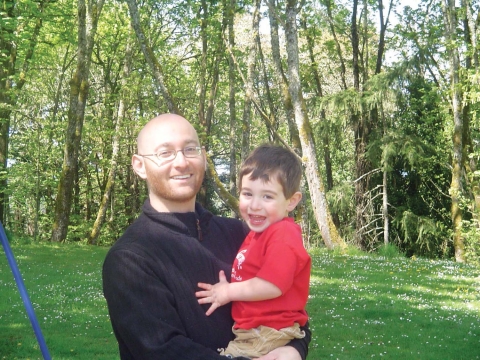 When my wife and I moved to Salem five years ago, we didn't give much thought to whether or not there was a Jewish community here. We moved to Salem from the Los Angeles area, where there are so many Jews that the public schools close on Jewish holidays. Judaism had always been a quiet humming in the background of our lives – a cultural presence even though we were not members of a temple and did not observe Shabbat or any holidays besides having a Passover seder.
But that all changed soon after we had our son. We began to notice the scarcity of Jews in Salem, and when we bumped into the few Jews we knew, we felt a subtle connection to them that we couldn't explain. On the other hand, I didn't know what to say one day, when an acquaintance warned me against window salespeople because they would "jew your ass." I didn't think until later to tell him it was too late, I'd been "jewed" at birth.
Slowly, Judaism began to feel like a piece of home that we could find here in Salem, and we felt ourselves pulled toward the local temple, Temple Beth Sholom. It didn't hurt that my wife was in a "New Moms" group with the rabbi's wife. They became friends, and we soon found ourselves looking forward to the monthly Tot Shabbats at the temple. From early on, our son was a rabid fan of the rabbi's rendition of "Bim Bam." We subscribed to the PJ library, and our son fell in love with a CD they sent us, which to this day we call "Juicy Mookie" since that was how he pronounced "Jewish music." At his insistence, we listened to "Bim Bam" at least 20 times a day for a few months.
At his daycare last winter, our son learned all about Christmas and Easter, and at the school's "Winter Holiday" concert he sang and danced to Christmas music. There was so much excitement at school about Christmas that he was confused, and a little let down, when we kept telling him we don't celebrate Christmas but Hanukkah.
We wanted him to know the songs we grew up singing, to have a sense of Jewish holidays as special days, to know about these rituals and this way of making daily life meaningful. We wanted him to know who we are, and for him to feel the same sense of belonging and kinship with other Jews. I can't say that without straining against it, and thinking that I want him to feel a sense of kinship with all people, not just with Jews, but that tension is part of what being Jewish has come to mean for me: a continual process of making sense of one's connection to history and to other people. That's what I really want him – and his new baby sister – to know.
Darren Howard lives in Salem with his wife and two children. He divides his time among his family, writing, teaching literature at Willamette University, and editing the Gold Man Review.