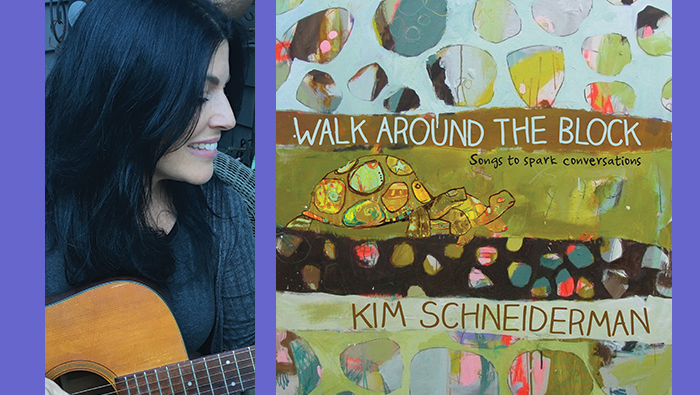 This summer, Portlanders have two ways to experience the music of teacher, storyteller and musician Kim Schneiderman, who has spent the past 15 years singing, creating and making music with young families. Kim recently released a new album, "Walk Around the Block." Additionally she will perform in concert at 5 pm, July 16, on the lawn of the Mittleman Jewish Community Center.
Kim's former recording projects include being a musician on OyBaby! and ThatBaby!, a CD series of Jewish and secular music, with her sisters, Stephanie Schneiderman (producer) and Lisa Schneiderman.
Kim is the music specialist at Portland Jewish Academy, where she teaches music from kindergarten through eighth grade. She has written and directed four Purimschpiel musicals for the school, with the last one featured on NPR. Kim has also written and directed various grade level musicals including a Portland Musical, co-written with Rand Raynor, with 10 original songs for the third grade Portland History and Culture curriculum.
In addition to teaching, Kim leads services and programs throughout the Jewish community, including working with the communities of Congregation Beth Israel and B'nai B'rith Camp.
Kim is especially well known to local families for her Yad b'Yad music programs. The intergenerational music events are now a regular feature at Rose Schnitzer Manor. Every Friday morning during the school year, young families gather with Cedar Sinai Park seniors to share music and a PJ Library story for a fun, intergenerational experience. The 45-minute Interactive Intergenerational Music Moment is for 0-5 aged kids, their grownups, and community of seniors living at Cedar Sinai Park.
Kim calls Yad b'Yad/Hand In Hand "the music project closest to my heart."
She says Yad b'Yad grew out of the OyBaby project. Thirteen years ago, the three Schneiderman sisters were asked to be musicians on a series of albums for Jewish families.
"The success of the project brought a small Jewish community of friends with small children to my front door," says Kim, adding they wanted her to lead a Jewish music class for young families.
She welcomed the group for regular music programs – initially in her living room and later rotating among participants' homes.
"They gave this gift to me," says Kim. "With small children of my own, and a need to connect with my community, I received it. … I brought the music, the instruments, the toys – They brought their babies, their open arms and their support."
During those early years of the young family music program, Kim says she also spent time at Cedar Sinai Park visiting "my beloved Grandpa Lester, the one who taught me to read, play the organ and waltz in the living room; the one who dropped everything to take a walk with me; the one who, over the years, lost his eye sight and his memory.
"Every week he asked me what I was up to. And I would share with him, the beauty of the music class. I would tell him about the babies, the songs we would sing – songs my grandparents taught to me, continues Kim. "And he would say, 'You know, the people living here would love to be a part of a music class like that. Why don't you bring the class here?' I loved the idea. And like all ideas during the days of babies and young children, I tucked it into my back pocket."
Every week she says he would gently nudge her: "Honey, maybe think about bringing the class here. Let the kids connect with the people here. Let them be together, sing together. It's a gift to both communities."
On one of her visits to her grandfather, Kim brought her daughters and met "a beautiful woman," who "admired my girls."
"I asked her if she had children. She replied, 'Oh yes, but they are all grown now. They live far away, have wonderful lives, and children of their own.' And then, she leaned in, looked deeply in my eyes, and for a moment, time was still. She pointed to my daughters — "But they were that age, yesterday.'"
Six years ago in January, Kim's grandfather died at the age of 96.
"My first Yad b'Yad was March of that same year," says Kim.
Kim credits Janine Kurnoff as being a key player in the creation of Yad b'Yad.
"Her grandmother was also a Rose Schnitzer Manor resident who passed away around the same time as my Grandpa Lester," says Kim "Janine approached me with the same idea of moving our classes over to the Cedar Sinai Park campus as well as a generous donation from her company to help with the setup of Yad b'Yad."
Six years later, Yad b'Yad still exists.
"I have had the pleasure of singing with Janine's beautiful growing family ever since and I look forward to welcoming Janine and Simon's beautiful new baby, Liam, into our Yad b'Yad family in the coming year!" says Kim.
Each week during the school year, families bring their young children to interact with the CSP seniors.
Kim says, "We sing, and we dance, and we explore music, and we celebrate Shabbat. Together. Community. Hand in Hand. Yad b'Yad."
Kim lives in Lake Oswego, with her two daughters, Sophia, 15, and Sarah, 13; and their Portuguese Water Dog, Dakota Blue.
Her July 16 concert is part of MJCC's summer concert series. The series will also include Nefesh Mountain Aug. 10 and The Maccabeats Aug. 27. Food and drinks will be available for purchase. Each concert is $5 per person. Tickets are available at www.oregonjcc.org/concert.
The concert series is sponsored by JCC Association's Making Music Happen Centennial Grant initiative, funded by a grant from Marvin J. Pertzik and the Mary Livingston Griggs and Mary Griggs Burke Foundation; with additional support provided by Congregation Beth Israel, the Holzman Foundation, Jewish Federation of Greater Portland, Anna and Eric Kodesch, Congregation Neveh Shalom, PJ Library, the Leonard and Lois Schnitzer Charitable Supporting Foundation, Congregation Shaarie Torah and Congregation Shir Tikvah.