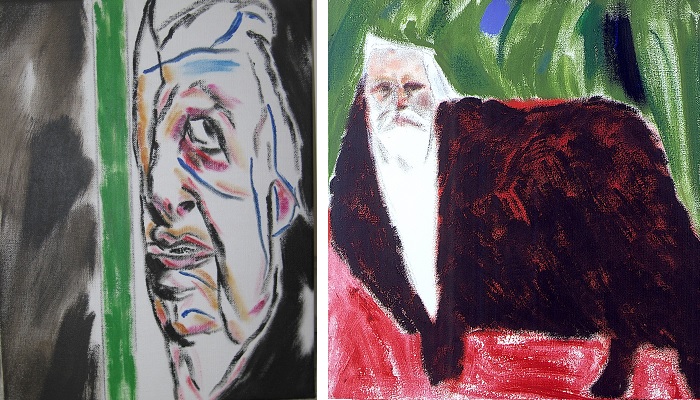 IMAGES BY R.B. KITAJ: Left Hannah Arendt; Right: Self Portrait-Black Sheep.
Oregon Jewish Museum and Center for Holocaust Education presents the first Northwest overview of work by renowned artist R.B. Kitaj. The First Thursday opening will be 5-8 pm, June 7.
Organized by OJMCHE and curated by Bruce Guenther, R.B. Kitaj: A Jew Etc., Etc. provides the first Northwest overview of one of the most important post-1960 contemporary artists, R.B. Kitaj. The exhibition presents a survey of 16 oil paintings and four drawings, focusing on works created between 1990 and the artist's death in 2007, which reflect the artist's deep exploration of a rich complexity of ideas and references to art history and Judaism.
Kitaj (1932-2007) is one of the 20th century's most significant and thought-provoking artists, who, throughout his life and his art, tussled with the conditions of "Jewishness." Kitaj's sometimes controversial work has long challenged audiences to explore radical new aesthetic models and narrative themes. The work in R.B. Kitaj: A Jew Etc., Etc. is drawn from the last two decades of Kitaj's life, when his work focused intensely on his identity as a Jew as he created an extensive body of work around himself; his late wife, American artist Sandra Fisher; and historic personalities in the humanities such as Franz Kafka and philosophers Walter Benjamin and Gershom Scholem.
"The exhibition will provide museum visitors with insight into Kitaj's aesthetic and intellectual reach and the multiple layers of meaning and reference contained in the works that have influenced contemporary painting internationally," says OJMCHE Director Judy Margles. "His highly personal paintings and drawings reflect his deep interest in history; cultural, social and political ideologies; and the issues of Jewish identity, themes that are also reflected in OJMCHE's programming and core exhibitions."
Born in Cleveland, OH, to Russian Jewish immigrants, Ronald Brooks Kitaj (pronounced kit-eye) studied at the Cooper Union Institute in New York; the Academy of Fine Art, Vienna; the Ruskin School of Drawing and Fine Art, Oxford; and the Royal Academy of Art, London. For more than 40 years as an American expatriate in London, Kitaj became a major figure in the development of contemporary British art with figurative narrative paintings that challenged the hegemony of 1960s and '70s abstraction. His first solo exhibition in 1963 at Marlborough Gallery established Kitaj as a seminal figure along with David Hockney and Richard Hamilton in defining British Pop Art.
In 1976, Kitaj proposed the idea of a "School of London" in an exhibition and catalogue essay, which became one of the key art historical texts of the period. His defining of a conceptually re-imagined, figurative-based, post-Abstract Expressionist painting against the day's prevalent formalism in the work of a group of stylistically diverse artists – Frank Auerbach, Francis Bacon, Lucian Freud and Leon Kossoff, as well as R.B. Kitaj – was a radical opening up of the painting dialogue. At the same time, Kitaj began to reconnect with and explore his Jewish heritage through his paintings and writings. His theories and ideas became more widely known when Kitaj issued the "First Diasporist Manifesto (1989)" and following "Second Diasporist Manifesto (2007)," in which he discussed the relationship between Judaism, art history and his work in the search for a "Jewish Art."
In 1994, Kitaj was the subject of a major retrospective at the Tate Gallery, London, an honor rarely awarded to Americans. The British art critics attacked the paintings and the didactic prefaces the artist wrote to accompany them with an anti-Semitic vitriol rarely seen in the post-war period that enflamed the art community. Shortly afterward, Kitaj's second wife, the painter Sandra Fisher, whom he had married in 1983, died of an aneurysm at 47, prompting the artist to emotionally contend that the critics had killed her. After the "Tate War," as he termed this episode, Kitaj no longer felt welcome in Britain and moved to Los Angeles with his young son to be near his other children and grandchildren. He remained there from 1997 until his death by suicide in 2007.
"Kitaj was a catalyst, an artist and intellectual who used his self-perception as an outsider to disrupt and reinvent aesthetic and cultural assumptions around the making of art and its relationship to artistic and literary history in contemporary practice," says Curator Bruce Guenther. "As a contemporary artist, a Jew and as a seeker of deeper truths through painting, Kitaj sought to incorporate his passion for books and ideas, literature and poetry, with a deep awareness of aesthetic theory and art history into the contemporary idioms of painting at a time when art was widely seen as emptying out content and historic reference. The force of his powerful ego, complex emotional and physical needs, and his deeply emotional, spiritual seeking is evidenced in these amazing paintings. In this work, his engagement with historic Jewish writers and artists who were intellectually central to his work is coupled with the grieving for his dead wife Sandra to forge a powerful new form of narrative painting that is ultimately his long-sought 'Jewish Art'."
Internationally celebrated, Kitaj's work has been the subject of major international solo exhibitions in museums of London, Paris, Berlin, New York, Los Angeles and Washington, D.C. Kitaj was elected to the American Academy of Arts and Letters in 1982 and the Royal Academy of Arts in 1991, one of only three American painters so honored since its founding in 1768, and he received the Golden Lion award at the 1995 Venice Biennale.
R.B. Kitaj, A Jew, Etc. Etc. is generously supported by the James F. and Marion L. Miller Foundation, the Leonard & Lois Schnitzer Family Fund of OJCF and the Harold & Arlene Schnitzer Family Fund at OJCF/Arlene Schnitzer & Jordan Schnitzer.
R.B. Kitaj: A Jew Etc., Etc.
WHEN: June 7-Sept. 30. Noon-5 pm, Saturday-Sunday; 11 am-5 pm, Tuesday-Thursday; 11 am-4 pm, Friday. Guided tours Wednesday at 1 pm.  
OPENING: First Thursday, June 7, 5-8 pm
WHERE: Oregon Jewish Museum and Center for Holocaust Education, 724 NW Davis St., Portland
ojmche.org