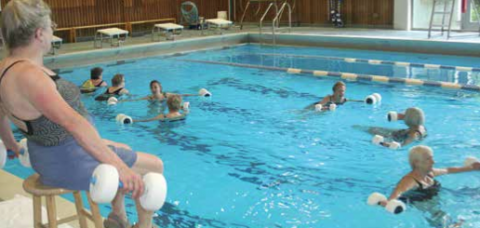 Mittleman Jewish Community Center Fitness Manager Jennifer Harrington understands the importance of exercise for good health. "Our wide range of classes offer cardiovascular fitness along with flexibility and balance," she says. From cycling, Zumba and water aerobics to bodypump and Pilates coupled with personal training, we provide the variety to meet individual needs."
While individual women of all ages can find a level and activity just right for them, many say group dynamics are equally important. Structure, encouragement, a sense of community, just plain fun – the reasons vary, but the message is clear. Exercising with other women can be key to staying fit.
Linda Lorenz and Becky Jones are part of the water aerobics crowd that has met for years. They always look forward to newcomers joining the group. "I have a goal; I want to be healthy," Becky says. "Water aerobics gets you off your bum and gives structure to your day. And people in the group worry if you're not there. One of our members is active in film and knows all the good ones. I would never have seen 'Lincoln' without the class."
As a pediatrician, Linda Lorenz appreciates the amount of exercise water aerobics offers. "It's a wonderful workout," she says. "It targets different muscle groups, increases cardiovascular health and I think does a lot to stave off dementia. It's a lovely, consistent group of women, and we get to know each other. You can work out as hard as you want. Some classes are mostly social. I've learned a lot about Jewish holidays. Now I make really good latkes."
Ignite, an MJCC program, offers personal trainers to small groups at a fraction of the cost of individual sessions. Gia Buckbert finds teaming up with her friend Stephanie Auerbach saves money and keeps her focused on goals. As a life coach, Gia's sessions with her clients include long walks in Forest Park. At the MJCC she wants structured, rigorous training.
"I want to make sure that I'm doing the right thing and targeting the right areas," Gia says. "As you get older things change, and I need overall core strengthening. My girlfriend was in the process of joining the MJCC, and we work out well together. It's nice to do this with another person that cheers you on and helps you be more accountable."
When Amy Bradford moved to Portland five years ago, join- ing the MJCC was among the first things she did. Her recently completed breast cancer treatment has given her an even deeper appreciation for the strength, flexibility and sense of calm her morning yoga class brings.
"I got my diagnosis on a Tuesday morning," Amy says, remembering that terrible day one year ago. "I cried for half an hour and then went to class. Yoga breathing was helpful during MRIs. The best thing to do was meditate. And my surgeon highly recommends it for increasing mobility."
Amy's experience has inspired her to become a yoga teacher, and she looks forward to teaching classes of her own.
"It's more fun than exercising alone," she says. "There's a sense of community and spiritual power in a room where people practice together. Zumba, another class I take, is a social group, and people become friends quickly. They notice if you aren't there. The energy and exuberance are contagious, so the more people, the better. We all end up working harder because of the enthusiasm in the room."