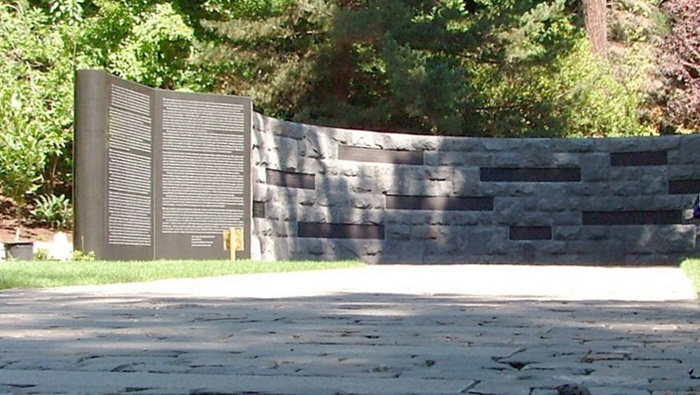 Local events commemorating the Holocaust begin at noon, April 23, with a public tour of the Oregon Holocaust Memorial. Memorial docents Jill Slansky and Evelyn Banko will lead a one-hour tour, sharing stories of survival and loss.
The Oregon Holocaust Memorial is located in Washington Park at the intersection of SW Washington Way and Wright Avenue. Docent-led tours are available year-round. To schedule a tour for your school or organization, call 503-226-3600.
This year's communitywide commemorative service will be 7 pm, April 23, at Congregation Shaarie Torah, 920 NW 25th Ave., Portland. Attendees are asked to bring a yellow flower to symbolize life.
The service will include a candle-lighting ceremony in memory of the six million Jews who died in the Holocaust. Lighting candles will be Eva Aigner, who survived the Budapest Ghetto; Evelyn Banko, whose family fled Austria through Lativa, China and Japan on the way to the United States; Anneke Bloomfield, who spent the war as a child in hiding; Yelena Elkina, a survivor of Camp Pechora, where 24 or her relatives died; and Miriam Greenstein, who survived the Lodz Ghetto, Auschwitz and Bergen Belsen.
The service is presented in partnership with Congregation Shaarie Torah, the Oregon Board of Rabbis, and Oregon Jewish Museum and Center for Holocaust Education.
The commemoration continues the next day with the Reading of the Names, which this year has been moved from the traditional Pioneer Courthouse Square because of construction.
This year's reading of the names will be in Director Park, 815 SW Park Ave., Portland, from 10 am to 5 pm April 24. Here in Portland – as in Jewish communities around the world – we gather to read the names of the men, women and children murdered by Nazi Germany and its European collaborators between 1933 and 1945.
Chaja Brajtsztajn died 1942 Treblinka; Beryl Solowjczyk died Wilna 1942; Rywka Fyhrer died Auschwitz 1943; Rachela Szucht died Warsaw 1944; Lina Stern died 1944 Theresienstadt. Throughout our Remembrance Day members of the community will read these names out loud in Portland's Director Park. One cannot help but reflect on the once-living spirit and body of these lost individuals.