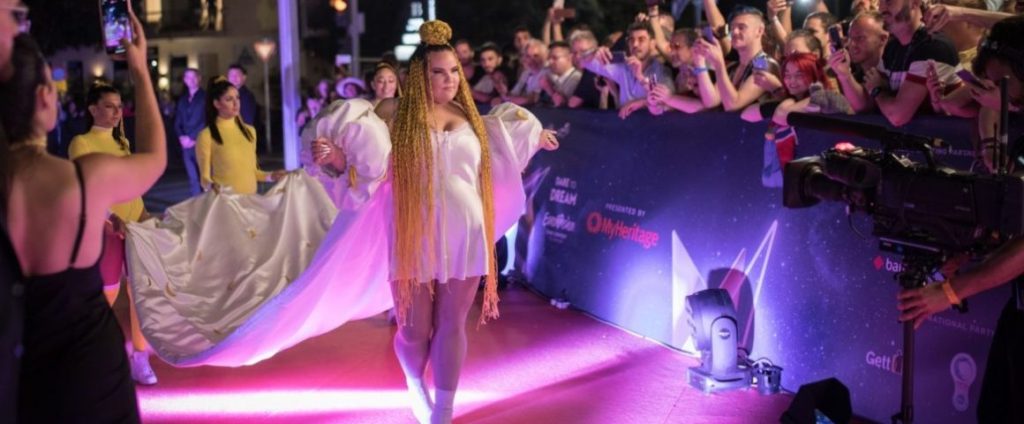 Photo: Eurovision 2018 winner Netta Barzilai arrives at the opening event of the 2019 Eurovision Song Contest in Tel Aviv on May 12, 2019. Photo by Hadas Parush/Flash90
For everyone out there wondering what the fuss about the Eurovision Song Contest is all about, Sunday evening's opening ceremony certainly provided a glamorous response.
Hopeful contestants from the 41 participating countries walked down the orange carpet at Tel Aviv's Habima Square in full battle dress, ready for the big win, and the show was spectacular.
The main attraction for Israelis was of course last year's champion, Netta Barzilai, whose win brought the 64th edition of the international singing competition to Israel this spring. Clad in an all-white outfit and carried by three assistants, she made an unforgettable entrance.
This year's contestants also upped the style game, as seen in the memorable outfits of Hatari of Iceland, John Lundvik from Sweden and Bilal Hassani of France. The show's Israeli presenters Bar Refaeli, Erez Tal, Assi Azar and Lucy Ayoub also graced the orange carpet.
Two rounds of semi-finals – on Tuesday and Thursday evening – will see the contestants trying to reach the grand finale on Saturday night, during which the representatives of 26 countries will try to win the coveted title by popular vote.
While Israel this year is represented by singer Kobi Marimi with the song "Home," Duncan Laurence from the Netherlands is the current Eurovision favorite.
The contestants will be supported by performances from a host of former Israeli competition winners such as Barzilai and Dana International, as well as favorite international singers from previous years and other Israeli artists.
Article courtesy ISRAEL21c