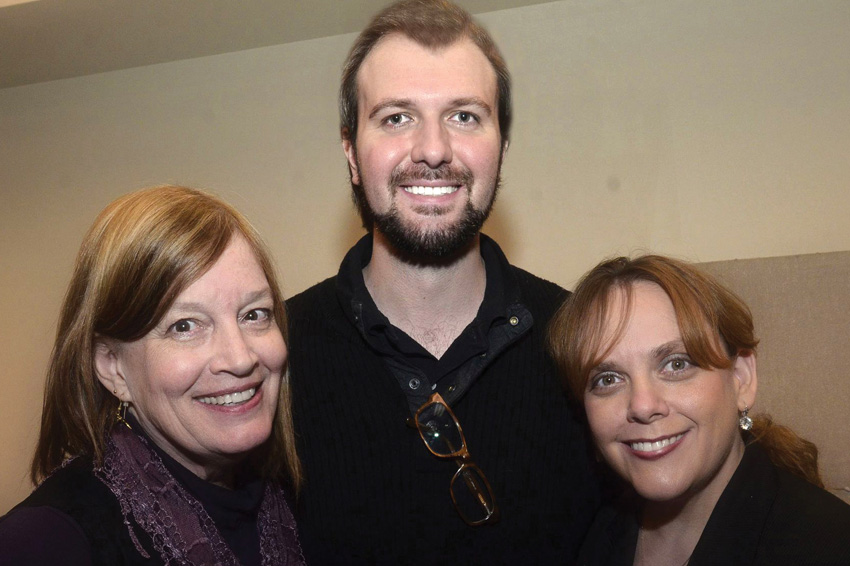 By Joseph A. Lieberman
A 30-year-old dream inspired Eugene Public Library Director Connie Bennett to pen a full-length play based upon a novel based upon a Yiddish play. If that sounds complicated, it is, in more ways than you might imagine.
Interwoven into this tapestry of the arts are secret lovers, the evil spirit of an Argentinian tango dancer, his scene-stealing Jewish mother, the world's oldest consecutively producing Yiddish theater company and not a small amount of fortuitous fate.
The dream, it turns out, was not Connie's but that of her Jewish stage director, Fred Gorelick, a North Eugene High School drama teacher who had gotten his master's degree majoring in Yiddish theater. While doing so, he'd come across a novel by author Francine Prose called "Hungry Hearts," which so impressed him that he spent the next two decades trying to convince various writers and dramatists to turn it into a stage play. He finally succeeded with Connie, after staging some of her earlier short plays in Eugene.
The irony is that "Hungry Hearts" is about the performance of an actual Yiddish stage play called "The Dybbuk, or Between Two Worlds," originally written in Russian and later translated into Yiddish by S. Ansky (real name, Shloyme Rappoport) between 1913 and 1916.
For those unfamiliar with supernatural beings, a dybbuk is a spirit that possesses the body of a living person until exorcized. In Ansky's play, the person possessed is a young woman named Leah, and the dybbuk who possesses her is Chonon, Leah's former fiancé, who has died of a broken heart because Leah's father was determined to marry her off to a rich old man.
"Hungry Hearts" takes the fact of Ansky's play and fictionalizes a 1921 Yiddish Art Theater production of the work in which love and scandal take center stage. In the novel and Connie's play, the role of Leah is performed by a fictional actress named Dinah Rappoport (now where have we heard that name before?).
Dinah's loyalty is torn between her mesmerizing director Leon Dalashinsky, the "Jewish Stanislavsky," and her secret love for fellow cast member, Benno Brownstein, the actor who is playing Chonon. In fact, when the romantic couple finally reveal to Dalashinsky that they have clandestinely gotten married, the obstinate director demands they tell no one, lest his theater troop's reputation be marred by the idea of his actors' real lives imitating art.
While this odd demand for continued secrecy makes perfect sense to Dalashinsky, it also sets the stage, literally, for the conflict that follows. Being forced to hide her love, Dinah turns against Benno and attracts an evil spirit born of her own suffering heart when the Yiddish Art Theater brings its Dybbuk play to Argentina. Enter Paco Engelhart, a tempestuous tango dancer who has died in an air show over Buenos Aires harbor. He inhabits Dinah just as the dybbuk in the play does, forcing the confused actress to come to terms with the hungers and questions within her own heart.
At this point, it's easy to see why Connie Bennett was so taken with the novel and Fred's dream to turn "Hungry Hearts" into a many-layered play.
"Although the novel was written in mostly first-person reminiscence style from the perspective of Dinah when she gets much older, I recognized that on a stage it was better to maintain a traditionally sequential ordering of events," says Connie. "The flashback style is used only in the part where Dinah is actually possessed."
Connie used some lines from the novel, but mostly she created new dialogue. "Fred and I decided to use only eight actors to play all 30 parts," she says. "The three playing Dinah, Benno and Dalashinsky keep to their roles throughout, but the others use props, wardrobe and hats to quickly change character. It's actually quite effective."
Connie began writing plays in 2008, but her specialty prior to this had been much shorter dramas. Her "Gray Reflections," about a school counselor's last preretirement session with a teenaged boy who just may have a secret crush on her husband, was a finalist in the Actors Theatre of Louisville 2010 National Ten-Minute Play Contest (Humana Festival). Connie herself is cofounder and executive producer of Eugene's annual "Northwest Ten!" short play festival, which is now in its seventh year (2015 performances were the last two weekends of March).
Her shorter works have been produced in Oregon, Washington, California and Michigan, as well as in Canada, but "Hungry Hearts" was her first full-length play. Two years after Fred helped her stage a reading at a small theater in Eugene, "Hungry Hearts" was selected as one of five finalists (the only one from the western U.S.) in The David and Clare Rosen Memorial Play Contest at New York's National Yiddish Theatre "Folksbiene," in celebration of its 100th anniversary.
She traveled there in February to do a table reading before a blue ribbon panel of TonyAward-winning and Broadway-savvy playwrights, producers and directors as her judges. The winning play will be professionally produced and performed in New York City in early summer during the Centennial Celebrations Festival, also known as KulturefestNYC, which takes place from June 14-22, 2015. The event will include hundreds of Yiddish performances by international artists. (The winner of the contest – "When Blood Ran Red" by Ben Gonshor – was announced March 3. "Please understand the choice was not easy for our Blue Ribbon Panel," Play Contest Coordinator Jamibeth Margolis wrote to Connie. "The high quality of all of the work gave them a lot of deliberating to do.")
Meanwhile, Connie is keeping busy. She recently completed her newest work, a historical play called "Mother/Tongue," about a 16th century woman named La Malinche, who acted as interpreter, advisor, lover and intermediary for Hernán Cortés in his dealings with Montezuma. La Malinche is considered both a Mexican heroine and traitor who helped bring about Spain's conquest of the Aztec Empire. The piece was written as part of "365 Women a Year: A Playwriting Project."
The characters of La Malinche, Dinah and the school counselor in "Gray Reflections" have in common that they are strong, sensitive women who must deal with nearly overpowering conflicts of the heart. Whether her real life imitates her art is something only the dramatist can know.
For more information about the playwriting contest or National Yiddish Theatre Folksbiene, visit nytf.org.