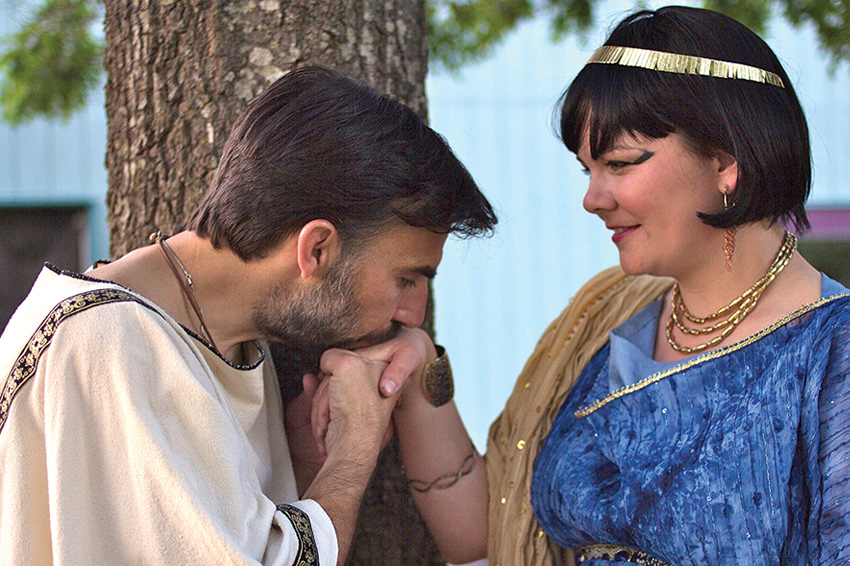 William Shakespeare lived in a time when Jewish people in England were still very much outsiders. Works like "The Merchant of Venice" reflect that, yet Shylock's famous "If you prick us, do we not bleed?" speech demonstrates the complexity of The Bard's sensitivity to the Jewish situation.
What's never been in dispute is Shakespeare's genius in telling tales that hold our fascination throughout. Sure, we can pay high ticket prices to see glamorous productions of his work, but one Jewish woman in Eugene has ensured that for four weekends every August, a Shakespeare play is made available, free of charge, in an outdoor setting at Amazon Community Park.
Sharon Se'love is the artistic producing director of Free Shakespeare in the Park. Her surname prior to marriage was Mann (shortened from Pearlman), but for her wedding she said in French that her name should henceforth be "It is love" (C'est Love), and so Se'love it is.
Her inspiration for Shakespeare in the Park came from productions in New York's Central Park, and later, San Francisco. Sharon was born in New York and raised by her maternal grandmother, who cooked Ashkenazi food and spoke and sang to her in Yiddish. She spent time as an acting apprentice at the Mount Lennox, MA, Shakespeare & Company, and attended a summer Shakespeare intensive session at the Royal Academy of Dramatic Arts in London. After a series of wanderings, "When I came to Eugene in 1993, I knew I'd arrived in a place I could call home," she says.
After involvement with arts councils and the Hult Center for Performing Arts, and partly in reaction to the Thurston High school shootings at Springfield in 1998, she decided to do something "to mentor kids in an adult environment, providing a way to work cooperatively together through the rehearsal process, and creating an emotional outlet."
Sharon started the free performances in 1999 on a shoestring budget. Since she had an attic full of clothing from the 1930s, she set her first Shakespeare play in that era, casting her dog as "the old servant." Even so, nearly a thousand people attended six shows, many bringing a picnic dinner to eat on the grass with their entire family.
"I loved the audience reactions," she says, "booing the villain, cheering the hero. I realized that getting such involvement is like breaking through a wall, creating a theatrical catharsis experienced all together. It makes us less isolated, reduces antagonism in our society, and fosters empathy and harmony."
It didn't always go without a hitch. "One time the lawn sprinklers broke and remained on until an hour before show time, soaking a wide swath of grass," Sharon says. "The audience of 300 had to sit close and tight in the remaining dry area, but that was one of the best performances we ever had."
Sometimes their work has been pioneering, but not necessarily by intent. "Our Romeo and Juliet were both women, which caused a stir, but we didn't plan it that way originally," she says. "The unreliable young man playing Romeo missed many rehearsals, so we had to 'fire' him three weeks before opening. Only one woman was capable of replacing him, so we went with that."
Last year's play was "Antony and Cleopatra," which required a lot of fight direction by John Elliott III, who not only teaches swordplay choreography, but takes the time to inform actors how and why these weapons were used historically. This year's play is the romantic comedy "As You Like It."
From September to March, Sharon's focus is grant writing/development, Kickstarter campaigns and editing scripts for her nonprofit theater group. "Our cast ranges in age from 13 to 75 and all are volunteers," Sharon says. "This is truly community in action, and we welcome everyone who is willing to try out each spring."
Free Shakespeare in the Park
WHAT: "As You Like It"
WHEN: 6 pm, weekends Aug. 1-2 through Aug. 22-23
WHERE: Amazon Community Park, Eugene
INFORMATION: 541-682-5373