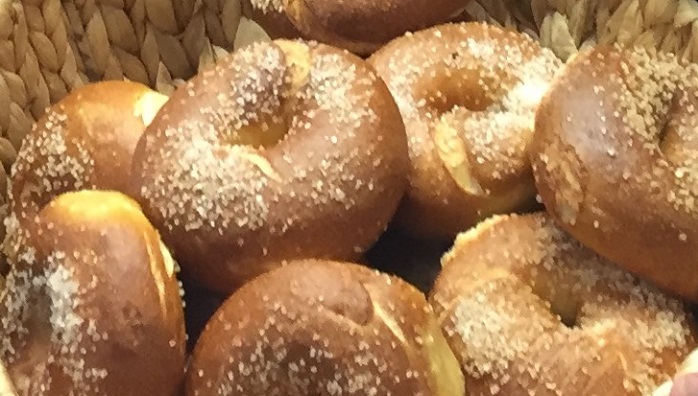 By Aliya Bree Hall
Lox, Stocks and Bagels in the south hills of Eugene brings traditional East Coast staples to Oregon's southern Willamette Valley.
Owned by New Jersey native Scott Lilly, the shop sells a wide assortment of bagels, as well as soups, salads and bagel sandwiches. The shop opened last summer in the Edgewood Center at 40th Avenue and Donald Street in Eugene.
Scott, 54, noticed a lack of what he calls "real bagels" when he moved to Oregon in 2007. Although he isn't Jewish, the interest in bagels came from living on the East Coast.
"I thought this area needed something like this," he says of his shop. "Hopefully, I'm right."
Scott's New York-style bagels are made by boiling dough in a solution of water, sugar, baking soda and salt before baking; this results in a crispy crust.
Scott is no stranger to the restaurant business. In 1992 he started as a cook, working his way up to management positions. In the past 10 years, Scott has managed Sweet Waters, Ambrosia and The Bridge, all in Eugene; the Vintage Inn in Cottage Grove; and a Taco Bell in Springfield.
He says his previous experience showed him the ins and outs of restaurant budgeting and how to manage inventory and order food.
"Some people who open restaurants have experience in the kitchen or the front of the house, but not really both," Scott says. "I have a little of both."
Scott says he was encouraged to open the business by his friend, Boris Wiedenfeld-Needham, the owner of Bo's Wine Depot, also in the Edgewood Center.
When a storefront became vacant next to Bo's Wine Depot, Boris says he considered expanding into the space before thinking of Scott. He knew that Scott was managing the Taco Bell, and "it was pretty clear he wasn't happy there."
"I said half-jokingly, 'Hey, Scott. You should quit your job and open a bagel joint next door.' As soon as I had said it, I realized that might really work," Boris says. "I could tell that he was not opposed to the idea, and maybe six months later he opened."
The shop's name originated from a Facebook post, in which a friend of Scott's wrote: "Here's your one and only chance to name a bagel shop."
"People replied, and my favorite one was actually the first response," Scott says. "Then it got snarky after 10."
He opened the shop on Aug. 9 and has 10 employees. He says "business has been very good."
"We have a Facebook page and Yelp, but haven't really advertised," Scott says. "We did a grand opening mailer, but otherwise it's been word of mouth. And we've been doing really well. Sales have been increasing pretty dramatically over the past couple months."
He is projecting sales of $300,000 in the first 12 months.
As the name suggests, the shop offers more than just bagels and lox. "Stocks" refers to the shop's made-from-scratch soup stocks, Scott explains.
"We make everything homemade, including the soup," he says. "We make it from bones and veggies. We smoke our own fish and cure our own lox. Nothing is frozen. Nothing is premade, except for the cream cheese."
Meat is purchased locally from Long's Meat Market and fish from Newman's Fish Market. Coffee and espresso are from the Coffee Plant Roaster in Eugene.
Scott makes 11 different types of bagels, including salt bagels, which are an East Coast staple and his personal favorite. Bagels cost $1.25 each and are available in a baker's dozen for $12.
Breakfast and lunch bagel sandwich options include lox and cream cheese, chopped liver, egg salad and smoked white fish with cream cheese. The shop sells three different salads and a soup of the day.
Prices vary from $1.75 for a bagel with butter, jam or honey spread to $9 for a lox and cream cheese bagel.
Catering services are also available with platters of bagel canapés. Canapés can include pastrami with cornichon and spicy mustard, lox with cream cheese and Bo's red wine salt, chopped liver with egg salad, and smoked sable with horseradish cream.
Business is lively between 8 and 10 am and noon to 2 pm. The shop offers a student discount of 50-cent bagels, which contributes to a busy time after school gets out.
Scott says community response to the shop has been excellent.
"A lot of people are excited we're open," he says. "There's no one selling what we're selling."
He says the most rewarding aspect of opening the shop has been the positive response of customers to his bagels, which confirmed the need for New York-style bagels in Eugene.
"Finding out there is a large group of people who actually want New York-style bagels," he says. "Thank goodness."
368 E 40th St., Eugene | 541-653-9195 | loxstocksbagels.com