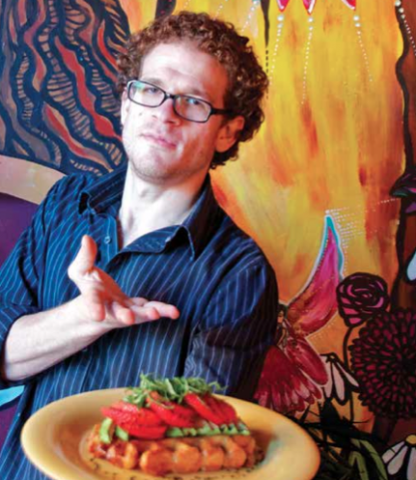 Is that the sweet smell of success filling the air? Or maybe it's just the aromatic blending of Belgian waffle batter with sweet and savory toppings and fillings that infuses your senses as soon as you enter either of two Off-The-Waffle locations in Eugene.
In these days of hit or miss, when someone manages to find just the right combination of quality, value, taste and imagination, word gets out and lines begin to form.
The Israeli-based family that runs this delicious operation makes sure that "fun" remains one of the chief ingredients. Red-haired Omer Orian is the man whose cartoonized face graces the logo on the shop's ads, menus and signage. They even created their own Off-The-Waffle coloring books for kids to crayon in.
Omer recalls getting his first Liège waffle as a reward from a kindergarten teacher in Belgium. The treat wasn't made from any ordinary batter, but rather from the type invented by a chef of the prince-bishop in Liège (pronounced LEE-AGE) in the 18th century. Enhancing brioche bread dough by folding in chunks of pearl sugar makes the result richer and sweeter than the common Belgian waffle many of us have tasted. When baked in their cast iron waffle presses, the pearl sugar melts as the dough rises, forming a crispy, caramelized outer "skin."
The memory of those first waffles later became an obsession to bring the Liège variety "home," which was a moving target for many years. With his businessman dad and two sisters, Omer and his brother Dave grew up traveling around the world, from Texas to Israel, Latin America to London, Brussels to Boston (not necessarily in that order) and finally to Oregon.
In Eugene, Omer and Dave could at last recreate their beloved Liège waffle, but even that achievement wasn't enough. Into and onto that foundation, they eventually fashioned more than 20 adaptations that are sweet, savory or an in-between blending of both.
The names of each dish playfully tell you everything or nothing. The Be Brie-Peared is, naturally enough, a waffle topped by a pear, melted brie and sweet sautéed onion, all drizzled with a maple-balsamic glaze. The Goat in Headlights becomes obvious when you see it – two sunny-side-up eggs sprinkled with smoked paprika and fresh coriander as "eyes," placed on goat cheese, avocado, fresh basil and extra virgin olive oil.
As if flavored with Yiddish, The Shmooli is smoked gouda melted atop fresh pear, a dollop of apple sauce and crushed walnuts dusted with coriander. Other menu selections are, at first sight, amusing mysteries: the Self-Fulfilling Prophecy, the Overachiever, Beloved Bully, Sweet Funk Machine and No, Really Though require deeper inspection, preferably with a fork and knife.
Beyond the waffle, the 'Schmef ' Salad, Frikkin Chikkin and a multiplicity of omelets complete the menu. All fruits and most drinks are certified organic. My favorite hot tea there is the "Israeli blend" of lemon verbena, peppermint, lemongrass, spearmint, thyme and sage.
All of these concoctions, Omer tells us, were collaborative efforts between the chefs, owners and the public by way of feedback and suggestions. The family today is a bit spread out. Brother Dave, younger sister Vered and their dad Shimon, while involved in the operations, are more often than not in Israel. But Eugene, Omer says, "has been unbelievably welcoming," and looks like home for a long time to come.