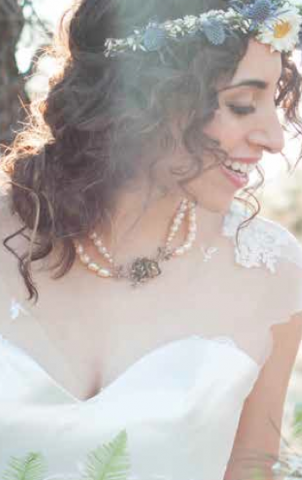 Weddings are a blessing – an amazing beginning for a bride and groom as they embark on their life together as a married couple. A wedding, the celebration of
the union, is one of the most important days of a person's life, marked by the ceremony, the feast, family and friends. With so much time and money spent, and so many involved in hosting a memorable event, researching, planning, shopping, testing and trying are musts! Here are some of my favorite tips and tricks for wedding day bliss.
The Bride
The Wedding Dress: The dress, of course, is the focal point of the wedding celebration. A bride's gown is an expression of her beauty and femininity, and most dream of their dress since before they could drive.
However, dress shopping can get overwhelming quickly if one isn't prepared. First, knowing your body type can help eliminate a lot of styles that you may love on a model or mannequin, but that won't accentuate your best assets. For example, if you are heavy on top, minimizing florals, beading and ruffles around the bust and adding volume to your hip area may balance you out, giving you the overall effect of a proportionate body shape. Balancing your body shape is key for perfect pictures and comfort during the day.
A wedding dress is most often the most expensive piece in a wardrobe. Custom dresses are fantastic and personal, but often pricey. If you're on a budget, shop David's Bridal, J. Crew and even Ann Taylor for a memorable dress that won't break the bank.
Overall, when searching for your dress, make an appointment, bring your friends and family and have fun! Even during your first fitting, snap quick pictures of yourself in the dress – don't just trust the mirror. And try on at least three, even if you think you have settled on what you want from the mannequin alone. Try on more than one as you may be surprised that a new fit or a new style may be best on your big day.
The Party Dress: On trend for your big day is changing during the reception to a more relaxed party dress. I love drama and I love big dresses. If you do too, for your reception consider a secondary dress that is comfortable for dancing and moving, won't drag or be tripped over and will preserve your wedding dress for years to come.
Hair and Makeup: For the big day most of us want to be pampered like a princess with hair, nails and makeup perfectly finished. Be yourself, only enhanced with a natural glow that translates well for photographs. Don't surprise yourself on the big day with a ton of unnatural curls and makeup. Schedule a trial, and again, take pictures for an idea of how you will look photographed on your wedding day.
Shoes and Accessories: The perfect shoe is a combo of comfort and glamour on your wedding day. Major retailers offer great deals on beautiful shoes for your big day. But don't forget to con- sider where you may be walking (e.g., spiked heels in the grass) and how long you may be standing. With this in mind, consider a more comfortable shoe to change into for the reception.
The Groom
Grooms have a lot of choices these days. In recent years, I have seen grooms attired in full tuxes to suits and ties, to no ties, to beach-side shorts and flip-flops. Of course, for men, comfort is always the key. But on your big day, your man should be encouraged to step up and dress up more than usual to complement the feel and style of your dress and your marital celebration. On trend now is more color! Black is always a classic, but what about navy suits or a tan suit ensemble? When selecting, take into ac- count your man's overall personal color scheme and body shape. Help him maximize his fashion and portraiture potential with a well-fitting, well-made ensemble. And don't forget or skimp on the details such as cuff links and shoes. If your groom is without a suit, a wedding is a great time to purchase this wardrobe staple. Get more than the one-time wear from the suit by opting for something classic and versatile for wedding and special occasion wear rather than a more formal, tuxedo-type look.
The Bridal Party
Custom dresses for bridesmaids, flower girls and mothers of the bride can be costly. Consider department store evening wear and major retailers like Ann Taylor, where you can even order swatches to check for color. And the gentlemen in the party should wear complementary ensembles to the groom, yet should not overshadow his style.
Places for Ideas and Inspiration
Here's a short list of websites for online ideas and inspiration:
Pinterest.com – Create your own Pinboard for your big day and collect ideas TheKnot.com | StyleMePretty.com | RealSimple.com blogs.nordstrom.com/weddings