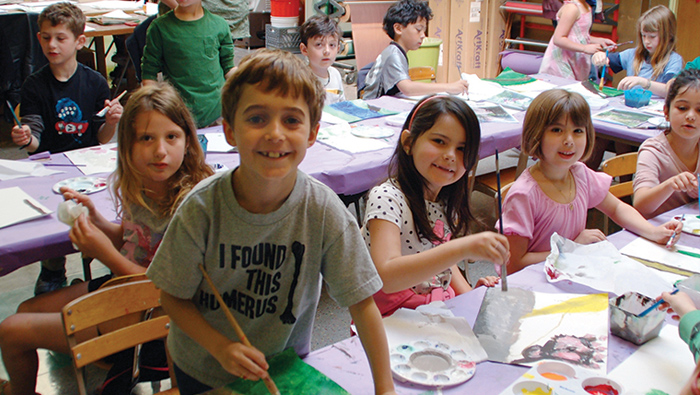 PORTLAND JEWISH ACADEMY
6651 SW Capitol Hwy.
Portland, OR 97219
503-244-0126
pjaproud.org
PJA students, 6 weeks through 8th grade, thrive in an academically rich environment that inspires positive Jewish engagement, respect and responsibility for the world. PJA has a strong focus on STEAM, as well as a collaborative approach to learning, allowing students to think for themselves and work for the world.
RIVERDALE SCHOOL DISTRICT
11733 SW Breyman Ave.
Portland, OR 97219
503-262-4847
riverdaleschool.com
Our simple but powerful goal is to produce students who know how to use their minds well. Riverdale schools offer the best aspects of independent schooling in a public school setting (PK-12) – nurturing a passion for personal interests, a habit of critical thinking and a comprehensive understanding of civic virtue.
CONGREGATION SHIR TIKVAH
7550 NE Irving St.
Portland, OR 97206
503-473-8227
shirtikvahpdx.org
These are difficult times, but our Jewish traditions can strengthen us. Shir Tikvah's education programs help students and parents deepen their Jewish identity. We are an
independent synagogue, a supportive place open to everyone. Come meet us – we'd love to tell you more about our creative approach to learning.
SHAARIE TORAH EDUCATION DEPT.
920 NW 25th Ave.
Portland, OR 97210
503-226-6131
shaarietorah.org
Shaarie Torah provides innovative education programs for students, preschool-grade 12. Our Religious School teaches literacy and identity. PJE takes students on an exploration of their Portland Jewish roots. Wednesday Night School teens enjoy guest speakers and participate in social actions around town. Jewish learning for everyone, inside the classroom and out.
THE CARL PRESCHOOL
920 NW 25th Ave.
Portland, OR 97210
503-226-6131
thecarlschool.com
The Carl Preschool is a play-based, Jewish cooperative open to all. Our focus is providing a warm, fun and creative environment for children to laugh, learn and grow. Early care and arts, dance and soccer-shots. Learning and cooking around Jewish holidays, field trips, crafting, outdoor play and much more!
OREGON JEWISH MUSEUM AND CENTER FOR HOLOCAUST EDUCATION
724 NW Davis Street
Portland, OR 97209
503-226-3600
ojmche.org
OJMCHE engages learners of all ages in Oregon Jewish history, Jewish culture and Holocaust history in statewide schools, during tours of exhibits, in Portland's historic Jewish neighborhood, and at the Oregon Holocaust Memorial. Annual partnerships allow us to connect cross-culturally on social justice topics, bridging history and the present day.
Harold Schnitzer Family Program in Judaic Studies
Box 751 Portland State University
Portland, OR 97207-0751
503-725-8449
pdx.edu/judaic
Judaic Studies at PSU explores a global civilization and its fascinating journey through history from antiquity and the medieval world to modern-day Europe, Israel, America and beyond. We engage students of all backgrounds through a rich and flexible curriculum, and serve the greater Portland area through a range of community partnerships and events. The program offers at BA and a minor.
CONGREGATION BETH ISRAEL
1972 NW Flanders St.
Portland, OR
503-222-1069
bethisrael-pdx.org
Our nationally accredited religious school and state certified preschool guide students to apply Judaism's teachings to their personal lives and our world; our adult education programming enriches both those new to Judaism and more advanced students.