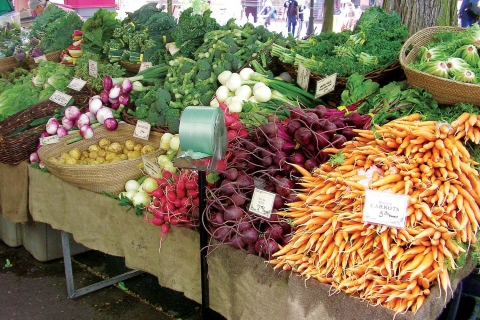 It's high summer, and even if you're not making an active effort to eat local, it's just about impossible to go a day without ingesting something that has been locally grown or raised within 50 miles of Portland.
All of the Portland metro area's 50+ farmers markets are open and in full swing, and savvy shoppers know to arrive before the opening bell to ensure the best selections. And farmers markets aren't just a Portland phenomenon; according to the U.S. Department of Agriculture, 7,175 farmers markets operated throughout the United States in 2011, a 17 percent increase from 2010. Most farmers markets in Portland are open from mid-May through September or October, but, thanks to consumer demand, more are transitioning to year-round service, like the Hillsdale, Hollywood and Portland farmers markets. Many farmers markets also offer electronic benefits transfer (EBT) for people enrolled in SNAP (the Supplemental Nutrition Assistance Program, formerly known as food stamps). A growing number of markets are offering two-for-one SNAP benefits, which allows SNAP participants to stretch the value of their food dollars when they buy high-quality, locally produced foods at their neighborhood farmers market.
The Pacific Northwest is also blessed with an abundance of CSAs, Community Supported Agriculture programs. Farmers sell subscriptions, or shares, in their annual crop yield to community members/subscribers. A weekly share usually consists of locally grown, freshly picked seasonal vegetables and fruits. Some CSAs also offer eggs, meat and poultry. According to the website Local Harvest, 99 of the 215 statewide CSAs serve the Portland area.
There's no accurate way to estimate the number of Portlanders who grow or raise some percentage of their own food, but one indication of the popularity of gardening here is the three-year waiting list for a plot in Portland's community gardens. Another indicator is the increasing number of classes that teach people how to raise backyard chickens or bees. It's a point of pride among home gardeners to serve homegrown food to friends and family, whether for a Shabbat dinner or a daily meal.
If you like to eat out, you've also probably noticed a growing number of restaurants that source their vegetables, fruits, meats and cheeses from local producers. It's not uncommon to see "salad greens from Sauvie Island Organics" or "We proudly serve pasture-raised lamb" on the menu, underneath mouth-watering descriptions of entrees and salads.
The growth of the local food movement is directly connected to consumers' rising interest in healthy eating, supporting sustainable agriculture, strengthening local economies by spending their food dollars locally, and ethical concerns about the fair treatment of workers and animals. Not coincidentally, these issues are also core values of Portland Tuv Ha'Aretz, a local Jewish food organization.
Portland Tuv Ha'Aretz, Portland's Jewish connection to sustainable, ethical food for all, was formed in January 2009 as an affiliate of the Hazon CSA network. Hazon ("vision"), a New York-based not-for-profit Jewish environmental organization, creates healthier and more sustainable communities in the Jewish world and beyond. As of 2012, Portland Tuv Ha'Aretz is one of 57 Hazon affiliates throughout North America and Israel.
Tuv Ha'Aretz, which means "good for the land" or "best of the land," connects Jewish teachings and traditions with sustainable food and agricultural practices, and is designed to engage all strands of the Jewish community in Portland around food, agriculture and food justice issues. Tuv's partner farm, Sauvie Island Organics, offers CSA memberships to interested participants. Tuv Ha'Aretz also presents a range of programs that explore the intersection of agriculture, ecology, food and Jewish tradition. Recent events include a presentation on Fair Trade chocolate; Shabbat Step-by-Step, a series of classes teaching Shabbat menu preparation and Sabbath traditions; a Jewish herbal home health-care workshop, and a screening of the documentary Food Stamped, preceded by remarks from Congressman Earl Blumenauer. Tuv Ha'Aretz has also hosted book groups, Jewish garden bike tours, latke parties, text study sessions, gleaning parties and yearly farm visits to Sauvie Island Organics. On Sept. 9, Portland Tuv Ha'Aretz will host the first annual Portland Jewish Food Conference.
Elizabeth Schwartz is a freelance writer, food activist, co-host of the Yiddish Hour on KBOO 90.7 FM and a founding member of Portland Tuv Ha'Aretz.