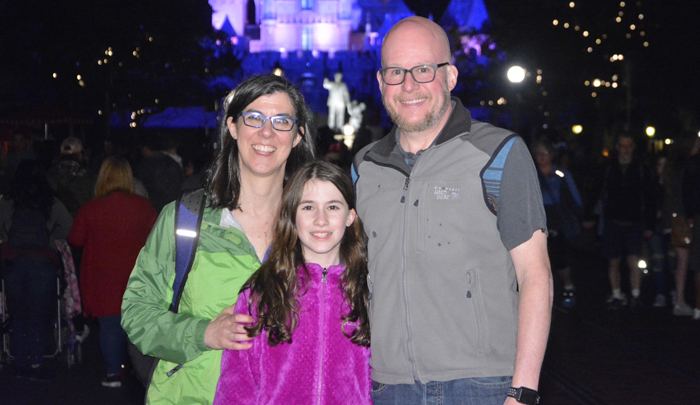 Photo: Dr. Robin McCoy, daughter, Molly, and husband, Steve.
In 1997 as a family friend, I visited Robin McCoy during her internship and residency at the University of Utah. When I saw Robin in her lab coat, I remember asking her how people reacted to her looking like a kid. When I repeated the question for this interview, she said, "If I had a quarter for every patient who has told me I look too young to be a doctor I would be rich by now. I discovered early, if I was confident and took control of a situation, people would respect me."
You graduated cum laude with a bachelor's in Arts, majoring in Russian Studies from the University of Rochester in 1993. At what point did you make a 180 degrees switch to medicine?
At first, I wanted to major in business, then I thought about political science. Thank God I didn't like those classes, but I loved my science and math classes.
I didn't think about becoming a doctor until I was a sophomore. I always knew I wanted to work with people. I was good at math and science and was in advanced classes. Several of my classmates were premed, and it wasn't until I met them that I started to think about medicine as a profession. My junior year, I volunteered at a hospital and I fell in love with medicine, and that's when I applied to medical school. I wasn't a science major, so between my junior and senior year I went to Portland State University to meet the requirements.
How many schools did you apply to?
I honestly don't remember. I didn't do great on my MCAT. At first I didn't get in to any of the schools I applied to and was wait listed at the University of Rochester as well as OHSU. To this day, I swear the reason I was accepted at the University of Rochester School of Medicine was that I was well rounded, was not a science major, and stood out in the interview process. The entire hour interview was spent talking about a Dostoyevsky novel.
How many women were in your class? Has the process of getting into med school changed?
The University of Rochester was ahead of its time. I don't remember the exact number of women, I think it was pretty close to 50|50. However, at the time it was common for females to gravitate toward primary careers, pediatrics, family medicine and internal medicine. The biggest change since I graduated is that now all schools are pretty much 50|50. Actually, a new statistic came out in 2017 stating there were more females than male students entering U.S. medical schools. The most exciting change is that more women are entering what used to be male dominated areas of medicine like surgery.
Was it culture shock to be in Salt Lake, at the University of Utah?

People were drawn there for the outdoors or because they were Mormon. I obviously loved the outdoors and loved spending time in the mountains. It was a great place to do my residency, and I made life long friendships. But, yes it was somewhat of a culture shock. I was only 27 when I started residency and I looked even younger. It was frequently assumed that I was the nurse when I would enter a patient's room.
What are your best memories of growing up Portland?
My fondest memories as a child all involve spending time with my family. Both of my parent's families are from Portland and we always got together. We would even go grocery shopping with my grandpa Harry and would eat a meal with someone from the family at least once a week.
Tell us about growing up Jewish?
My immediate family were members of Congregation Beth Israel but my dad's family were members at Congregation Shaarie Torah. This meant I got to enjoy the best of both. I have fond memories of going to services with my parents and siblings at Congregation
Beth Israel and then walking over to Shaarie Torah in the afternoon; their services always were longer. We would sneak in the door and sit with my grandparents. My grandfather Harry wasn't able to fast on Yom Kippur, he would always take all of the grandkids to Quality Pie during the afternoon services.
I have fond memories of attending B'nai B'rith Camp every summer.
When and how did you meet your husband?
I met Steve when I was a resident in Utah. He was there building software while I was there for residency.
Your work centers around children.  Can you give some insight into what you do?
My training is in developmental and behavioral pediatrics. Early in my career, I was drawn toward autism and spent the majority of my time in this field. However, over time, I have been doing more work in the mental health field. Although I am not a child psychiatrist, I have found that in the last several years, I am doing more psychopharmacology for children and adolescents with mental health difficulties. I still work with individuals who have autism and other developmental disabilities. I also treat ADHD, Tourette's, anxiety, depression and other behavior disorders.
How do you balance marriage, motherhood and career?
I am almost 48 and I am still trying to figure this out. This is definitely the hardest struggle. When I first went into medicine, I was very career-oriented and would do anything to get what I thought at the time was the best job. When Steve and I moved back to Portland in 2005, I knew I wanted to work at OHSU. I loved teaching medical students, residents and fellows (and I think I was actually pretty good at it). I also enjoyed the excitement of clinical research and staying on top of what was going on in medicine. I became heavily involved in autism during my time at OHSU and was lucky to be part of the Autism Treatment Network. We did clinical research and traveled to Washington, D.C., twice a year for national meetings.
When Molly was born, I could balance it at first, but by the time she was in pre-k, I began to realize that I wanted to focus more on family. Although my hours at OHSU weren't horrible as far as medicine goes, my time wasn't flexible. It meant I could only chaperone a field trip if it happened to fall on a non-clinic day. Otherwise, I would have to find coverage and always hated to ask for help.
In 2011, I left OHSU and started to work at the Children's Program. What I love the most about my current job is the flexibility. I am able to be more present for my family and be an active volunteer in everything that Molly does. If I want to volunteer for a field trip, I can change my schedule and see patients late one night or on the weekend. This allows me to come home early one day a week to take her to dance and another day to drive her to religious school.
I have to admit, I am lucky as Steve is extremely engaged and we truly co-parent. Without him, I don't think I could make this work. I think the hardest struggle is finding time to volunteer and take care of myself. Volunteering for Molly's activities is easy as this is usually time I can spend with her. It's volunteering in the community that makes it hard. I am currently in my sixth year as a board member at Congregation Beth Israel. I also sit on the Screening, Identification and Assessment workgroup for the Oregon Commission on Autism Spectrum Disorder meetings. I try and make time to run or work out a few times a week.
There are still days when the balance is hard; I always wonder if things would be easier if I worked part-time. But I love being a doctor, volunteering and spending time with my family. I don't know what I could give up. Sure, there are times when I think each part of my life suffers because I'm spending too much time in the other part, but in the long run, I hope it all balances out. I think it's important to be a great role model for my daughter and other girls. It's important for girls to know that they can do whatever they want and make it work.
Who are your role models?
My biggest role model in medicine has always been my uncle Bob Mendelson. He is whom I went to early in my career for advice. In fact, I'm pretty sure my Uncle Bob and Aunt Lottie Mendelson proofread my medical school and residency applications (and likely made some nice changes).
My parents, Patricia and Mort Nemer, and grandparents, Harry and Diane Nemer, were my role models. Both of my parents were amazing; always putting us first. My parents and grandparents were also active volunteers in the Portland Jewish community and I learned from a young age the importance of giving back and helping others.
What advice do you give your daughter?
Follow your heart and dreams. You are talented enough that you can do whatever you set your mind to as long as you are willing to try hard. It is important to help others and be engaged in family and community.
What do you think about the 2018 news that NYU now offers tuition-free medical school?
It's fantastic! I don't know what the average debt is now for a medical student, but I graduated in 1997 and I'm still paying off my student loans.