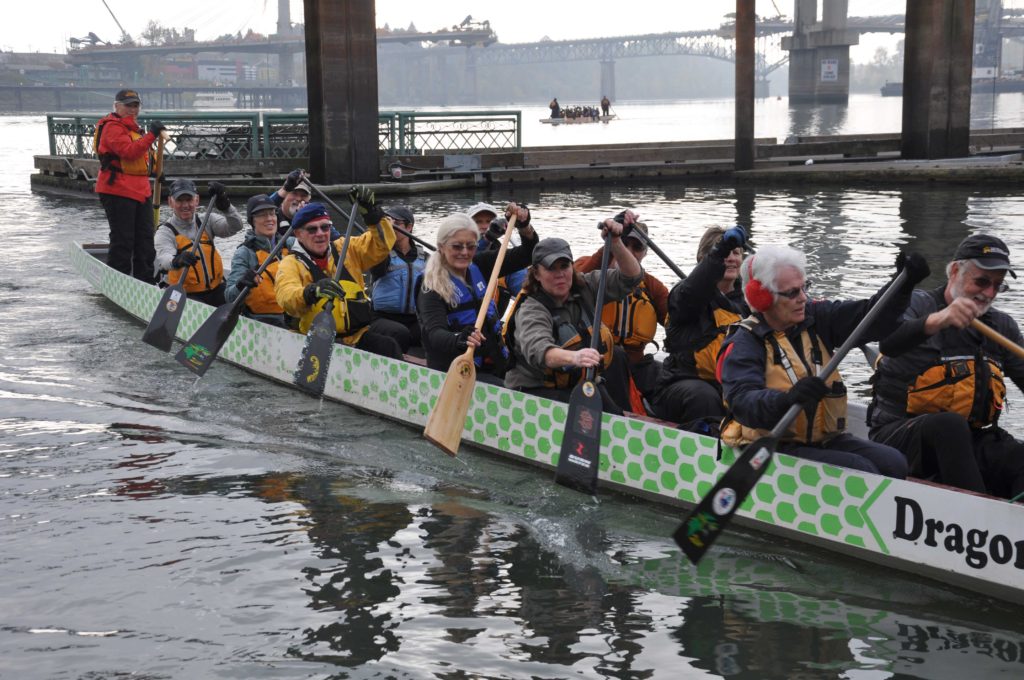 Paddling on the Sea of Galilee in Israel is just one of the new experiences Norman Gerber, now 83, has had since he discovered dragon boats three years ago. He says the sport has a lot to offer including, as his team's motto says, "fun, friendship and fitness all year long on the Willamette River." He's also won five medals in races and plans to paddle with a team in France later this year.
Dragon boating was introduced to Portland about 24 years ago by the Portland-Kaohsiung Sister City Association. The annual dragon boat races at the Portland Rose Festival draw a lot of attention to the sport as teams from around the world race the ornate Taiwan-style dragon boats owned by PKSCA. But some 30 teams in Portland, including the Golden Dragons for paddlers age 50+, paddle the Willamette year-round in the lighter, less flashy Hong Kong dragon boats owned by DragonSports USA. Teams rent the Hong Kong boats for a small fee, making the sport an affordable way to exercise and enjoy the river.
"I think it's very important as you get older to do some quality exercise," Norman says. Since one of his Golden Dragons teammates is still paddling at age 96, Norman figures he has a few years left to enjoy the sport. "I'll keep paddling until my body says 'Norman, stop.' " He thinks it is a sport people of any age and fitness level can enjoy because "you can do as much or as little as you want." With 20 people paddling one canoe-style boat, no one has to do all the work.
"This is great exercise with wonderful people and the river is spectacular," says Norman, adding the team has seen eagles, kingfisher, deer on the islands, cormorants and harbor seals. Barbara Slader, 66, started paddling about the same time as Norman after she saw an article that was accompanied by photos of "people looking happy."
"I grew up on a lake, and it frustrated me that we live in a city with a river that is not easy to get out on for most people," she says, noting people can walk along the banks, but unless they have a boat, most people never get to enjoy being on the water. She was delighted to discover dragon boating offers a way for anyone to enjoy the river while also getting a good workout.
"It's excellent exercise," she says. "You don't just use your arms. You use your legs and back and twist and rotate. And when we prepare for races, we get really fit."
"The three hours a week we spend on the river make you want to exercise other times to build stamina and to keep fit for dragon boating," she adds. "It's such a pleasure you don't want to miss it."
The race season stretches from March through mid-October with races across the country, "so we travel too," says Barbara. For Jeannie Teitelman, race season is the highlight of dragon boating. She and her husband moved from Baltimore to Portland five years ago to be near their grandkids. "Three of my neighbors dragon boat, and they wouldn't leave me alone till I came," she says, noting she has met wonderful friends paddling with the Golden Dragons.
"Competition is good and practices are hard so you get in shape," she says of race season. The fun of racing inspires her to paddle year-round to stay in shape. While "nice weather is wonderful," Jeannie says paddling in the winter is tolerable. "You dress for the weather, and you don't even feel it after a while." DeAnn Sullivan-Fuks, 59, has been involved with Portland's dragon boat scene almost since its inception. Her late mother, Ann Sullivan, who was a reporter for The Oregonian for 52 years, wrote several stories that generated interest in both dragon boating and Kaohsiung. DeAnn and her mom were part of the 1990 Portland delegation to Taiwan when 36 Portlanders participated in the Taiwan Area Games in Kaohsiung. Though she had only paddled a dragon boat twice, DeAnn swam and paddled in the games and enjoyed all the "Olympic-style festivities … marching into to stadium." She paddled for about eight years before giving it up for eight years. During that hiatus from paddling she gained 100 pounds. One day she says she bumped into the woman coaching a team aiming for the nationals. The coach said she'd help DeAnn get back in shape to compete. A year later and 70 pounds lighter, DeAnn paddled with the women's team that won nationals and then went on to take second and third place at the "worlds" held in Australia in 2007. Since then DeAnn has joined the board of the nonprofit DragonSports USA.
In addition to renting the boats to local teams, DragonSports also runs team-building outings for schools and businesses. In fact, after watching his wife's enthusiasm for the sport grow, Cedar Sinai Park CEO David Fuks signed up staff members of the Jewish community's senior facility for a team-building outing. DeAnn says Nike, alternative high schools and other groups have also experienced the cooperation and collaboration necessary to paddle a dragon boat.
DragonSports USA's mission is to promote paddling sports, fitness and friendship. Anyone age 14 and older can contact DragonSports (info@dragonsports.org) to be connected with a team for three free trial sessions.