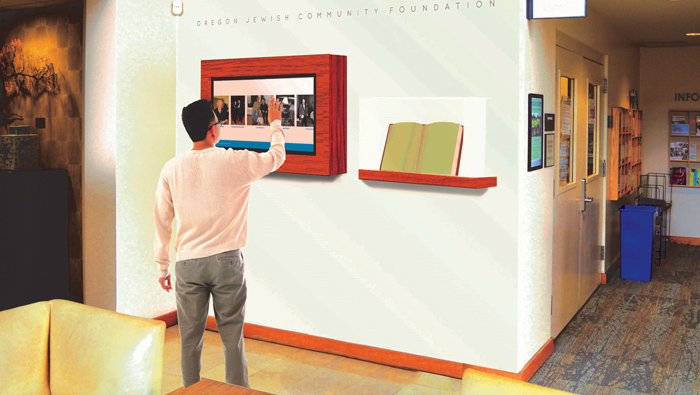 Stories are powerful and we all have them. When we share our stories with another person, we can turn a stranger into an acquaintance or an acquaintance into a friend. We can even bridge generations. Stories, and the act of sharing them, can also build community. They can connect people with those around them by revealing the values and motivations that we hold as individuals and perhaps share.
With the goal of gathering, celebrating and sharing our community members' stories, the Oregon Jewish Community Foundation is developing an Endowment Book of Life program for our region. The Book of Life will be a living, evolving collection of legacy donors' stories that convey the values and motivations behind their decision to make a legacy gift to benefit future generations.
"At the foundation, we work in areas that are intangible, and legacy is one of them," says OJCF Executive Director Julie Diamond. "The new Endowment Book of Life is so exciting, because it will give us a tangible way of honoring and celebrating our generous community members. It will be like a shared photo album that will display the personal stories of Jewish family and communal life."
After more than three successful years partnering with the Harold Grinspoon Foundation on the Life & Legacy initiative, OJCF believes the establishment of an Endowment Book of Life program for Oregon and Southwest Washington is the logical next step for our community. Legacy giving has become a more regular part of our community's philanthropic culture, and an Endowment Book of Life will provide the opportunity to recognize and honor individuals who have committed to leave an after-lifetime gift to support our community's Jewish organizations.
"The Endowment Book of Life has proven to be a very meaningful way for legacy donors to share their histories, values, visions and hopes for the Jewish community with their families, friends and future generations," says Arlene D. Schiff, national director of Life & Legacy. "These testimonials serve as a public statement of the important role the Jewish community and valued organizations have played in a donor's life, providing the story behind one's financial legacy commitment," she adds.
OJCF's Endowment Book of Life will have three components – an actual book that contains the donors' stories, photos and signatures; an interactive digital display that will present in a searchable fashion our legacy donors' photographs and stories; and a website that also will display donor testimonials and photos. Both the actual book and interactive display will be located in the lobby of the Mittleman Jewish Community Center, while the website will be accessible for all through ojcf.org.
"OJCF and the MJCC have had a strong, long-standing relationship, and the Life & Legacy program has been an important part of our collaborative work in recent years," says Steve Albert, executive director of the MJCC and Portland Jewish Academy. "Since 1914, the MJCC has served as the 'living room' of the entire Jewish community. Jews from all backgrounds, denominations, affiliations and neighborhoods have gathered at the J for social, cultural and recreational programs, and we believe that makes the J uniquely suited to house the community's Endowment Book of Life. We're excited and proud to host this installation in our lobby, where it will be readily accessible to our entire community."
The Endowment Book of Life will be introduced to the community on June 21 at OJCF's Annual Meeting and Reception, to be held at the MJCC. Arlene D. Schiff will be in attendance as the foundation presents this exciting initiative to the community. (See details below.)
"I encourage every donor who has made a legacy commitment to participate in OJCF's Endowment Book of Life program," says Schiff. "It will be a rewarding experience for you and inspirational for others."
If you have made a legacy gift to benefit our community, we invite you to be a part of the Endowment Book of Life. For more information, contact Gail Mandel at gailm@ojcf.org or 503-248-9328 or visit ojcf.org.
Gail Mandel is the legacy development and marketing manager for the Oregon Jewish Community Foundation.
OJCF ANNUAL MEETING
June 21
Oregon Jewish Community Foundation annual meeting and reception.
Introducing the Endowment Book of Life program.
Honoring Harold Pollin as the foundation's 2017 Legacy Society Honoree.
5:30-7:30 pm at the MJCC. No fundraising.
503-248-9328