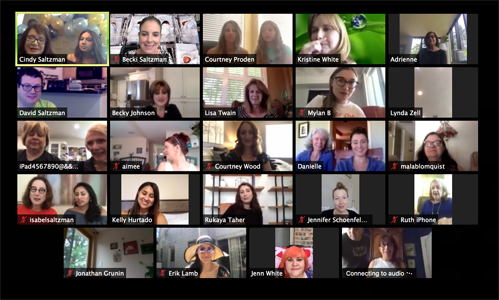 How does one celebrate lifecycle events during a pandemic? How do we stay sensitive to the times, keep everyone safe and still have a celebration?  Having planned my daughter's baby shower pre-pandemic, all bets were off on how we would pivot for a virtual baby shower.
I quickly realized that there really isn't a roadmap or a right or wrong way to handle these things. So what did I do? Basically nothing. I was indecisive, distracted and the biggest procrastinator on earth. At least that's what it felt like. I am beyond excited for my first grandchild and so proud of my daughter and son in law in the way they have been handling themselves. So why procrastinate.
Having a virtual baby shower over Zoom seemed like such an impersonal way to go.  And with so many horrible things happening in the world, was it just better to wait until after the baby was born, like they do in Israel.
But then suddenly I realized, that sharing happiness with family and friends during this time was really a kind of mitzvah. Not only would my daughter and son-in-law be able to feel the love from everyone, but all of the participants would get the opportunity to share stories, laugh, give advice and feel the love too.
And that is exactly what happened. It was almost like enjoying a family/friends reunion. It was fun, funny, touching and warm.
And all of the props I had brought for atmosphere – 95 balloons, an arch, a special cake and towers of bundtlet cakes – were not so important to the atmosphere as was what everyone brought to the virtual baby shower; love, joy and connection.
And for those 90 minutes, it felt like all was right in the world.
Have a Happy Shavuot.
Wishing you and yours much strength and health,
Cindy