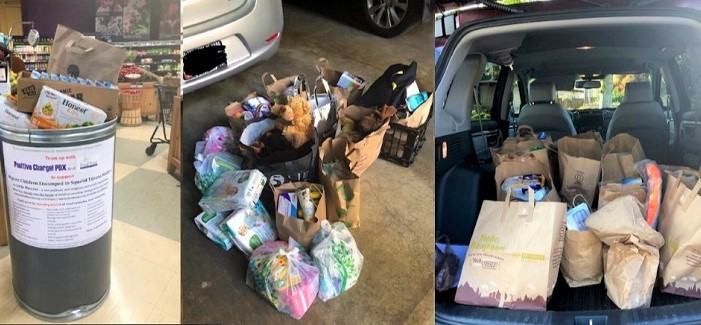 The first shipment of Positive Charge! PDX collections for migrant children in Mexico at the U.S. border is on the way. Little Mercies will deliver the donations to children in shelters in Mexico on the border in Tijuana.
The donations will go to migrant and refugee children fleeing Central America.
"We have had such outstanding support from our community, both in donations and in the number of places wanting to host bins, that we are making an unscheduled, early delivery of donated items to the Little Mercies social workers in San Diego this next week," says Sallie Cohen, Positive Charge! PDX cofounder.  "We have one angel, an old BBG friend and native Portlander bringing the items to her college friend in the Bay Area, and her angel friend will bring them the rest of the way to San Diego."
"We will continue to collect items on our list through Sept 7," says Sallie. "On Sept. 8 we will invite everyone to join us to create handmade cards of hope and kindness to accompany the donated items for the children."
In addition to the items previously requested (see below), Positive Charge! PDX has received a special request to also donate: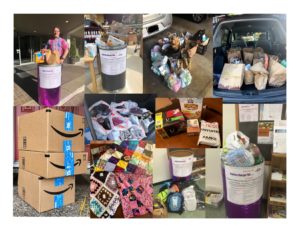 new/gently used kids' shorts
powder electrolytes
vitamin gummy bears
Bin locations in SW and NW Portland:
Prosperity Pie Shoppe, Multnomah Village
Mittleman Jewish Community Center
Garden Home Community Library
Pediatric Associates of the Northwest (two locations: near Tigard Costco and Montgomery Park)
Food Front Cooperative Grocery on NW Thurman
Food Front Hillsdale
Windermere Raleigh Hills Office (Monday-Friday)
You can also donate by going to this Amazon wish list link.
Positive Charge! PDX is a volunteer group, open to everyone, with a mission to share good news and, through numerous projects, make a positive impact in our community. Our Facebook page URL is https://www.facebook.com/groups/PositiveChargePDX Newsletter requests to: info@positivechargepdx.org Little Mercies provides aid for vulnerable youth and those who support them. They create channels for simple kindness and distribution of essentials to ease the suffering of children living in the world's harshest life conditions. Their Facebook URL is: https://facebook.com/LittleMerciesOfficial/ and their website is: www.LittleMercies.org
Donation Requests:
Travel toothbrush and toothpaste
Skin cleansing wipes
Plastic strip bandages
Nonperishable snacks: granola bars, nuts, apple/fruit sauce, fruit leathers, juice box, dried fruit
Maxi pads/tampons
Deodorant
Diapers (any size)
New socks and underwear (list size/age and gender on the outside of backpack with a string tag so it is not lost)
New or gently loved shoes
New or gently loved stuffed animal
Small rechargeable crank/solar flashlight (if battery powered, please provide an extra set of batteries)
Small pack of crayons/coloring pencils
Pad of paper/coloring book
A sweet book in Spanish or a note of kindness to our small travelers.
$5 to buy a blanket in Mexico (donate online at www.LittleMercies.org)
Small/light backpacks: gently loved or new