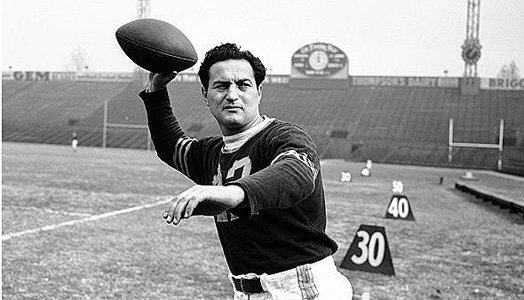 By Dr. Murray Siegel
In case you are missing football already, here is something to think about until the season returns.
After the Arizona Cardinals selected quarterback Josh Rosen of UCLA in the first round of the 2018 NFL draft, it was learned that Josh is Jewish and some folks considered what it would be like to have an NFL championship secured by a Jewish quarterback. There is no need to consider since it has occurred and more than once. The quarterback's name was Sid Luckman.
Sid Luckman was born in Brooklyn in 1916 to Meyer and Ethel, Jewish immigrants from Germany. He played football at Erasmus Hall H.S. and led them to two city championships. Sid then played at Columbia where he was also a brother in the campus chapter of ZBT. He was recognized as a great player and finished third in the voting for the 1938 Heisman Trophy. Of interest is the fact that the player who finished second was Marshall Goldberg, a Jewish resident of Elkins, WV who was a running back at Pitt.
Sid was selected in the NFL draft by the Chicago Bears, where he helped develop the T-formation, which revolutionized pro football. He led the Bears to four NFL championships, including a 73 – 0 drubbing of the Washington Redskins in the 1940 title game. During World War II, he served as an ensign in the Merchant Marine. Sid retired from the Bears after the 1960 season. He was inducted into the College Football Hall of Fame in 1960 and the Pro Football Hall of Fame in 1965. Sid was married to Estelle and they had a son and two daughters. He retired to Florida where he died in 1998.
Dr. Murray Siegel is a USAF Vietnam War veteran who taught mathematics for 44 years. He grew up in Brooklyn, NY and has lived all over the U.S. Since childhood he has been determined to learn more about Jewish contributions to American history and culture.