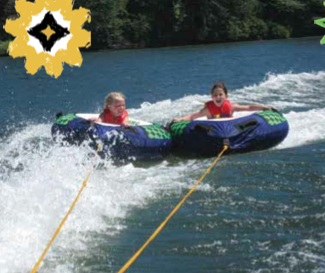 To the residents of Lincoln City, the Day Camp at B'nai B'rith Camp is a hidden treasure. To the Jewish community, it epitomizes the spirit of performing a mitzvah and strives to achieve tikkun olam.
Born in 2006 as a trailblazing effort to fulfill a community need, BB Day Camp is a thriving, unique camp offering. Not only is it unprecedented to have a day camp on the same site as an overnight camp, it has been a safe haven for hundreds of underserved kids who are gifted a camp experience.
It all started with an arcade packed full of unsupervised children. Michelle Koplan, executive director of BB Camp, walked past the arcade in the summer of 2004 on her way to a meeting. She learned that there were not a lot of childcare options in town, let alone camp programs. The arcade served as a default babysitter, which didn't sit well with someone whose mission is to enrich the lives of children.
"Day Camp was an opportunity to significantly serve kids in Lincoln City while supporting the community that BB Camp has called home since 1921," says Michelle. "Some of the kids have little or no food available at home, but they are assured a meal and two snacks daily at Day Camp."
This is not your typical day camp. Because it runs alongside the overnight camp, the BB Day Camp uses all of the camp's facilities, activities, programs and professional staff.
These activities include tubing, canoeing, wakeboarding, creative arts, ropes course, arts and crafts, archery, environmental education, athletics, performing arts, swimming lessons and recreational swimming in the outdoor heated pool, and group games that promote character building, teamwork and leadership.
Sari Tullis, BB Day Camp unit head, says it's incredible to see the enthusiasm, confidence and friendships build day-by- day. "It's a great feeling to know that you are changing lives through fun experiences."
The majority of children in the BB Day Camp program are from Lincoln City, while some are vacationing in the vicinity. The camp runs weekdays for seven weeks and costs $120 per week, which is very reasonable for a full day that includes food. Financial aid is provided for families unable to pay this amount.
"BB Camp stepped up to help the homeless and low- income children in Lincoln City while creating positive experiences and lifelong memories for our youth," says Lincoln City Mayor Dick Anderson. "BB Camp is also an economic development asset to Lincoln City – they buy locally, hire locally and employ year-round staff."
To help support the need for scholarships, Dick and his wife Sue Anderson chair an annual spaghetti dinner fundraiser (see inset). The following supporters also help fund the BB Day Camp: City of Lincoln City, Siletz Tribal Charitable Contribution Fund, United Way, Lincoln County Social Services, Oregon Jewish Community Youth Foundation and B'nai B'rith Camp Teen Philanthropy Program Fund, and MOJO Coffee Company.
"It's hard to put into words how great camp has been for my kids. Camp is a main topic of conversation all year long, as it has changed their lives through unconditional love and friend- ship," says Connie Davis, a foster mom and grandma who has had nine children attend BB Day Camp. "The fun is just the icing on the cake."