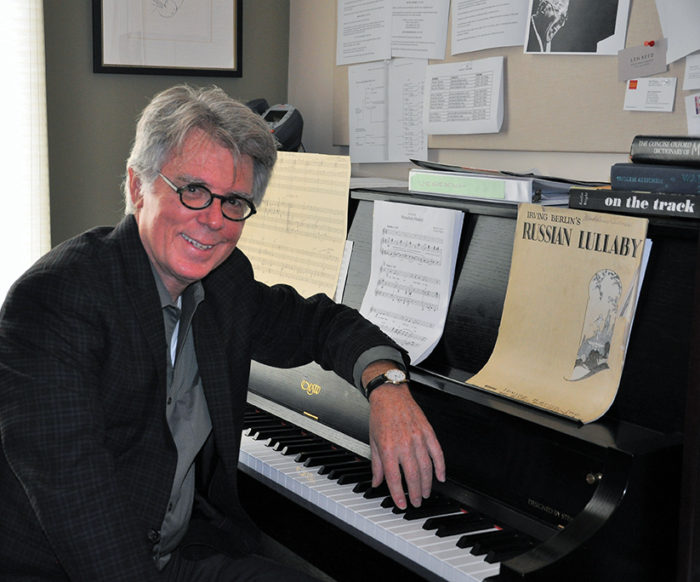 David Spear may be a scholar-in-residence at Portland State University for the fall term of 2017 only, but the music he has shared with his students and the community will reverberate for many years to come.
David is a composer, conductor, pianist and educator who be­gan his career orchestrating film scores for Elmer Bernstein. Those films include "Airplane," "Ani­mal House," "Heavy Metal" and "Ghostbusters." He went on to compose scores for three Academy Award-nominated films: "Ballet Robotique," "Rainbow War" and "The Courage to Care." He also wrote the music for the Emmy Award-winning National Geo­graphic documentary "Surviving Everest."
David is melding music and Jewish experience during his term teaching in PSU's Harold Schnitzer Family Program in Judaic Studies. Students taking his course, Arts and Jewish Experi­ence: New Music and Sound for a Classic Silent Film, spent the semester composing and orches­trating a fresh musical score for an historic silent film, "Jewish Luck" (1925). Class participants will earn a professional credential, as their original work will be performed, published and recorded.
"Jewish Luck" will premiere with its new score at PSU Dec. 11 at 8 pm in Lincoln Recital Hall. (http://tinyurl.com/JewishLuckPDX; for more information, email judaicst@pdx.edu.)
David did a similar project with his graduate students at the USC Thornton School of Music. Most silent films have no surviving score because the music was improvised by the­ater pianists at each screening. David and his USC students rescored Samuel Goldwyn's 1922 classic Yiddish silent film "Hungry Hearts." The score and restored print premiered at the 2007 New York Jewish Film Festival at Lincoln Center.
In early November, David produced and directed "Levy Weekend" for the PSU Harold Schnitzer Family Program in Judaic Studies, which included lectures and a screening of "Hungry Hearts" on Nov. 5. The next night a cabaret honored Jewish composers and lyricists who crafted some of the most memorable melodies in the Great American Songbook. All the songs in the cabaret, with the exception of one written by David, were written between 1920 and 1953. The cabaret featured performances by PSU music students and faculty including Leroy E. Bynum Jr., the new dean of PSU's College of the Arts and an accomplished opera singer.
"As soon as word got out I was doing a cabaret, everybody con­verged," says David.
David found one cabaret performer, Cantor Eyal Bitton, at Congregation Neveh Shalom. "I heard him sing on Kol Nidre. It was beautiful and I was moved."
During a rehearsal for the cabaret, Cantor Bitton spoke about how much he is enjoying David and the cabaret. Initially he hesitated to perform since he had just moved to Portland over the summer.
"It does me a lot of good to do this fun and amazingly musical project … (Yiddish theater) does me spiritual good," says Cantor Bitton. "David sees the joy and fun in music."
"We are dusting off and re-presenting The Great American Songbook for the Portland community in a fresh way," he says.
In the cabaret, the cantor sang two songs including "Lyd­ia the Tattooed Lady," which was made famous by Groucho Marx. But he says David helped him forget that performance and take a fresh approach.
"David has a simple way of looking at a song anew from the songwriter's interpretation rather than from one great artist's interpretation," says Cantor Bitton.
With David's busy teaching and rehearsal schedule, we decided an email interview was best. The following has been lightly edited for clarity and brevity.
How did you become interested in music?
I was very fortunate to grow up in a musical home in West Orange, NJ, where my mother and father were always playing, singing and making music. They created a children's Saturday morning TV show in the early 1960s called "Pip the Piper." My sister and I were always their first audience. When we came home from school asking for help on our homework, our par­ents invariably replied, "We need help with our homework, too, because we're videotaping the show in New York tomorrow, so please sit down and listen to the act!"
My mom is a classically trained pianist, and I always loved the way she accompanied my dad. I observed their creative process and how they wrote and performed songs to advance the plot of each scene. I was also learning basic musical theory – melody, lyrics and harmony – by carefully observing their rehearsals.
How did you get started as a pianist, composer, con­ductor and teacher?
I never took formal classical piano lessons. I listened and figured out how to play other TV themes and popular songs by ear on the piano.
I loved music and was always improvising and playing piano by ear. I knew that I wanted to write music for all instruments, but I wasn't quite musically literate. In junior high, I took Beginning Winds, where each student chooses a woodwind or brass instrument, but I wanted to learn how to play all of them! The band teacher, Mr. Patrick, was an excellent conductor and allowed me to switch instruments every month of so – clari­net, saxophone, trumpet, French horn. I finally was becoming musically literate and learned to produce new sounds and blend in an ensemble.
I had a big appetite for music and wanted to be a composer.
Music theory came easy to me during my music composition studies at UCLA. I became a staff accompanist for the UCLA dance and theater departments, which was a practical way for me to support myself as a working musician. As an undergrad­uate, I was hired as music director for the American Academy of Dramatic Arts when they founded their West Coast campus in the mid-1970s.
Among composer, conductor, pianist and teacher, do you have a favorite?
I see all roles fitting together as interlocking parts of a bigger musical puzzle. Composing requires long periods of solitude and concentration, where the goal is to reach inward to dig out the themes resonating in the mind and throbbing in the heart.
Conducting is a whole other thing. The music is already written (frequently by someone else), and the conductor's main role is to fulfill the composer's intentions by ultimately leading a performance and bringing the music to life. This requires learning every note in the score and inspiring confidence in the orchestra.
I have always integrated my roles as composer, conductor and pianist in the classroom. It is natural for me to use the piano to simplify and demonstrate with one finger how the opening notes to Beethoven's 5th Symphony look and sound. I teach my college students how to "reduce" or "distill" a large orches­tral work into a very simple piano piece. This work may seem daunting, but through the reduction the student discovers the elements comprising the composer's original sketch. Thus, by "undoing" an orchestration, one learns every note and how the piece is truly composed.
You orchestrated film scores for many memorable films from the '70s and '80s. What does it mean to orchestrate? Is that different from "scoring" the film?
The legendary film composer Elmer Bernstein composed the underscore for those films. Elmer was the Mozart of film music and was able to write in any style for any period, location, and dramatic or comedic situation. His sketches were impeccable. My role as orchestrator was not unlike the relationship of the apprentice to the master. Many of the great painters during the Renaissance didn't have the time to actually paint, so they sketched their subjects and images on canvas and the appren­tices filled in the colors. That is what an orchestrator does – paints colors with musical instruments. The great themes, melodies, chords and musical forms are simply notated by the composer and the orchestrator fleshes it all out and distributes the notes to the right instruments.
There are some parallels regarding my scoring project of "Jewish Luck" in collaboration with my PSU students. How­ever, our work on this Yiddish silent film requires a lot more understanding of the period, history and culture in the Moscow Yiddish Theater in the mid-1920s. My goal is to create a new soundtrack for the film that accurately reflects the Sholem Aleichem characters, while being sensitive and authentic to the period and location. To facilitate this process, I wrote a song for the main title of the film, where I endeavored to define the style of the score – Yiddish theater circa 1925. Our goal in the class is to adapt and arrange the music to sound authentic to the period and location.
Was "Courage to Care" the first Jewish-themed film you scored?
Yes. "The Courage to Care" is a 30-minute documentary made in 1985 for a PBS series on the Holocaust. However, the main message in the film is about life, not death. The film focuses on how gentiles risked their own lives by hiding Jews in their homes during the war. The rescuers and the rescued were interviewed, and the opening narration was written and narrated by Elie Wiesel. I wrote the score for a quartet: piano, clarinet, viola and cello.
How do you like Portland and PSU?
Love it. I believe that Portland is the best remedy for anyone from New York or LA. I'm enjoying the slower tempo of this very smart city, which I find has a very friendly small town feel. I left my car in LA and am taking public transport everywhere. I couldn't be happier.