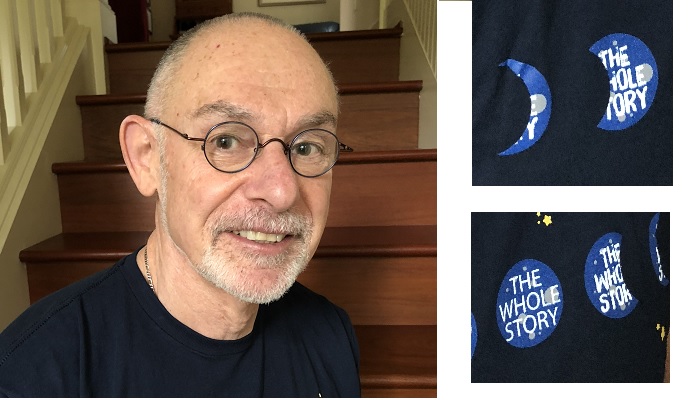 After 35 years in broadcast journalism as a television reporter, producer, news director and station manager, David Lippoff left the industry because "it was no longer fun or rewarding" and he didn't like the direction it was headed. A decade later he saw an opportunity to restore the heart of journalism.
He now volunteers his time and experience to serve as the Portland coordinator of Solutions Journalism.
The mission of the Solutions Journalism Network "is to spread the practice of solutions journalism: rigorous reporting on responses to social problems. We seek to rebalance the news, so that every day people are exposed to stories that help them understand problems and challenges, and stories that show potential ways to respond."
That mission spoke to David, so he contacted the network in 2016 and asked if they had plans to expand to Oregon. The answer was "yes," and David came on board in a volunteer capacity.
Any and all interested journalists, be they reporters, editors, still and video journalists, freelancers as well as members of news organizations and journalism students and educators, can go to the SJN website, solutionsjournalism.org, and sign up for free. By doing so, they gain access to the Solutions Story Tracker database and can find out about workshops and events in their local area.
In 2017, 35 people turned out for the first Oregon workshop to learn about solutions journalism. Now 75 people have signed up to be part of the area network. Pamplin Media Group is the first news organization to join the network. But the University of Oregon School of Journalism includes solutions journalism in its third-year curriculum. And the local chapter of the Society of Professional Journalists and the Online News Association have co-sponsored or promoted trainings.
"Journalism is storytelling that informs your audience – the public – and gives them enough background to understand situations and make informed decisions based on facts and evidence as opposed to only emotions," says David. "An informed citizenry is required for democracy. The traditional role of the media is to provide that service."
David hastens to say that solutions journalism is not advocacy. It doesn't profess to offer the answer. It looks at solutions that have succeeded in other areas – with success defined and supported by facts. It is rigorous, evidence-based reporting about responses to significant social issues.
He calls investigative reporting the "watchdog" of a community and solutions journalism the "guide dog."
"We have a lot of reporting about problems that are not unique to our area," says David. "So taking the time to see if other places are having success is worthwhile energy that goes to the heart of what journalism is supposed to be about. Solutions journalism provides a framework for that kind of storytelling."
He considers the approach one effort to bring journalism back to its original purpose.
He believes "how" is a very important word that frequently gets short shrift in today's reporting. Not just how did we get into this situation, but how do we get out of it. How the situation is dealt with elsewhere is important information that should be included in reporting.
"I don't see or hear a lot of evidence on issues and problems – about how or if these problems are being addressed or solved someplace else," says David. He adds that reporters using solutions journalism "Don't take a position or say this is the only solution."
For instance, homelessness is a frequent news topic in the Portland area. "We know there are districts around the country taking different approaches (to the problem) and have great success. But I don't see a lot of coverage here about that."
Reporting on how a problem is being addressed elsewhere should also consider if the solution is transferable. "Can the approach be adapted to be applied in other places, and what are the pitfalls and problems?" he says.
David points to two Portland groups that have looked for and found solutions outside the community with good results. One example is Cedar Sinai Park's adoption of the Green House model to replace the traditional nursing home with households where elders live in a home rather than a facility. Another example is the recently constructed Unity Health Center. Emergency medical services, police and mental health and addiction service providers have all come together to help create this revolutionary model to care for mental health and behavioral health emergencies after exploring existing organizations across the country that were doing the same type of work. Philanthropists and four major health-care organizations – Adventist Health, Legacy Health, Kaiser Permanente and OHSU – came together to develop Portland's response to mental health crises.
David says when people only see problems reported, they tend to get pessimistic and disengage. By also reporting solutions that have worked in other places, people re-engage with the media and their community.
In addition to training, SJN offers a searchable story database of verified stories on a range of topics. The group also offers grants to freelancers who need funds to finish a story; up to $750 is available for travel to research solutions.
David has seen firsthand solutions in his travels, first as a journalist and later for Sustainable Harvest Specialty Coffee, a for-profit "social enterprise" that pours a third of its revenue back into training for growers. David traveled to Peru, Columbia, Mexico, Tanzania and Rwanda. With a grant from the Lemelson Foundation, Sustainable Harvest set up a project for the Goodall Institute in Tanzania. A grant from Bloomberg Philanthropies helped create a program in Rwanda to teach women how to grow coffee and engage in international-level business. He went to Rwanda to set up the program in coordination with the Rwandan government before he retired in 2013. In 2016 Sustainable Harvest invited him to return for a conference to see the project's success.
"It transformed these women," says David.
David was born in Portland to Lorraine (Horenstein) and Marvin Lippoff, z"l. He grew up at Congregation Neveh Shalom and went to Camp Solomon Schechter for many years. Rabbi Joshua Stampfer officiated at his marriage to Liz (who is a regular contributor to Oregon Jewish Life).
After graduating from the University of Oregon with a degree in journalism, he worked at KGW. From 1981 to 2002, he worked in major markets across the country before returning to Portland to serve as vice president and general manager of KOIN Channel 6. After three years he moved into public relations/new business development. After doing some contract work for Sustainable Harvest, he became  managing director until his retirement in 2013. Since retiring, David has continued to travel – now for pleasure with Liz (often to visit their daughter Samantha in Washington, D.C., or daughter Rachel and granddaughter Avery, 7, in New Jersey). He also has become an avid volunteer. He volunteers two days a week as a tutor at Madison High School, and he served on the board of LifeWorks NW for eight years, including a term as president. Before his retirement, he served on the Allocations Committee of the Jewish Federation of Greater Portland for four years. The couple belongs to Congregation Beth Israel, and Liz serves as president of the board of Cedar Sinai Park.
"Everything I've done going forward is what I have chosen to do," says David. "I look for things I want to give my time to."
solutionsjournalism.org