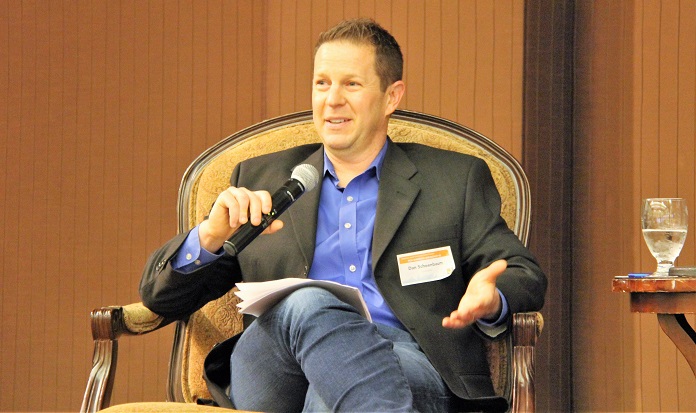 PHOTO: Dan Schoenbaum addresses attendees at one of the MJCC's PDX Business Breakfasts. The third breakfast in the series will be June 5. oregonjcc.org/pdxbiz
BY YGAL KAUFMAN
Dan Schoenbaum is a man who likes to explore new ways to solve problems. Sometimes he even needs to find problems to solve. As CEO of Cooladata, one of the world's leading cloud-based data warehousing and analytics firms, he wants to make Portland into the port of call for Israeli technological imports before they spread across the states.
"I was entrepreneurial at an early age," says Dan, who went from finishing a bachelor's degree in communications at American University in Washington, D.C., to joining the Israeli Defense Forces, to leading the extremely successful tech companies Tripwire and Redbooth before taking over at Cooladata in December of 2016.
"I used to buy components and build my own computers at home and sell them," says Dan of his hobby when he was just 15. "I put myself through college by building PCs and selling them and teaching people how to use them."
Cooladata started in Israel, but its North American offices are based here in Portland. This is something that Dan sees happening a lot in the future, noting his own building now features several Israeli-led startups. It's also something he's actively working toward achieving.
"What I love about Portland is you feel and sense the Jewish community, which I think is fantastic," says Dan. "I feel much more Jewish here than I did in the Bay Area." That's just one reason why he loves to be in Oregon. But for a tech company looking to conquer the cloud-based data market, that's a tougher sell.
"I'm always a person, when I hear it can't be done, I spring into action and figure out how it can be done," says Dan confidently. He had that in him before he joined the IDF, but he certainly honed his leadership skills there. And he also learned something about motivation and inspiration, tools he uses to this day.
Dan was inspired to move to Israel and join the army after reading a book by an Oregon State University professor. A Purity of Arms by Dr. Aaron Wolf, a professor of geography, environmental sciences and marine resource management, describes Wolf's own journey as an American fighting for Israel and learning something about himself along the way.
"The minute I read that book, I was just hell-bent on doing that," says Dan, specifically referencing the 80-mile walk described in the book as a training requirement. "That's what led me from being a college student in the U.S. to joining the IDF." Dan points to his experiences in the IDF as being formative in making him a leader.
Dan spoke frequently and with great pride about his time in the IDF recently at an installment of the Mittleman Jewish Community Center's PDX Business Breakfast series, which features conversations and speeches from heavy hitters in the business community. The talk was entitled "Bridging Business Between Oregon and Israel: Why I Chose Portland Over Pardes Hanna or Silicon Valley" and featured a conversation between Dan and Skip Newberry. As CEO of the Technology Association of Oregon, Skip is at the heart of the effort to bring tech jobs and innovation to Oregon. The two tech luminaries chatted about what makes Israel such a dynamo in the tech world, what makes Portland such an up-and-comer and why the two are natural partners.
During their conversation, Dan remarked on how his time in the IDF shaped his future. "I fell in love with the tech scene there. I was just blown away by the tenacity and focus."  Commenting on how he joined the team at Cooladata, he described being approached by an Israeli team with a great product. "It's very hard, when you're sitting in Israel, to launch a product in North America…" said Dan. "You could do it in Boston, you can do it in the Bay area, it's becoming more and more challenging – it's becoming increasingly expensive – so I put together a business case on why Portland." He says the Israelis had never thought of Portland, but were blown away by the depth of the talent pool here and the power of their buck versus opening shop in much more expensive cities like San Francisco or Boston.
"I really think it's all about culture," said Dan at the breakfast of how Israel became such a tech powerhouse. "Education in the Jewish culture has always been stressed." But more specifically, he pointed to Israel's domination of data, with more data scientists per capita than any country in the world. "People say, 'data is the new oil' – a lot of people are striving to understand how to leverage data," said Dan. "Israel is already 10 to 15 years ahead of us."
Ygal Kaufman is a freelance writer in Portland. He also does photography, video, audio and graphic design, as well as curating film screenings. kaufmanymedia.com
cooladata.com