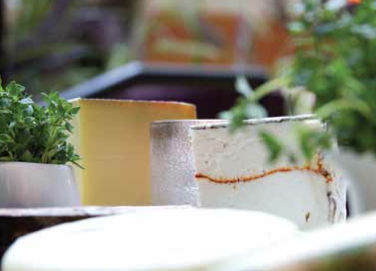 For variety and versatility, it's hard to beat the cheese plate. A typical plate involves a celebration of tastes, textures and ingredients. In Portland you can enjoy a top-quality cheese assortment at wine shops, bistros and even food carts. Following are some of our favorite plates around town.
Blackbird Wineshop & Atomic Cheese Bar
Much like an expert sushi chef, cheesemaster Gwenan Marshall has the uncanny ability to awaken your palate to the subtle differences between similar ingredients. Her blue cheese trio is a revelation; on a recent visit, it included some assertive Smokey Blue from Rogue Creamery, a creamy Fourme d'Ambert and a premium English stilton from Colsten Bassett that was as decadent as white chocolate. Marshall accents her plates with delicacies such as salted Marcona almonds and citrus pepper oil. Each plate is accompanied by Little T's sliced salt loaf.
(4323 NE Fremont, Portland, 503-282-1887, blackbirdwine.com)
Cheese Bar
Steve Jones, the owner and inspiration behind this sought-after shop, is one of Portland's most prominent cheesemongers. He has won national prizes for his creative combinations; one year he wowed judges at NYC's Cheesemonger Invitational with his pairing of bacon caramel corn and Austrian cheese. At Cheese Bar, Jones serves up five different varieties of cheese plates: cheesemonger, Neal's Yard, soft-ripened, blue and stinky. All plates come with chutney and crostini. Jones recommends that a new visitor order the preselected cheesemonger plate: "It's a great introduction. Generally on that you have cow, goat and sheep; the three main dairy animals are represented. We try to have a variety of styles, and it's also at temperature, which is pretty important to really enjoy cheese." A recent cheesemon- ger plate consisted of a goat Gouda from California, a raw cow/sheep's milk cheese from Black Sheep Creamery and a slab of mild raw cow's milk cheese from Ancient Heritage Dairy. New cheeses are delivered every few days.
(6031 SE Belmont, 503-222-6014, cheese-bar.com)
Cheese & Crack
Not to pun, but cheese expert William Steuernagel's plates are truly addictive. After securing funding from over 150 Kickstarter backers, the entrepreneur opened one of Hawthorne's most popular food carts. A unique creation is his brûleéd Brie. This crunchy-topped, creamy concoction is reason enough for a visit. Other cheese choices include Cypress Grove fromage blanc and cana de oveja (aged sheep's milk cheese). Steuernagel offers a wide variety of both sweet and savory accompaniments for his plates including butter or oatmeal crackers, cornichons and seasonal fruit. A "crack box," which includes one kind of cracker, two cheeses and three sides, is only $8.
(SE 33rd Ave. and Hawthorne, 503-847-9554, cheeseandcrack.com)
The Cheese Plate PDX
Passionately local Cheese Plate PDX serves exclusively Oregonian cheeses. The all-vegetarian cart, which is located in a trendy Alberta pod, is known for serving what is possibly the only vegan cheese plate in Portland. This plate includes a tofu-seaweed feta from local purveyor Heidi Ho and a house-made fromage fort made with white wine and cashews. Cheese Plate PDX began to offer this specialty because its owners, Carina and Nick, have flirted with veganism for years. However, there is plenty for dairy lovers at this cart, from blue cheese to goat. Carina explains, "We like to create a selection of mild, adventur- ous/interesting, different textures, and it is nice to have variety in the types of milks used. Then we always want something sweet and something acidic on the plate to go with the cheeses." Cheese Plate PDX changes its menu every six weeks, so there are always new tastes to explore.
(2231 NE Alberta, 503-422-8707, thecheeseplatepdx.com)
Urban Farmer
Urban Farmer artfully showcases all of its cheese on an elegant wheeled cart. Each night patrons can ogle a dozen diverse cheeses selected by Lindsey Walton. The cheese artisan lovingly adorns her plates with homemade condiments, herbs and splashes of lavender honey. Walton's selections range from bloomy to aged, cow to goat, and mild to strong. Her plates may be enjoyed during Urban Farmer's popular happy hour and at dinnertime.
(525 SW Morrison, 503-222-4900, urbanfarmerportland.com)
Brasserie Montmartre
At this downtown bistro, you can partake of a varied cheese plate while enjoying some of the best live jazz in the city. While much of the cheese selection consists of French and Italian imports, you can also find close-to-home favorites like Mt. Townsend Creamery's Scotch ale-washed Off Kilter. With cheese like this, it's easy to forgo a sweet dessert.
(626 SW Park Ave., 503-236-3036, brasseriepdx.com)
Kerry Politzer is a lifelong foodie who moved to Portland two years ago. She has written for dessert Professional, in new York, and Where traveler.