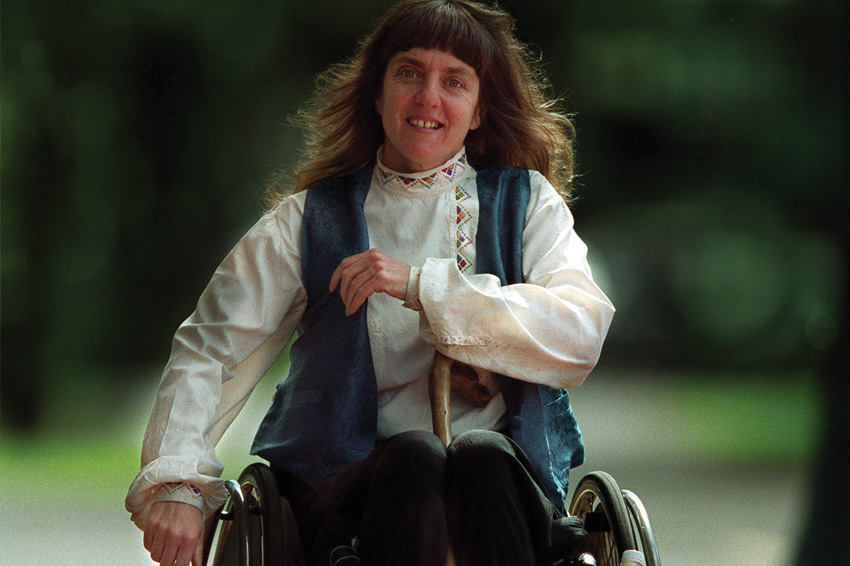 The October 2012 cover story of Oregon Jewish Life shared the story of Susan Sygall and her band of 156 "Loud, Proud and Passionate" WILD women and "their efforts to enhance the lives and rights of women with disabilities around the globe."
Now the Eugene resident and cofounder of Mobility International USA has shared her own story for the first time. Co-authored by Ken Spillman, her autobiography, No Ordinary Days: A journey of activism, globe-trotting and unexpected pleasures, is available from Amazon and on Kindle. The 270-page book is a fast, enjoyable, eye-opening read.
The book offers an honest look at a life that has taken many unexpected turns, beginning with the car accident that left her a partial paraplegic just as she was poised to begin college. But it is a life so filled with joy and journeys most able-bodied Americans would be afraid to attempt, that it will change your perspective on how you look at someone in a wheelchair. How many American women in their 20s would hitchhike across New Zealand or travel on local buses through Southeast Asia (much less in a wheelchair)?
Yet Susan doesn't sugarcoat the challenges she has had to overcome, both because of her physical limitations and the perceptions of society. People who touch her life, whether for brief moments of helping her get her wheelchair off a train in a foreign country to relationships that last for years, come alive in vivid detail.
The book is rife with the role Judaism has played in her life. In one chapter she describes her extreme frustration when trying to say Kaddish for her father in Singapore's only synagogue. After managing to shakily use her canes to climb 20 steps to the sanctuary, the Orthodox rabbi insists she leave or climb an insurmountable spiral stairway to the women's section. She also shares how that pain finally flowed out years later when she shared her story at a seder and was comforted by an Orthodox friend. And she reflects on the changes in the Jewish world in recent decades, including synagogues with ramps.