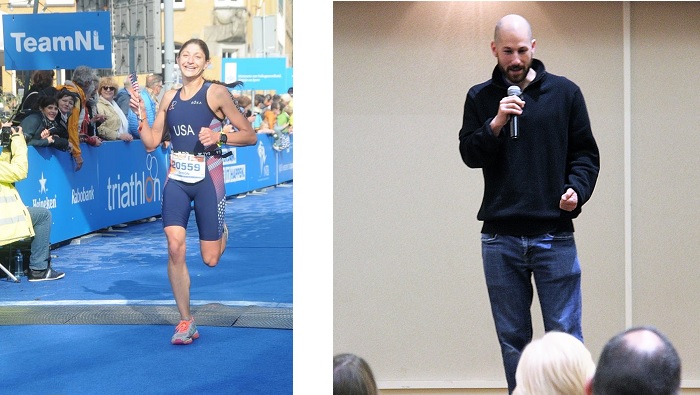 Triathlete Cymon Kirsch finishes strong
Cymon Kirsch competed on Team USA in the 2017 World Triathlon Championships in Rotterdam last September. Cymon was featured on the May 2017 cover of Oregon Jewish Life.
At the world championships she finished sixth in her age group and was the fastest American in her age group. The highlight of her season was taking first place for her age group at the National Championships, qualifying her to race in the professional/elite field for future triathlons.
"I would say this was one of the most interesting and fun races I've ever done, but constantly had to change the game plan and expectations," writes Cymon of the Worlds. She got an ear infection the day before flying to the race and her ear drum ruptured on the plane. Despite the pain, she competed. Here is her brief breakdown of the race: "The 1500m swim was not one of my best, then the bike (a 40k) was a SUPER technical course with tons of turns and bridges, make shift ramps over stairs, lots cobblestone and brick roads, etc., which is not a strength for me but I pushed where I could, had a ton of fun, and tried my best. Going into the run I gave it my all and had the best run of my life … somehow finding a 37 minute 10k at the end of the race."
Jared Blank shares his latest challenge
Jared Blank visited the Mittleman Jewish Community Center May 14 to share how he has overcome challenges in his talk, "Outrunning Dyslexia."
Oregon Jewish Life's January cover story featured Jared's journey and his training for seven marathons in seven days on seven continents. Jared finished all seven races and finished 12th overall with an average of 4 hours 32 minutes and 16 seconds per marathon. His fastest time was the last marathon in Miami at 4:03:36. "I had iliotibial band injury at mile 22 of the third race in Australia. This created a challenge for me and a painful one at that. Was able to overcome it though and complete the challenge," says Jared.
That's not the only challenge he has overcome. Growing up with dyslexia, he has been able to achieve many of his dreams in college, athletics and running. Through the World Marathon Challenge he raised $50,524 with TeamQuest for the International Dyslexia Association.