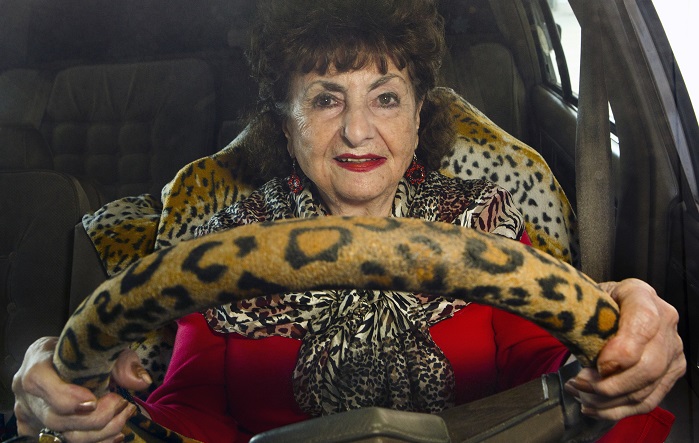 Photo: "Big Sonia" screens at 7 pm, April 15

Beit Am, the Mid-Willamette Jewish Community, presents the first Jewish film festival in Corvallis on two Sundays in April. The festival will feature three films each day at the Darkside Cinema, 215 SW 4th St., Corvallis.
"We received a small grant to have a program of Jewish culture that was not devotional, not political and was of interest to the whole Corvallis community," says Mike Aronson, film festival coordinator. The film festival is organized by Beit Am's cultural committee, of which Mike and his wife, Susan, are members.
Mike and Susan are frequent attendees at two existing film festivals in Corvallis, the Crossroads Film Festival in February, and dasfilmfest, which showcases Austrian, German and Swiss films each fall. All three film festivals have agreed to work together to publicize each others' shows. The festivals all screen their films at Darkside Cinema, which Mike describes as an art house where you can find films you won't see elsewhere.
Committee members each researched a few of the 30 films on their initial list. After they pared the list to 10, Mike asked the Darkside schedulers to contact distributors to see which films were available. Initially they were able to schedule five films. But Mike was eager to include "Harmonia" in the festival, so he contacted the film distributor in Jerusalem himself. "Eventually they said yes," says Mike. Mike was eager to include this retelling of the story of Sarah and Abraham, because it shows Palestinians in a positive light and has lovely classical music and lovely pictures.
Another film Mike is especially pleased to include is "The Good Postman." Mike says originally the filmmaker went to a small village in Bulgaria because he had heard the women of the village were feeding Syrian refugees who were coming through the town. But when he learned the town's postman, who was running for mayor, was behind the effort and it had driven a wedge between townspeople, he decided to do a full-length documentary. "It is a microcosm of what is happening in the U.S. on immigration," says Mike.
With three films on two Sundays (see schedule below), Mike hopes to draw a diverse audience to the festival. For those who want to see all the films, he offers a list of downtown eateries (see box) where people can get a bite between screenings.
SCHEDULE
APRIL 8
2 pm: "Harmonia," directed by Ori Sivan
98 minutes – Hebrew and Arabic with English subtitles – Drama
Sarah is the harpist of the Jerusalem Philharmonic; Abraham is its conductor. When Hagar, a young horn player from East Jerusalem joins the orchestra, she bonds with Sarah. Hagar offers to have a baby for the childless couple. Years later Sarah also has a child. The two half-brothers eventually seek resolution to their family conflicts through music.
4 pm: "1945," directed by Ferenc Török
91 minutes – Hungarian with English subtitles – Drama
Two mysterious strangers dressed in black appear at the railway station of a Hungarian village. In the shadow of Russian occupation, the people of the village are preparing for the wedding of the son of the clerk, but the bride's former fiancé returns from captivity. Within a few hours, everything changes; secrets, sin, reckoning, love, betrayal.
7 pm: "The Good Postman," directed by Tonislav Hristrov
82 minutes – Bulgarian with English subtitles – Docudrama
The film offers a tragicomic perspective on the refugee crisis of 2015 from a small Bulgarian village near the Turkish border. Residents observe refugee families from Syria and elsewhere as they cross the border and ponder inviting them to settle in the vacant village houses. This proposal polarizes opinions and brings into focus the local people's own fears, hopes and disappointments.
APRIL 15
2 pm: "Bombshell, the Hedy Lamarr Story," directed by Alexandra Dean
90 minutes – English – Documentary
Austrian actress Hedy Lamarr fled an oppressive marriage to create a name for herself as one of Hollywood's top leading ladies in the 1940s. She was also a talented and inquisitive inventor who created a radio system that is now considered the basis of Bluetooth technology.
4 pm: "Fanny's Journey," directed by Lola Doillon
94 minutes – French with English subtitles – Drama
In 1943 13-year-old Fanny and her younger sisters are sent from their home in France to an Italian foster home for Jewish children. When the Nazis arrive in Italy, these eight children do the impossible and reach the Swiss border to freedom. The movie is a dramatization from the autobiography of Fanny Ben-Ami.
7 pm: "Big Sonia," directed by Leah Warshawski
93 minutes – English – Documentary
In the last store in a defunct shopping mall, 91-year-old Sonia Warshawski – great-grandmother, businesswoman and Holocaust survivor – runs her tailor shop. But when she's served an eviction notice, she must decide to open up a new shop or retire. "Big Sonia" offers a funny portrait of the power of love to triumph over bigotry and truth-telling to heal us all.
SPONSORS: Beit Am Arts and Culture Fund, 2 Towns Ciderhouse, Tom Laster DDS, dasfilmfest, Encore Physical Therapy, Oregon Jewish Museum and Center for Holocaust Education, Block 15 Brewing Co., Grass Roots, Institute for Judaic Studies, Peaceful Family Solutions, John M. Winckler DC DOAC, Licensed to Restore, Balance Real Estate and Paul Spies IronHead Roofing.
ADMISSION: adults $7; seniors, students and military $5; per film
INFORMATION: beitam.org/filmfestival
Places to eat if you make a day of it:
Comfortable Pubs
Block 15 Brewery & Restaurant, 300 SW Jefferson Ave.
Sky High Brewing, 160 NW Jackson Ave.
Flat Tail Brewery, 202 SW 1st St.
Foreign Fare
Evergreen Indian Restaurant, 136 SW 3rd St.
Sada Sushi & Izakaya, 151 NW Monroe
Magenta Restaurant, 137 SW 2nd St.
Tokyo Japanese Steakhouse & Sushi Bar, 250 SW 3rd St.
China Delight, 325 NW 2nd St.