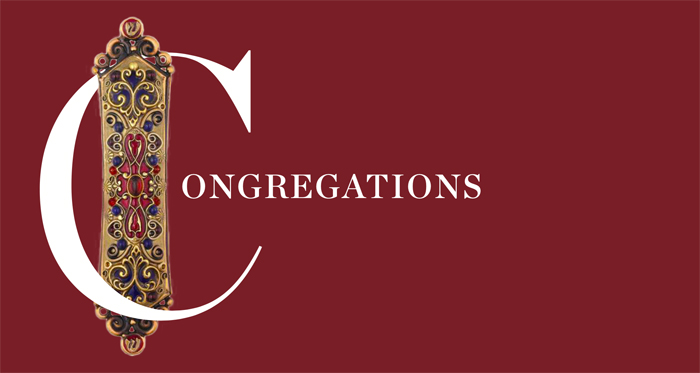 Almost from the moment Jews arrived in Oregon, they have sought to meet the spiritual needs of the community.
The first Jewish New Year services in the Oregon Territory were held in 1856 in the gold-rush boomtown of Jacksonville in southern Oregon, where German-Jewish immigrants had moved from the California gold fields.
During the first 100 years of Jewish life in Oregon, congregations emerged, merged and evolved to meet the ever-changing spiritual, lifecycle and community needs of an increasingly dispersed and diverse population.
Congregation Beth Israel, the first Jewish congregation west of the Rocky Mountains and north of California, was founded in Portland in 1858 and continues today as the state's largest Reform congregation.
Congregation Ahavai Sholom, a Conservative congregation, was founded by Jews originally from Prussia, in 1869. Congregations Neveh Zedek and Talmud Torah began in 1892 and 1893, respectively, and eventually merged with Ahavai Sholom in 1961 to form Congregation Neveh Shalom.
In 1902 Congregation Shaarie Torah organized as an Orthodox congregation, purchasing its first building in 1905. (The congregation is now affiliated with the Conservative movement.) By the 1960s, Oregon's synagogues had stabilized to include today's Congregations Beth Israel, Neveh Shalom, Shaarie Torah, Ahavath Achim and Kesser Israel, all in Portland; Temple Beth Israel in Eugene; and Temple Beth Sholom in Salem.
Corvallis had to wait until 1974 before Beit Am arrived. That same decade, Portland saw its first new congregation in many years – Havurah Shalom, founded in 1978.
The decades since have seen continued growth and diversity within Oregon's Jewish community,
On the following pages, you can find the congregations and outreach groups that now serve the Jewish communities of Oregon and Southwest Washington.
CHABAD
CHABAD CENTER FOR JEWISH LIFE-SALEM
1370 Crowley Ave. SE, Salem, OR
503-383-9569
jewishsalem.com
CHABAD JEWISH CENTER OF CLARK COUNTY
9604 NE 126th Ave. #2340, Vancouver, WA
360-993-5222
jewishvancouverwa.com
CHABAD JEWISH CENTER OF GRESHAM
Gresham, OR
503-389-0312j
jewishgresham.com
CHABAD JEWISH CENTER OF HILLSBORO
965 SW Brookwood Ave., Hillsboro, OR
503-747-5363
chabadh.com
CHABAD LUBAVITCH OF OREGON
6612 SW Capitol Hwy., Portland, OR
chabadoregon.com
CHABAD OF CENTRAL OREGON
Bend, OR
541-633-7991
jewishbend.com
CHABAD OF EUGENE
1400 High St. #A, Eugene, OR
541-801-8653
jewisheugene.org
CHABAD OF LAKE OSWEGO
Lake Oswego, OR
503-753-4744
jewishlo.com
CHABAD OF NORTHEAST PORTLAND
2858 NE Sandy Blvd., Portland, OR
503-309-4490
jewishnortheast.com
CHABAD OF NORTHWEST PORTLAND
Various locations
503-583-2025
jewishnorthwest.org
CHABAD OF SOUTHERN OREGON
1474 Siskiyou Blvd., Ashland, OR
541-482-2778
chabadofashland.org
CHABAD OF SW PORTLAND
6612 SW Capitol Hwy., Portland, OR
503-381-7119
jportland.com
THE LEVIYITZCHAK CHABAD HOUSE
Reed College and SE Portland
3355 SE Steele St., Portland, OR
503-752-2258
jewishreed.com
TIGARD CHABAD JEWISH CENTER
Tigard, OR 
971-329-6661
jewishtigard.com
CONSERVATIVE
CONGREGATION NEVEH SHALOM
Fred Rothstein, Executive Director
Michelle Caplan, Director of Congregant Connections
Mel Berwin, Director of Congregational Learning
2900 SW Peaceful Lane, Portland, OR
503-246-8831
mcaplan@nevehshalom.org
nevehshalom.org
Portland's welcoming and egalitarian Conservative congregation, Neveh Shalom offers a dynamic array of religious services, top-tier Jewish education programs from preschool through adult, social justice, cultural and social activities, and much more. CNS creates and deepens relationships to Judaism and our community. Our Senior Rabbi David Kosak, Associate Rabbi Eve Posen, Cantor Eyal Bitton, Rabbi Emeritus Daniel Isaak, and our community, look forward to welcoming you. Come find your place with us!
CONGREGATION SHAARIE TORAH
920 NW 25th Ave., Portland, OR
503-226-6131
shaarietorah.org
HUMANIST
KOL SHALOM
1509 SW Sunset Blvd. # 1E, Portland, OR
503-459-4210
kolshalom.org
INDEPENDENT
BEIT AM
4318 NW Circle Blvd., Corvallis, OR
541-753-0067
beitam.org
CENTRAL COAST JEWISH COMMUNITY
c/o David Gomberg
PO Box 113, Neotsu, OR
541-921-1281
CONGREGATION SHIR TIKVAH
Eastside Jewish Commons
2420 NE Sandy Blvd.
Mail: 1631 NE Broadway St. #314
Portland, OR
503-473-8227
shirtikvahpdx.org
HOOD RIVER HAVURAH
hrhavurah.blogspot.com
JEWISH COMMUNITY OF CENTRAL OREGON
21555 Modoc Lane
Mail: PO Box 1773
Bend, OR
541-668-6887
jccobend.com
MAYIM SHALOM
PO Box 307, Coquille, OR
541-266-0470
mayimshalom.us
NORTH COAST SHABBAT GROUP
Bob Chisholm Center
1225 Ave. A, Seaside, OR
503-341-0693
PORTLAND WOMEN'S TEFILLAH
Beit Midrash at PJA
6651 SW Capitol Hwy., Portland, OR
503-246- 3185
UMPQUA VALLEY HAVURAH
PO Box 1821, Roseburg, OR
541-677-0575
umpquavalleyhavurah.org
ORTHODOX
CONGREGATION KESSER ISRAEL
6698 SW Capitol Hwy, Portland, OR
503-222-1239
kesserisrael.org
AHAVAS TORAH SYNAGOGUE
2935 Onyx St., Eugene, OR
541-844-1340
ahavastorah.info
OUTREACH
COMMUNITY CHAPLAIN
Rabbi Barry Cohen
503-892-7401
JEWISH ENCOUNTER GROUP
Portland, OR
503-349-5381
GESHER – A BRIDGE HOME
10701 SW 25th Ave., Portland, OR
503-246-5070
ourjewishhome.org
PORTLAND'S UNSHUL
Portland, OR
503-396-9191
asthespiritmovesus.com/unshul
RELIGION OUTSIDE THE BOX
Portland, OR
503-908-4472
rotb.org
RECONSTRUCTIONIST
HAVURAH SHALOM
825 NW 18th Ave., Portland, OR
503-248-4662
info@havurahshalom.org
havurahshalom.org
Havurah Shalom is a vibrant, diverse, participatory Jewish community steeped in Jewish values promoting spirituality, learning, and acts of social responsibility. We welcome people of all ages, gender identifications, and backgrounds. As a part of the Reconstructing Judaism movement, we envision a just and compassionate world where creative Jewish living and learning guide us toward lives of holiness, meaning, and purpose. A decades-long tradition, our High Holiday services are free and open to all.
TEMPLE BETH ISRAEL
1175 E 29th Ave., Eugene, OR
541-485-7218
tbieugene.org
TEMPLE BETH SHOLOM
1274 Cunningham Lane S, Salem, OR
503-362-5004
tbsholom.org
TEMPLE EMEK SHALOM
1800 E Main St.
Mail: PO Box 1107
Ashland, OR
541-488-2909
emekshalom.org
REFORM
BEIT HAVERIM
Rabbi Alan Berg, Rabbi
Jaime Gross, Temple Administrator
Shelli Hutchinson, Religious School Director
1111 Country Club Road, Lake Oswego, OR
503-568-1241
office@beithav.org
beithav.org
Beit Haverim, "House of Friends," is an inviting inclusive Reform congregation located in Lake Oswego. We welcome Jews by birth, by choice, and at heart, along with members who may identify as interfaith, multi-ethnic, and LGBTQ+. We are committed to ending systemic racism and hate in all forms, theory and practice. Join us in worship, educational programming and our religious school which conveniently meets Sunday afternoon during the school year.
CONGREGATION BETH ISRAEL
1972 NW Flanders St., Portland, OR
503-222-1069
bethisrael-pdx.org
CONGREGATION KOL AMI
7800 NE 119th St., Vancouver, WA
360-896-8088
jewishvancouverusa.org
OR HAGAN: LIGHT OF THE GARDEN
JEWISH COMMUNITY
PO Box 5582, Eugene, OR
541-434-6551
orhagan.org
TEMPLE BETH TIKVAH
PO Box 7472, Bend, OR
541-388-8826
bethtikvahbend.org
RENEWAL
HAVURAH SYNAGOGUE
185 N. Mountain Ave.
Mail: PO Box 1262
Ashland, OR
541-488-7716
havurahshirhadash.org
P'NAI OR OF PORTLAND
Rabbi Hannah Laner
Zmira Lovejoy, Administrator
6948 SW Capitol Hwy., Portland, OR
503-248-4500
admin@pnaiorpdx.org
pnaiorpdx.org
Our joyous egalitarian worship is infused with singing, chanting and dance. We dive deeply into Torah and other Jewish texts. We "pray with our feet" through Tikkun Olam partnerships, working for social, environmental, and economic justice. Hannah Laner, our new rabbi, leads services for Shabbat and holidays. Rabbi Hannah is also a cantorial soloist, an ordained maggidah (Jewish storyteller) and professional Jewish educator who infuses her teaching with a passionate love of Torah and tradition.
SEPHARDIC
CONGREGATION AHAVATH ACHIM
Melissa Abu, Synagogue Administrator
Mark Abolofia, Membership Chair
Richard Matza, Treasurer
6686 SW Capitol Hwy., Portland, OR
503-227-0010
info@ahavathachim.com
ahavathachim.com
We offer services every Shabbat led by Rabbi Sholom Skolnik and members of the community. Our prayer services are offered in the traditional Sephardic styles, incorporating melodies from Rhodes, Turkey, Morocco, Yemen, and many other Sephardic countries. A drasha related to the weekly Torah portion is given by our rabbi who infuses current events and practical applications to make the sermon more relevant to our lives. Following Shabbat morning services, the community is invited to a lunch prepared by our Kitchen Committee which is accompanied by a discussion led by Rabbi Skolnik.
CONGREGATION BEIT YOSEF
4200 SW Vermont St., Portland, OR
971-220-8152
beityosef.org
ERUVIM
PORTLAND ERUV
6688 SW Capitol Hwy, Portland, OR
portlanderuv.com
EUGENE ERUV
541-844-1340
ahavastorah.info/kosher/kosher