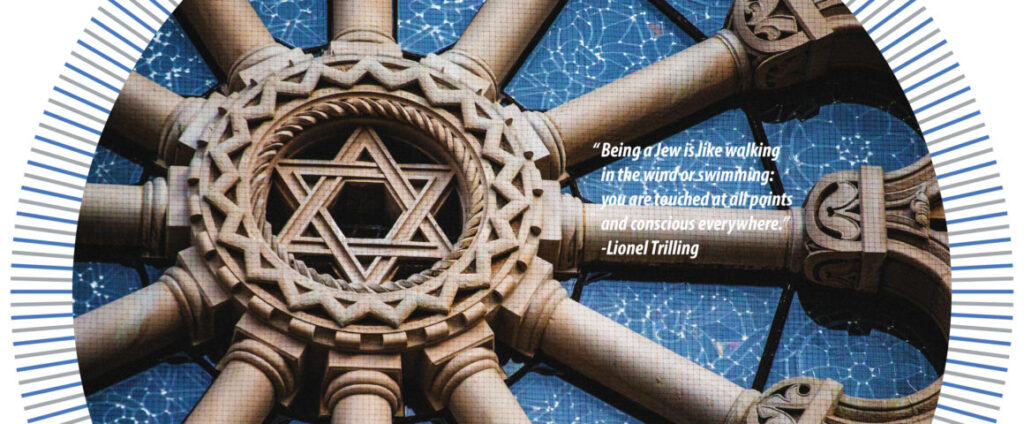 Almost from the moment Jews arrived in Oregon, they have sought to meet the spiritual needs of the community.
The first Jewish New Year services in the Oregon Territory were held in 1856 in the gold-rush boomtown of Jacksonville in southern Oregon, where German- Jewish immigrants had moved from the California gold fields.
During the first 100 years of Jewish life in Oregon, congregations emerged, merged and evolved to meet the ever-changing spiritual, lifecycle and community needs of an increasingly dispersed and diverse population.
Congregation Beth Israel, the first Jewish congregation west of the Rocky Mountains and north of California, was founded in Portland in 1858 and continues today as the state's largest Reform congregation.
Congregation Ahavai Sholom, a Conservative congregation, was founded by Jews originally from Prussia, in 1869. Congregations Neveh Zedek and Talmud Torah began in 1892 and 1893, respectively, and eventually merged with Ahavai Sholom in 1961 to form Congregation Neveh Shalom.
In 1902 Congregation Shaarie Torah organized as an Orthodox congregation, purchasing its first building in 1905. (The congregation is now affiliated with the Conservative movement.) By the 1960s, Oregon's synagogues had stabilized to include today's Congregations Beth Israel, Neveh Shalom, Shaarie Torah, Ahavath Achim and Kesser Israel, all in Portland; Temple Beth Israel in Eugene; and Temple Beth Sholom in Salem.
Corvallis had to wait until 1974 before Beit Am arrived. That same decade, Portland saw its first new congregation in many years – Havurah Shalom, founded in 1978.
The decades since have seen continued growth and diversity within Oregon's Jewish community, with vibrant new congregations in the greater Portland area and throughout the state and region offering options from Jewish Renewal to Chabad Hasidism and Humanistic Judaism.
Central Oregon now has three congregations – Temple Beth Tikvah, a Reform congregation founded in 2008; the independent Jewish Community of Central Oregon; and Chabad of Central Oregon.
This year saw the arrival of a new Portland congregation. The UnShul shifted from an event- and activity-based group to a congregation in the Renewal tradition.
On the following pages, you can find the congregations and outreach groups that now serve the Jewish communities of Oregon and Southwest Washington.
CHABAD
Chabad is dedicated to providing every Jew, regardless of background, philosophy or level of commitment, an open door environment for enriching Jewish life. Each Chabad center is supported by the community it serves.
CHABAD OF OREGON
2317 SW Vermont
Portland, OR
503-977-9947
CHABAD OF SW PORTLAND
2317 SW Vermont
Portland, OR
503-381-7119
CHABAD OF NE PORTLAND
2858 NE Sandy Blvd.
Portland, OR
971-801-2424
CHABAD OF CLARK COUNTY
9604 NE 126th Ave.
Vancouver, WA
360-993-5222
CHABAD JEWISH CENTER OF HILLSBORO
965 SW Brookwood Ave.
Hillsboro, OR
503-747-5363
ChabadH.com
CHABAD CENTER FOR JEWISH LIFE-SALEM
1370 Crowley Ave. SE
Salem, OR
503-383-9569
CHABAD OF EUGENE
239 E 14th Ave.
Eugene, OR
541-801-8653
CHABAD OF CENTRAL OREGON
Bend, OR
541-633-7991
CHABAD OF SOUTHERN OREGON
1474 Siskiyou Blvd.
Ashland, OR
541-482-2778
SE PORTLAND CHABAD 
Rabbi Dov & Chani Bialo
503-752-2258
JewishSoutheast.com
Southeast Portland Chabad offers a warm and welcoming environment for year round Jewish programing in SE Portland. NEW "Friendly Services & Socializing" for all ages. Weekly Child Program & Delicious Kiddush located on our beautiful facility.
TIGARD CHABAD
Tigard, OR
971-329-6661
Jewishtigard.com
CONSERVATIVE
CONGREGATION NEVEH SHALOM
Fred Rothstein, Executive Director
Michelle Caplan, Membership and Community Engagement Director
Mel Berwin, Director of Congregational Learning
2900 SW Peaceful Lane
Portland, OR
503-246-8831
Portland's welcoming and egalitarian Conservative congregation, Neveh Shalom offers a dynamic array of religious services, top-tier Jewish education programs from preschool through adult, social justice, cultural and social activities, and much more. CNS creates and deepens relationships to Judaism and our community. Our Senior Rabbi David Kosak, Assistant Rabbi Eve Posen, Cantor Eyal Bitton, Rabbis Emeritus Daniel Isaak and Joshua Stampfer, and our community, look forward to welcoming you. Come find your place with us!
CONGREGATION SHAARIE TORAH
Rabbi Joshua Rose
Jemi Kostiner Mansfield, Executive Director
920 NW 25th Ave.
Portland, OR
503-226-6131
Shaarie Torah is your home for Conservative Jewish life in the heart of Northwest Portland. An inclusive, egalitarian and multigenerational synagogue since 1905, Shaarie Torah offers innovative Jewish programming, services and activities for every age and interest. Join us for a Shabbat, Saturday morning Kiddush or just stop by and say hi! Come meet our team of dedicated staff – here to welcome you and your family in our hamische community.
HUMANIST
KOL SHALOM
1509 SW Sunset Blvd., Ste. 1E
Portland, OR
503-459-4210
INDEPENDENT
ANSHE SHALOM
Klamath Falls, OR
541-892-3268 /541-882-5146
BEIT AM
625 NW 36th St.
Mail: PO Box 1143
Corvallis, OR 97339
541-753-0067
CENTRAL COAST JEWISH COMMUNITY
c/o David Gomberg
PO Box 113
Neotsu, OR 97364
541-921-1281
CONGREGATION SHIR TIKVAH
Rabbi Ariel Stone
Katie Schneider, Administrative Director
7550 NE Irving Ave.
Portland, OR
503-473-8227
Congregation Shir Tikvah is an independent congregation on Portland's Eastside. We welcome Jews from different backgrounds and acknowledge many ways of practicing and living Jewishly. At 184 families, we're a good-sized group. We study Torah with bagels and coffee, pray from a siddur created by members and learn with our kids as they make mosaics, argue about ethics and sound out Hebrew words. Our open, thought-provoking approach invites you to live Judaism with us.
HOOD RIVER HAVURAH
Columbia River Gorge
JEWISH COMMUNITY OF CENTRAL OREGON
21555 Modoc Lane, Bend
Mail: PO Box 1773
Bend, OR 9709
MAYIM SHALOM
Southern Oregon Coast
PO Box 307
Coquille, OR 97423
541-266-0470
NORTH COAST SHABBAT GROUP
Meets at: Bob Chisholm Center
1225 Ave. A
Seaside, OR
503-341-0693
PORTLAND WOMEN'S TEFILLAH
Meets: Beit Midrash at PJA
6651 SW Capitol Hwy.
Portland, OR
UMPQUA VALLEY HAVURAH
PO Box 1821
Roseburg, OR 07470
541-677-0575
ORTHODOX
CONGREGATION KESSER ISRAEL
6698 SW Capitol Hwy.
Portland, OR
503-222-1239
AHAVAS TORAH SYNAGOGUE
2935 Onyx St.
Eugene, OR
541-844-1340
OUTREACH
COMMUNITY CHAPLAIN
Rabbi Barry Cohen
6680 SW Capitol Hwy.
Portland, OR
503-892-7407
An employee of the Jewish Federation of Greater Portland, the Community Chaplain works in coordination with the Oregon Board of Rabbis and Jewish Family and Child Service to provide pastoral care/counseling and to serve as a resource for all Jews across our community.
JEWISH ENCOUNTER GROUP
Portland, OR
503-349-5381
GESHER – A BRIDGE HOME
10701 SW 25th Ave.
Portland, OR
503-246-5070
PORTLAND'S UNSHUL
Portland, OR
503-396-9191
RELIGION OUTSIDE THE BOX
Portland, OR
503-908-4472
RECONSTRUCTIONIST
HAVURAH SHALOM
Benjamin Barnett, Rabbi
Deborah Eisenbach-Budner, Education Director
Adela Basayne, Program Director
825 NW 18th Ave.
Portland, OR
503-248-4662
Havurah Shalom is a vibrant, diverse, participatory Jewish community steeped in Jewish values promoting spirituality, learning, and acts of social responsibility. We welcome people of all ages, gender identifications, and backgrounds. As a part of the Reconstructing Judaism movement, we envision a just and compassionate world where creative Jewish living and learning guide us toward lives of holiness, meaning, and purpose. A decades-long tradition, our High Holiday services are free and open to all.
TEMPLE BETH ISRAEL
1175 E 29th Ave.
Eugene, OR
541-485-7218
TEMPLE BETH SHOLOM
1274 Cunningham Lane S
Salem, OR
503-362-5004
TEMPLE EMEK SHALOM
1800 E Main St.
Mail: PO Box 1107
Ashland, OR 97520
541-488-2909
REFORM
BEIT HAVERIM
1111 Country Club Road
Mail: PO Box 311
Lake Oswego, OR
503-310-9184
CONGREGATION BETH ISRAEL
Michael Z. Cahana, Senior Rabbi
Josh Kashinsky, Executive Director
Ben Sandler, Education Director
1972 NW Flanders St.
Portland, OR
503-222-1069
Congregation Beth Israel, affiliated with Reform Judaism since 1879, is a vital center of Oregon Jewish life. Our historic campus serves as a house of prayer, a house of study, and a house of assembly, hosting religious services, celebrations, and ceremonies; religious school; and opportunities for congregants of all ages to engage in education programming, social action, and advocacy on local and national levels. CBI's beautifully maintained cemetery is located in southwest Portland.
CONGREGATION KOL AMI
7800 NE 119th St.
Vancouver, WA
360-896-8088
OR HAGAN: LIGHT OF THE GARDEN JEWISH COMMUNITY
PO Box 5582
Eugene, OR 97405
541-520-3434
TEMPLE BETH TIKVAH
PO Box 7472
Bend, OR 97708
541-388-8826
RENEWAL
HAVURAH SYNAGOGUE
185 N Mountain Ave.
Mail: PO Box 1262
Ashland, OR
541-488-7716
P'NAI OR OF PORTLAND
Rabbi Hannah Laner
Hazzan Baruch Morris
Zmira Lovejoy, Administrator
6948 SW Capitol Hwy.
Portland, OR
503-248-4500
Our joyous egalitarian worship is infused with singing, chanting and dance. We dive deeply into Torah and other Jewish texts. We "pray with our feet" through Tikkun Olam partnerships, working for social, environmental, and economic justice. Hannah Laner, our new rabbi, leads services for Shabbat and holidays. Rabbi Hannah is also a cantorial soloist, an ordained maggidah (Jewish storyteller) and professional Jewish educator who infuses her teaching with a passionate love of Torah and tradition.
SEPHARDIC
CONGREGATION AHAVATH ACHIM
3225 SW Barbur Blvd.
6686 SW Capitol Hwy.
Portland, OR
720-315-4266
BEIT YOSEF
4200 SW Vermont St.
Portland, OR
503-295-1170
beityosefportland.wordpress.com