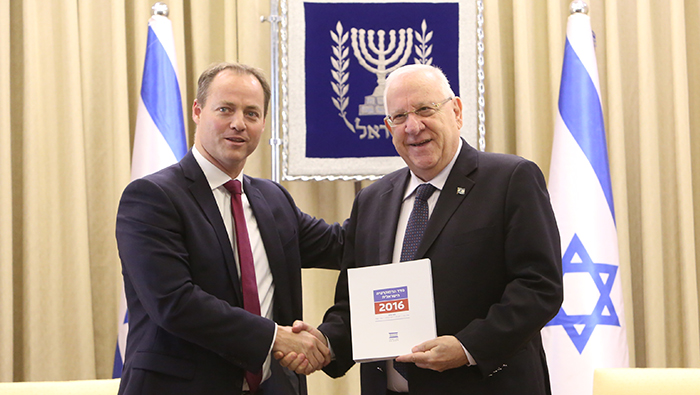 Photo: Israel Democracy Institute President Yohanan Plesner presents the results of the 2016 Israeli Democracy Index to Israel's President Reuven Rivlin.
Story by Ilene Schneider
How can Israel cope with the challenges arising from its dual identity as a Jewish nation-state and a multi-sector liberal democracy? How can it preserve a free society under conditions of permanent siege? How can the feelings of Israelis be translated into workable government policy?
These are some of the tough questions the Israel Democracy Institute seeks to answer. IDI was created 25 years ago as an independent center of research and action dedicated to strengthening the foundations of Israeli democracy. An institute that provides evidence-based analysis to government agencies, IDI has become a "government ecosystem to develop policy," according to its president, Yohanan Plesner.
To take the pulse of the Israeli public, IDI has published the Israeli Democracy Index annually since 2003. A team from the Guttman Center for Public Opinion and Policy Research, headed by Academic Director Prof. Tamar Hermann, conducts the research.
The latest edition of the index determined that Israelis trust each other but not their government, that citizens – both Jews and Arabs – are proud to be Israeli and that integration of various sectors of Israeli society could pave the way to prosperity.
"In an international comparison, we see that Israel's political instability is rare in its intensity," Plesner says. "This contributes to an even greater increase in the public distrust in the political process."
Plesner attributes the lack of trust to "the dysfunctionality of political institutions and the electoral system, which creates the wrong incentives for politicians." He calls the Knesset a "fragmented, coalition system in which political parties have to engage with partners, with a shortsighted approach" involving ongoing political maneuvers instead of planning and preparing for the long term. Thus, Israel's political parties have "weak platforms to regulate the competition and give disproportionate power to extreme groups and special interests."
Public trust in the Knesset stands at 26.5% (versus 35% last year), trust in the government stands at 27% (versus 36% last year) and trust in political parties is down to less than 14% (versus 19% last year). Trust in the police stands at 40% (versus 42.5% last year), trust in the Supreme Court stands at 56% (versus 62% last year), trust in the President of Israel stands at 61.5% (versus 70% last year) and trust in the media dropped significantly to only 24% (versus 35.5% last year). The only institution that more closely maintained its standing was the Israel Defense Forces; public trust in the IDF by Jewish Israelis is at 90% (versus 93% last year) and at 82% by all Israelis.
"When political leadership and institutions lack the public's trust, they cannot initiate necessary and fundamental changes at the national level," Plesner says. "Moreover, over time, their legitimacy is eroded. Therefore, the findings of the Democracy Index this year should bother anyone who is concerned about the fate and quality of Israel's governing institutions."
Still, in times of need, 70% of Israelis feel that they can trust other Israelis. According to the study, 85% of the population is proud to be Israeli and feels connected to the state.
Plesner adds that Israeli society is composed of many groups and subgroups and that being a Jewish state is very central in the identity of the majority, regardless of religiosity. He adds, "The growing ultra-Orthodox group, now with 11% of the population but 30% of the first graders, has to be understood and addressed. It can be a huge potential source of economic growth if we integrate these people into society and provide the skills to help them succeed in the 21st century. The Arab minority of 20% has the highest levels of poverty. It's in the national interest to make sure it's properly integrated."
While IDI's findings show that both Arabs and Jews are opposed to intermarriage with the other group, other kinds of contacts (as friends, neighbors, coworkers, fellow citizens and the like) are often accepted; a majority of Jews of all political orientations and almost all religious groups (apart from the Haredim), and an even larger majority of Arabs, expressed their willingness to engage in close social contact with "the other." This finding would seem to contradict the claims that Jewish Israeli society is becoming racist.
Because Israel has been under an ongoing security threat for decades, "there is a concern about civil liberties," according to Plesner. IDI hopes to help the government "to develop the right means and tools for the right responses, whether it is a lone wolf attack from the West Bank or rockets from Gaza in the south or Hezbollah in the north."
The Israeli military forces have developed policies that maintain a balance between preserving an open society and keeping the peace. IDI's multidisciplinary group of scholars hopes to "craft policies that allow for degrees of freedom but draw sensible limitations" and "translate what that means for a colonel preparing to launch an implementation in concrete terms."
Divisions in thought in Israeli society, especially among younger people, were apparent in the case of Elor Azaria, the IDF soldier convicted of shooting and killing a seemingly incapacitated Palestinian terrorist in Hebron. According to Plesner, Israel expects soldiers to "engage, capture and, if necessary, eliminate the enemy but safeguard the human dignity of terrorists and enemy soldiers after capturing them. The moral distinction means that the soldier has to do his utmost to keep a terrorist from killing people, but 10 minutes later, he is obligated to see that his wounds are treated."
Because social media outlets present negative views about Israelis, younger people may have a problem accepting these norms, according to Plesner. He also said that there are "mixed messages about the validity of values coming from top leadership without political debate" and that the continuing threat of terror makes people expect that the government will "widen the degrees of freedom of interpretation if terror is looming."
"Israel has its challenges, but it's a healthy society," Plesner concludes. "Eighty-five percent of Israelis are proud to be Israeli and feel connected to the state."
Ilene Schneider owns Schneider the Writer, a PR firm, and is a longtime Jewish journalist.