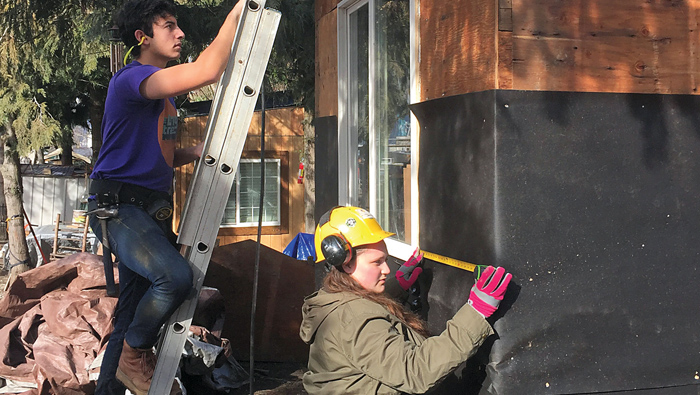 They promised an eye-opening experience, and they were absolutely right. A tour for the Jewish community of an evolving homeless community provided a positive insight few are privileged to see.
Hazelnut Grove, a North Portland village that began as an organized homeless encampment, has tacit support from the city of Portland. The March 12 tour, organized by Tivnu: Building Justice, met in the parking lot of Kaiser Interstate West and walked down the slope to the junction of North Interstate and North Greeley Avenues. Overlooking the rail yard is a narrow strip of land abutting the hillside that has evolved from scattered tents two years ago to an organized community for 19 residents. The community includes a library, bathroom, kitchen area and cluster of colorful tiny homes. Among those homes is a bright red cottage built by Tivnu.
Tivnu is a Jewish gap-year program that gives high school graduates a year to take a hands-on approach to social justice before college. Participants spend at least one day a week constructing affordable housing. Like past Tivnu groups, this year's seven young participants came from across the country and have little or no construction experience.
"Working with the homeless community has taken us out of our comfort zone – in a good way," says Tivnu's construction trainer Erik Brakstad. "The job site is a great opportunity for learning.  It's building a house, but on a small scale, so they get a handle on planning, framing, siding, flashing, roofing, flooring, and installing the window and door. We started on a cold, rainy December day and have been out in the weather all winter. I've never heard complaints from Tivnu kids. They know they go home to a shower and warm bed."
Erik, along with everyone involved, emphasizes that nothing could happen without the Rebuilding Center (rebuildingcenter.org), a Portland nonprofit that collects building supplies from donations or deconstruction and donates or resells them at affordable rates. The Rebuilding Center also served as Tivnu's building site, where they found materials as they came in and built the tiny house's sides, roof and base. They then transported the pieces and put them together at Hazelnut Grove.
"At Hazelnut Grove, we work side-by-side with people who are building community," Erik says.  "After we finished the tiny house, we tapped into other projects like helping a person named Tequila build her roof. It's rained every day, and she says it never leaks."
Tivnu participants also helped build the two sleeping pods that spent 10 weeks at Congregation Beth Israel late last year as a display to encourage faith groups and others to host pods for use by homeless families. Those tiny homes are now part of Hazelnut Grove.
One Tivnu participant designed frames for solar panels that provide light and power to the community's tiny houses and other structures. The solar system, called JuiceBox, uses solar electricity to power lights and household electrical sockets; it is the brainchild of a team from the Catlin Gabel School led by sophomore Solomon Olshin (see story).
"The JuiceBoxes are awesome," says a Hazel Grove resident, who goes by the name Captain DW. I can power up all my devices." He and his wife, Melissa Castor, have lived in their neat, one-room tiny house for a year and hope to add a porch and separate art gallery. "It's a small space," Captain DW says, "but the floor is insulated, so we stay warm."
Resident Joe Bennie spoke in front of the stand-alone communal living room. "Free Speech Zone" was painted in large letters across the siding. "Our general assembly meets every Saturday," he says. "We hold each other accountable, and we like the community to agree. Any time you have a group of people, it's a struggle, but it's worth it. Community building is more important than house building."
Andy Olshin, a Congregation Beth Israel member, has long advocated for the homeless and encourages small projects that individuals or small groups can accomplish. For example, Beth Israel Brotherhood members Eric Flamm, Jeff Capen and Mel Birgé shared the cost of materials for another Hazelnut Grove tiny house that Tivnu plans to build this spring. Andy hopes to put a mezuzah in the doorway.
"The concept of people living in houses put together with nothing has been around for centuries," he says. "As the houses at Hazelnut Grove change, the residents develop more skill.
"The Hoovervilles of today are a shame on our cities. We shouldn't allow our communities to be invaded by substandard housing when we can do something cost effective about it. I want to say that we as a Jewish community came together, worked with houseless folks and helped build 100 tiny houses by the end of 2017."
For more information on Tivnu visit tivnu.org.