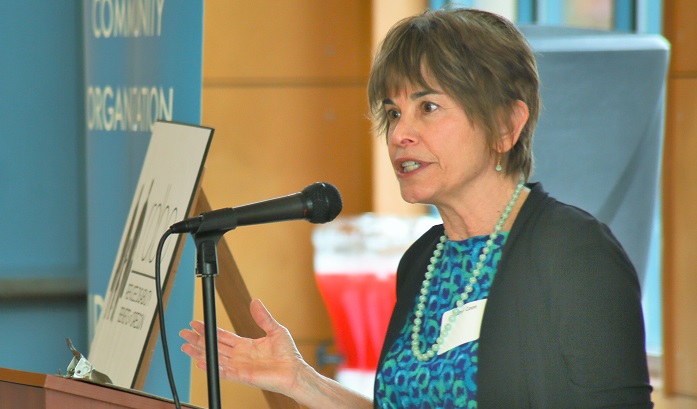 In Oregon, one in 10 residents is an immigrant according to the American Immigration Council. Our state – and Portland, in particular – also is home to increasing numbers of refugees, people fleeing unimaginable hardships including war, persecution and natural disasters.
Cheryl Coon has made it her life's work to represent the most traumatized among those whose exodus from their native lands has become their master story, just as Exodus is ours. In 2016, Coon, a career lawyer, left the for-profit world to found and become executive director of Refugee Disability Benefits of Oregon, soon to be renamed Refugee and Immigrant Services and Empowerment, reflecting its expanded mission. Coon believes RISE is one of a kind in the entire country, assisting the neediest refugees and immigrants – those with disabilities, whether physical, emotional, or both.
Portland may not (yet) be the local refugees' promised land. But Coon – and her nonprofit's small staff and board, composed of former refugees themselves – helps them secure services they wouldn't receive without representation.
"Though it may seem unbelievable these people are turned down for help, they are," says Coon, referring to RISE's 130 clients.
Coon, 65, says her work is motivated by two of Judaism's central social justice tenets. "My work is so intrinsically of a Jewish undertaking," Coon says from her downtown Portland office. Her work also is motivated by her own family's exodus; they left the United States for a foreign land when she was only 8 years old.
The granddaughter of Eastern European Jewish immigrants, Coon says in 1960 her nuclear family relocated from Los Angeles to Australia, which wasn't their first choice. They were rejected from other locales on their list. Why? Because they were Jewish. That seminal experience, coupled with witnessing poverty "unlike anything I'd ever imagined" when traveling through China at age 10, inform Coon's work to this day.
She says the foreign downtrodden often are the last to seek government assistance for services like mental health care, English-language and job training, and benefits that help with rent, groceries and other basic necessities. Work eludes many of them due to their indefinite timeline for recovery from the extreme traumas they've survived – traumas like kidnap, rape and torture.
Coon has myriad illustrative stories. RISE clients' names are not included due to fear of retribution and privacy concerns.
Coon tells of an uneducated Rohingya woman – a member of Myanmar's Muslim minority who are fleeing ethnic cleansing – who arrived here at age 24 after suffering rape, witnessing her brother's and parents' murders, and living in a refugee camp.
Another client is an Iraqi who'd been tortured under Saddam Hussein's reign. He'd made it to the United States on a special visa, and then was called to serve in his native country as an interpreter alongside American troops during the Persian Gulf War. When he returned to his adopted land, he was suffering with a back injury from combat and debilitating post-traumatic stress disorder.
He's fortunate to be represented by RISE, but that doesn't necessarily make Portland the promised land.
Coon says, "Many refugees had no wish to leave their home country, but violence and war forced them to do so. They do not consider the U.S. to be the 'promised land,' but rather the place where they are safe and will build new lives because they must."
But for others, arriving and living here does represent a promised land of sorts.
A Somali client of RISE says through an interpreter, "Life was very hard. Death was everywhere. To come to a place where we have enough food, yes, that is a promised land. I could not think of it while I was there. But now that I am here, I see already this is where my children will have a very different life from mine."
RISE board member Victoria Libov characterizes her escape from Russian Crimea as an exodus to a promised land. "We just wanted to be free to be Jews," said Libov, employment manager at the Immigrant and Refugee Community Organization.
"It was hard and painful to lock our apartment door for the last time knowing we would never unlock it again," says Libov of her exodus. "I was leaving behind my brother, friends and my parents' graves."
Being chased by the Russian mafia was but one huge obstacle Libov overcame in her weeklong journey to a new, free, Jewish life here. "I have to admit from the day one (in 1991) in Portland we felt welcomed. We were surrounded by wonderful Jewish community members who became lifelong friends and family." Three years later, her brother joined her.
Another RISE board member, Chhabi Koirala, 52, also offers some refugees a glimpse at a more promising future. A refugee from Bhutan, Koirala in the mid-1980s was among an ethnic minority from the south forced to speak a language other than his native tongue, follow a certain dress code and risk losing his citizenship.
Worse, he says, "Armies and police raided southern Bhutan, arbitrarily arrested people, tortured and raped women and children, and many people were held in detention centers." He eventually sought asylum in Nepal, where he lived in a refugee camp for 17 "miserable years." In 2008 he came to this country, where the struggle for basic services and starting life over were harder than he'd imagined. And he is able-bodied and of sound mind.
"It is (even) more challenging for refugees who are disabled and those who have mental health problems," he says.
RISE needs volunteers – for example, to accompany clients during visits to Social Security Administration offices – and always seeks financial support.
Koirala is president of the Oregon Bhutanese Community Organization, and he is the family stability program coordinator at IRCO's Asian Family Center. He also serves on RISE's board. "We promote the integration of refugees, immigrants and the community at large into a self-sufficient, healthy and inclusive multi-ethnic society," he says.
That's a promise everyone should want kept.
Volunteer or Donate: rdbo.org | cheryl@rdbo.org | 971-270-0755
Jewish teens fund refugee program           
Oregon Jewish Community Youth Foundation teens last year heard a presentation by Refugee Disability Benefits of Oregon for the first time. The group granted RDBO $2,000 to establish its Community Navigator program. Matt Zola of Congregation Neveh Shalom is one of the teens who supported the grant that trains teens in RDBO's community to assist their elders.
"Over the course of last year, one thing that our OJCYF instructors taught us was that we can make a bigger difference in the community if we focus on teaching other youth to give back to their community," says Zola, now a college freshman. "Our hope is that these youth will grow up and continue to serve their communities, which multiplies the benefit we can provide. As Jews, we also can closely identify with refugee and immigrant groups."