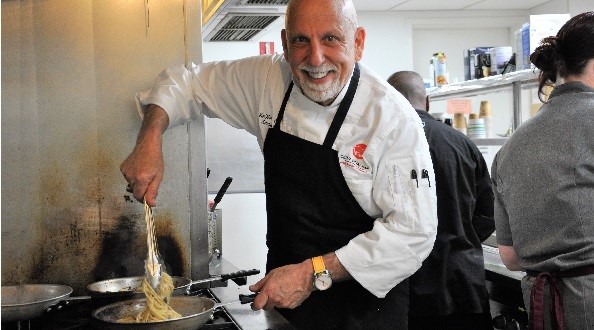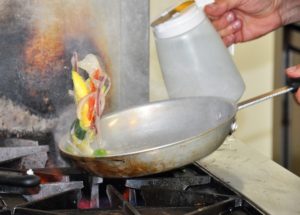 Photos: Executive Chef Jon Wirtis in the kitchen at Rose Schnitzer Manor. Photos by Deborah Moon
In April, Executive Chef Jon Wirtis returned to Portland to take the culinary reins at Cedar Sinai Park.
Portlanders might remember Jon from the years he held Seder in the City at McCormick & Schmick's Seafood Restaurant, where he was executive chef from 1989 to 2000. He always skipped pages in the Haggadah and served matzah balls he made using Grandma Goldye's recipe.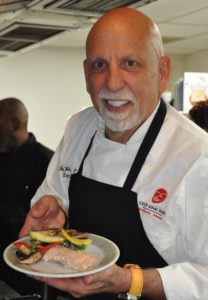 He adapted that same recipe to make the world's largest matzah ball in 2010. The 486-pound matzah ball took two days to cook and served more than 3,000 people at the Third Annual Jewish Food Festival in Tucson, AZ.
At Cedar Sinai Park, Jon is inspired by both family recipes and the seafood he fell in love with cooking at McCormick & Schmicks.
"I'm bringing in fun food and twisting and koshering it," says Jon.
Jon graduated from the prestigious Culinary Institute of America and is a certified executive chef with the American Culinary Federation.
While in Portland, he also taught at Le Cordon Bleu for five years. While living in Tucson, he worked with nonprofits as well as restaurants. He is especially proud of the culinary training program he developed for low-income individuals at the Caridad Community Kitchen. The 10-week program had an 80% placement rate. He also ran a culinary program for youth aging out of foster care.
In addition to his culinary skills, he plans to put his training skills to work at CSP to enhance kitchen staff's skills and thus the overall dining experience for residents.