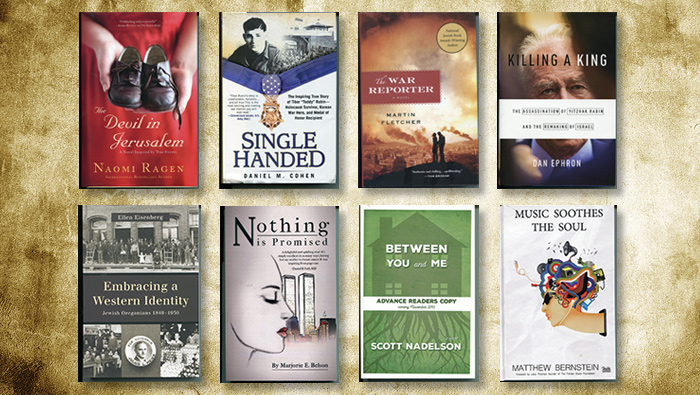 The Devil in Jerusalem
by Naomi Ragen
St. Martin's Press, 2015, Hardcover, 310 pages, $29.99.
When two children are brought into Hadassah Hospital with shocking injuries, Detective Bina Tzedek is contacted.  The children's mother, an ultra-orthodox American émigré refuses to answer questions. As Tzedek investigates, the disturbing story of how a charismatic and psychopathic cult leader has taken over people's lives begins to unfold.
Written by the internationally best-selling author of nine novels including The Tenth Song, and based on a true story, The Devil in Jerusalem brings intrigue, intensity and betrayal into Ragen's portrait of how predators can turn people seeking holiness into tragic victims.
Single Handed
by Daniel M. Cohen
Berkley Publishing Group, 2015, hardcover, 448 pages, $27.95.
When President George W. Bush presented the Medal of Honor to Tibor Rubin in 2005, the ceremony was long overdue.  The only Holocaust survivor to receive America's highest military distinction, Tibor's valor in battle and Chinese military camp prisoner experience qualified him for the medal in 1954, but the paperwork was never filed.
Filmmaker, journalist, and film critic Daniel M. Cohen's riveting war memoir brings Rubin's inspiring story to the public for the first time. Beginning with his early life in Hungary and years at the notorious Mauthausen concentration camp, Cohen show how inventiveness, bravery, and concern for others saved Rubin and the many others he helped.
The War Reporter
by Martin Fletcher
Thomas Dunne Books, 2015, Hardcover,  306 pages, $25.99.
National Jewish Book Award winner and well-known TV news correspondent, Martin Fletcher's new novel traces a journalist's mission to document the atrocities of Bosnian war criminal Ratko Mladic. Protected by shadowy figures that have prevented his arrest for a decade, Mladic turns his henchmen full force on the journalist and the beautiful interpreter that he loves.
Drawing on his own experience as a war reporter in Bosnia and Sarajevo, Fletcher brings authentic and chilling realism to his novel. Called "An Engrossing if unsettling thriller … a page-turner" by Publishers Weekly,  The War Reporter depicts the life-and-death realities of war correspondents.
Killing a King: The Assassination of Yitzak Rabin and the Remaking of Israel
by Dan Ephron
W.W. Norton & Company, 2015, hardcover, 336 pages, $27.95.
A chilling reminder of how an assassin's bullet can alter the course of history, Dan Ephron's book documents the two years leading up to Yitzak Rabin's assassination from the eyes of both Rabin and his killer, 25-year-old law student Yigal Amir.  It shows that while the world's admiration of Rabin included a Nobel Peace Prize, his policies deepened the internal divide between left and right and galvanized Israel's Jewish extremists.
Embracing a Western Identity: Jewish Oregonians, 1849-1950
by Ellen Eisenberg
Oregon State University Press, 2012, paperback, 292 pages, $24.95.
Willamette University American History Professor Ellen Eisenberg first of her two-volume project on The Jews of Oregon traces the Jewish experience from its mid-19th century pioneer beginnings to its strong ethnic neighborhoods 100 years later.  Through six well-crafted essays: Pioneers and Native Sons; Go West, Young Mensch: Composition of a Community; The Heart of the Community: Neighborhood House; A Jewish Vote?Class, Ethnicity, and Politics; A Western Exception: Zionism and Anti-Zionism; and The Color of Community, she challenges the traditional view that the authentic Jewish experience in American stems from New York.
Music Soothes the Soul
by Matthew Bernstein
Waldorf Publishing, 2015, hardcover, $29.95.
Based on his popular weekly Oregon Music News column, Matthew Bernstein's new book brings the personal stories of 70 musicians, artists, scientists and entrepreneurs to life as they discuss how music impacts their lives. Learn how Chaka Khan and Dave Wakeling got their start, and how nonprofits like Guitars Not Guns help at-risk youth. Tom Lauderdale of Pink Martini talks about his adoption and the influence of greats like Ray Charles and The Mormon Tabernacle Choir. "Matthew brings to life the personal insights and experiences an amazing collection of artists have shared," writes Lynn Robinson, the executive director of The Fender Music Foundation. "Taking this journey… will open your eyes to why music matters."
Nothing is Promised
by Marjorie E. Belson
2014, paperback, 191 pages, $12.99.
From her terrifying diagnosis of breast cancer, though a bilateral mastectomy, Portlander Marjorie E. Belson chronicles the joy of survival amid a series of enveloping catastrophes. Just one month after her surgery, 9/11 devastates New York, where she then lives, and her son is deployed to the Persian Gulf.  Still, Marjorie prevails finding joy, meaning and deepening relationships. "Her memoir," says reviewer Daniel R. Foitl, MD, "… was inspiring from page one."
Between You and Me
by Scott Nadelson
Engine Books, 2015, paperback, 256 pages, $15.95.
Oregon Book Award winner Scott Nadelson's latest novel shows how the urban middle-age bachelor Paul Haberman's life reshapes after his marriage to an attractive suburbanite. Progressing chapter to chapter in two-year increments, the book begins at a Passover Seder hosted by Paul's cousin in New Jersey. Here, he meets divorcee Cynthia, who is far sexier than anyone the 23-year-old typically dates. Through weekly trips to the movies, bar mitzvahs, Jewish federation galas and Hadassah meetings, Between You and Me is entertaining and moving as it shows how family relationships evolve over time.