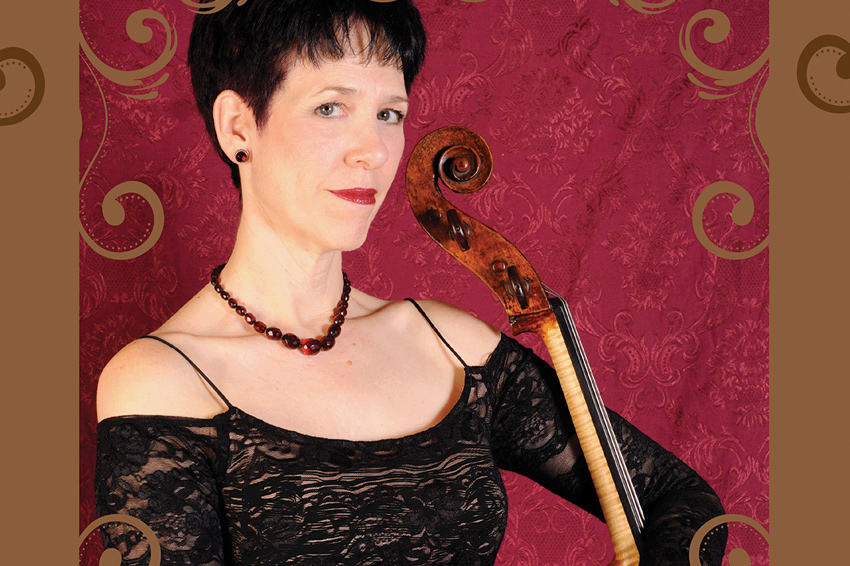 For the past 40 years, the Jewish Community Orchestra has combined standard classical fare with works by Jewish composers, or works relating to Jewish themes and historical events. On Sunday, June 14, the orchestra continues this tradition with a performance of Anton Rubinstein's Cello Concerto in A minor, featuring soloist Diane Chaplin, at the Mittleman Jewish Community Center.
"This concert provides a great opportunity for me to be 'professionally' Jewish," says Chaplin, who doesn't often get the chance to combine her Jewish identity with her musical life. "I think it's appropriate to do that here, as a Jew, since Portland's Jewish community isn't all that large."
Chaplin, who moved to Portland in 2009, is a member of the Portland Cello Project. In addition to touring across the United States with the PCP and directing its educational outreach programs, Chaplin performs regularly as a soloist, recitalist and chamber music artist. She also maintains a large private studio of cello students.
Russian composer and pianist Anton Rubinstein is best known for founding the St. Petersburg Conservatory in 1862; Pyotr Ilyich Tchaikovsky was his most famous student. Today, Rubinstein's compositions are seldom performed outside Russia, and complete scores of his music are hard to find. As a result, Chaplin, working from two different editions of the score – one by an unknown publisher – had to essentially reconstruct the third movement.
"There's a long and rich history of instrumentalists 'rearranging' existing concertos by other composers," Chaplin explains. "My version of the third movement will sound very different from the original score, but it's more a matter of reorganization than wholesale invention." Chaplin has shortened the movement and updated the technical demands on the soloist. "For string players, as technique has developed, today's musicians can do things 19th century performers often couldn't."
Rubinstein was born Jewish; his family converted to Russian Orthodoxy when he was 5 years old. In 1897, at age 68, Rubenstein wrote, "Russians call me German, Germans call me Russian, Jews call me a Christian, Christians a Jew. Pianists call me a composer, composers call me a pianist."
Chaplin sees Rubinstein as something of a universalist who defies easy categorization. "He's a big melting pot," she elaborates. "Because he was a Jew by blood and later converted, I think there's some potential influence of his Judaism in his work." Chaplin is also drawn to the concerto's passion – "It's brilliant, compelling and features beautiful melodies."
The JCO's conductor and artistic director, Donald Appert, now in his third season with the orchestra, is equally excited about performing this lesser-known gem of the 19th century repertoire. "He's professional, knowledgeable, collegial and easygoing," says Chaplin. "I enjoy making music with him."
Appert, who heads the music department at Clark College in Vancouver, combines his teaching with composition and an active international conducting schedule. Appert is well acquainted with the needs of a community orchestra, which differ from those of a professional ensemble.
"People are here because they love music and want to make music, not because there's a paycheck," he explains. "I have to find a way to be demanding of them without annoying them, and I try to make it an enjoyable process."
Appert describes JCO musicians as "warm and friendly" people who "really want to do their absolute best." Since he began his tenure with the ensemble, Appert has focused on the "Jewish" in "Jewish Community Orchestra." Each of their four annual concerts includes music by a Jewish composer, or the piece features a Jewish theme. "I think the mission of the orchestra is to promote music by Jewish composers or music that relates to Jewish culture. Our last concert included a work about the Dreyfus Affair, "Hymne à la justice." I've also composed a piece for the orchestra with texts by the medieval Spanish poet Judah Halevi."
Board member and violinist Teryl Williams has been playing with the orchestra since it began in 1975; she is the only founding member still performing with the group. In 1974, the JCC – before it was renamed Mittleman JCC – put on a production of "Fiddler on the Roof." Williams played in the pit orchestra, which was conducted by Albert Freedman, a professor of music at Pacific University. Williams remembers, "After Fiddler, I got a letter inviting me to join an orchestra that was forming at the JCC under Freedman's direction." Freedman led the orchestra, which was sponsored by the community center and rehearsed in its auditorium, until 1990. Since then the JCO has worked with several other conductors.
In 2005 the JCO officially incorporated as an independent nonprofit organization. Although the JCO still performs at the MJCC, they hold rehearsals and reading sessions at the Rose Schnitzer Manor, where residents can drop in to listen for free.
From its original 30 members, the JCO has grown to about 50 players who live throughout the Portland and Vancouver metro areas. All players, with the exception of concertmaster David Mixer, are volunteers, and, like most community orchestras, members pay a modest fee to perform with the group. These musician fees, along with an annual silent auction, provide the bulk of the JCO's operating budget. "I don't think of it as paying to play, I think of it in terms of supporting the orchestra and being a member," says Williams.
Given the small size of Portland's Jewish community, especially 40 years ago, it isn't surprising that only 10 percent of the JCO's members are Jewish, according to Williams. "It hasn't mattered all these years whether folks were Jewish or not. I'm not Jewish myself."
Under Appert's direction, Williams is enjoying the JCO's expanded focus on Jewish music and cultural history. "I'm always interested in learning, and as a Jewish orchestra we need to broaden the Jewish knowledge of a lot of our members."
The JCO performs the Rubinstein Cello Concerto in A minor, with cellist Diane Chaplin, on its final concert of the 2014-15 season on Sunday, June 14, at 3 pm at the Mittleman Jewish Community Center. For more information, see jewishcommunityorchestra.org.