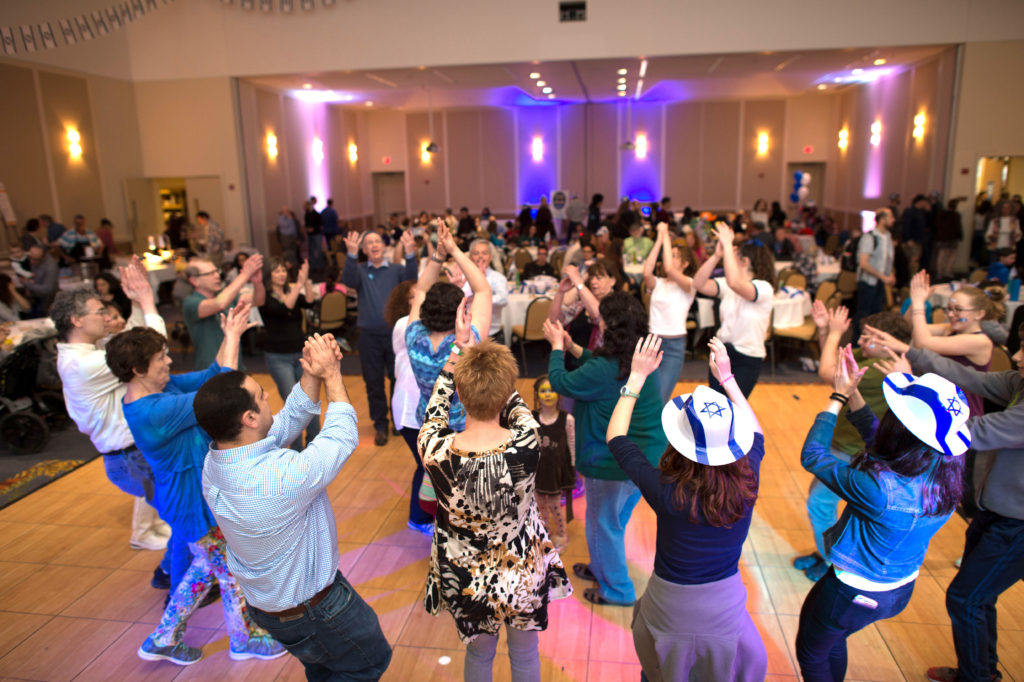 PHOTO: Dancing was part of the fun at last year's Yom Ha'atzmaut celebration at  the Mittleman Jewish Community Center.
The Mittleman Jewish Community Center  celebrate Israel's 71st year of independence May 8 from 5-8:30 pm at the MJCC's annual Yom Ha'atzmaut event.
Make your way through Israel using interactive activities such as shifting through the sand to find ancient artifacts at Masada, or decorating mystical hamsas in Tzfat. Climb to the top of Masada on MJCC's rock wall, learn Israeli folk dances, bounce the day away at King Solomon's Temple bounce house, or take your picture in Israel at the photo booth. Decorate your skin with face painting or henna artwork. Israeli comedian Gali Kroup and Israeli Karaoke will entertain visitors.
Vote on your favorite photo in the exhibit "Israel from the Eyes of the Community: A Community Art Display." Photos are on display in the MJCC Art Gallery April 29- May 31. Community members will vote on their favorite photo from April 29-May 8. Winners will be announced at 8 pm during the Yom Ha'atzmaut Celebration.
In addition to the free activities, Israeli food will be available for purchase. Grab some delicious cuisine featuring Israeli salads, pita, falafel and more.
This event is a partnership of the MJCC, Jewish Federation of Greater Portland, PJ Library, Helen and Jerry Stern Grandchildren's Fund of OJCF, Kostiner Cultural Education Fund and the Israeli American Council.
Though the event is free, tickets are required; RSVP at: celebrateportland.eventbrite.com.
PSU Israeli Independence Day Block Party
PDX Hillel's Israel Week at Portland State University culiminates on Sunday.
The PSU Israeli Independence Day Block Party will be on the PSU Park Blocks from 11 am to 4 pm, May 9. Join Hillel students in the heart of campus on the PSU Park Blocks for a community-wide celebration with Israeli music, delicious food and much more.
For more information, email hillelpdx@gmail.com or visit pdxhillel.org/event-calendar
For other May celebrations of Israel, click here.