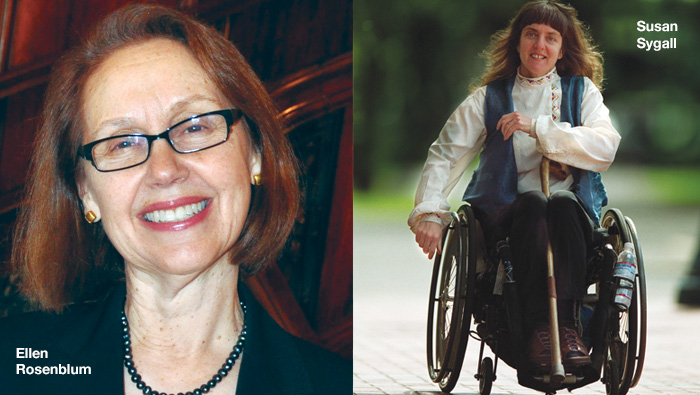 Oregon Attorney General Ellen Rosenblum will be the keynote speaker at this year's Jewish Federation of Lane County Annual Community Celebration and Benefit. Rosenblum is the first woman to lead the Oregon Department of Justice. An appellate judge and federal prosecutor prior to running for office, she was appointed to her job before being officially elected in 2012. Last year, she drew praise when she refused to defend Oregon's 2004 constitutional ban on same-sex marriage. She has repeatedly stood up for the rights of all Oregonians.
During the community celebration, the federation also will honor Susan Sygall, "one of the true jewels of our community."
As CEO and co-founder of Mobility International USA, Susan is an internationally recognized expert in the area of international educational exchange and leadership programs for persons with disabilities. Susan, a wheelchair rider, has had a personal and professional commitment to disability rights and women's issues for more than 30 years.
Susan has received numerous awards for her passionate advocacy for disability rights. In 2000 she received the prestigious MacArthur Fellowship. In 1995 she received the President's Award from President Bill Clinton for her dynamic leadership in international exchange programs for people with disabilities, for her mentorship of young people with disabilities, and for her active role throughout our country and the world in empowering disabled people.
The evening also includes dinner, wine and beverages. The celebration will be 5-7 pm at Temple Beth Israel, 1175 E 29th Ave., Eugene.  The cost is $50 per person. This includes a $25 tax-deductible donation to the Jewish Federation of Lane County. To register for the community celebration, visit jewishfedlc.org or call 541-484-2541.