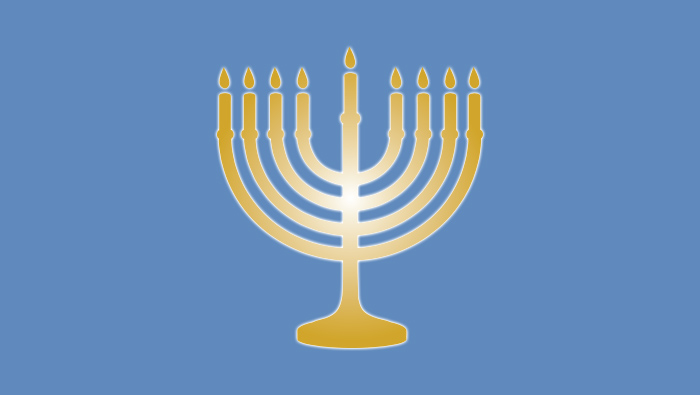 This year Hanukkah coincides with the holiday that is the focus for the majority of Americans. Hanukkah lights and Christmas lights will be intermingled around town. Downtown Portland will have a Christmas tree in Pioneer Square and Chabad's enormous Hanukkah menorah just three blocks away at Director Park, 815 SW Park Ave.
This will be the 33rd year Chabad of Oregon has lit a public menorah each night of Hanukkah. On the first night, a celebration and lighting begin after Shabbat at 6:30 pm. The major party will be the next day from 4:30 to 5:30 pm with music, children's activities, the dreidel man and grand menorah lighting at 5:30. The lighting continues at 5:30 pm Dec. 26-29. On Dec. 30, the menorah will be lit before Shabbat at 3 pm and on Dec. 31, the final lighting will be at 6:30 after Shabbat ends.
Hanukkah celebrations get off to an early start and continue throughout the holiday. Following are events that were submitted by our deadline. Be sure to check our online calendar (orjewishlife.com/calendar) for even more events as the holiday gets closer.
DEC. 12
ASHLAND: Pre-Hanukkah Women's Circle: Laugh, learn and create in Ashland beginning at 7 pm. Call 541-482-2778 for address.
DEC. 18
MEDFORD: Children's Hanukkah Storytelling: Amazing program for children of all ages. Crafts, storytelling, laughter and fun. Noon at Barnes and Nobles in Medford. 541-482-2778, info@chabadofashland.org
Celebrate Hanukkah: A Festival for Kids and Families: 9:30 am-noon at Congregation Neveh Shalom, 2900 SW Peaceful Lane, Portland. Create a menorah, make sufganiyot, play dreidel, dance and sing, hear stories and play. All are welcome (ages 0-12 and parents). Free, no RSVP. Co-sponsored by PJ Library. 503-293-7309, jbezodis@nevehshalom.org
Hanukkah Donuts + Dancing: Make decorations for your home, take part in Israeli dancing, and eat some delicious sufganiot (jelly donuts) at this family-friendly Hanukkah celebration. 2-4 pm at the Mittleman Jewish Community Center, 6651 SW Capitol Highway, Portland. $10 per family. 503-244-0111
Hanukkah Culinary Experience: What do you want Hanukkah to mean for your child? Prepare delicious Hanukkah treats while you plan and discuss the chag with your child. 1:30-3 pm at the Portland Kollel, 6688 SW Capitol Hwy, Portland. A project of the Portland Kollel, Camp Seed, Shine and PJ Library. One adult and one child (ages 5-12) is $18, $10 for each additional person. funtobejewish.com/jhcs
DEC. 24
Latke Ball: Live DJ, light hors d'oeuvres, cash bar and photo booth for those in their 20s and 30s. 8:30 pm – Midnight at the Doug Fir Lounge, 830 E Burnside St, Portland.  $18 early bird special for the first 50 people to register; $25 after and at the door. Sponsored by MJCC and B'nai B'rith Camp. 503-244-0111
bbcamp.org/latkeball
DEC. 25
ASHLAND: Grand Public Menorah Lighting: Lighting of the 10-foot menorah with local dignitaries and live music on the Plaza in downtown Ashland at 4 pm. 541-482-2778, info@chabadofashland.org
Chinese Food, Movies and Kugel! Enjoy a Chinese inspired lunch, vote on our favorite Kugel recipes and watch a family-friendly film. Bring in your "soon to be famous" kugel for all to try and vote! 11 am-2:30 pm at the MJCC. $10. 503-535-3555, lsteinberg@orgeonjcc.org
DEC. 26
VANCOUVER: Grand Menorah Lighting in Esther Short Park, Downtown Vancouver, followed by festivities in the Hilton Vancouver. 5:30 pm. JewishClarkCounty.com, info@jewishclarkcounty.com, 360-993-5222
DEC. 25-28
Hanukkah Wonderland will be open 10:30 am-4 pm daily at the Chabad Center for Jewish Life, 2858 NE Sandy Blvd. Portland. Loads of Hanukkah fun at the Hanukkah Wonderland! JewishNortheast.com/Hanukkahwonderland
Dec. 27
Neveh Shalom's Ugly Hanukkah Sweater Party! 6 pm at Birnbach Hall, Congregation Neveh Shalom. Come one, come all and join us for the CNS annual Hanukkah party. There will be a fish/dairy dinner with latkes, music by the Koleinu Choir, prizes for the ugliest sweater, a donut bar and more. Bring your own menorah and candles for a community lighting. And bring multi-packs of unused toilet paper – the Men's Club is working to wipe away poverty. They will build a giant TP menorah and then donate it all to Neighborhood House. Cost for dinner: $15/Adult, $9/child, $48 family max. RSVP at: tinyurl.com/cnschanukah2016.
DEC. 28
Jewish Heritage night with the Traiblazers: Portland Trailblazers vs. Sacramento Kings
Enjoy a pre-game Hanukkah party, commemorative giveaway, menorah lighting in the arena and more! Game starts at 7 pm at the Moda Center.Tickets starting at $30. Tickets: Andrew 503-963-3956
DEC. 29
Havurah Shalom's Hanukkah Celebration will offer fun for all ages. It will begin with a potluck dessert oneg at 6:30 pm, followed by lighting Hanukiyot and singing songs from 7 to 7:30 pm, and many tables of dreidel playing after that. Bring your dreidels and Hanukkah geld. 6:30-8:30 pm at Havurah Shalom, 825 NW 18th Ave., Portland. Register: havurahshalom.org
ASHLAND: Deli Hanukkah Party: Big Hanukkah party and menorah lighting with live music and delicious food during deli hours. Play dreidel and enjoy a free delicious Hanukkah treat. 5-8 pm at Chabad, 1474 Siskiyou Blvd, Ashland. 541-482-2778,  info@chabadofashland.org
DEC. 30
Hanukkah with a New Year's Twist: Share in the miracle and magic of Hanukkah with a New Year's Twist! 5-8:30 pm at Shaarie Torah, 920 NW 25th Ave., Portland. Games, food (including lots of latkes) and fun! Hanukkah Shabbat Games for young families 5-6 pm; open bar for adults 5-5:30 pm; main service 5:30-6:30 pm; family service 6-6:30pm; dinner at 6:30 pm. 503-226-6131