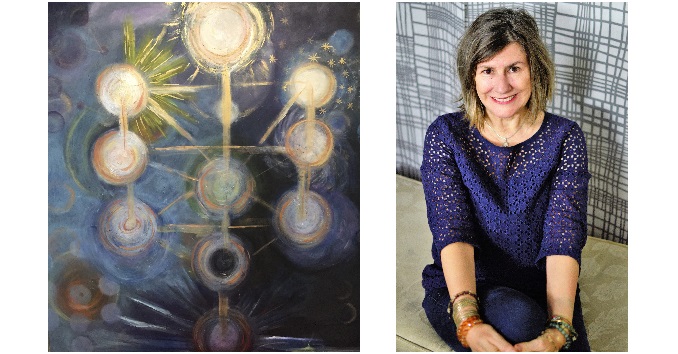 IMAGES: Cosmic Form. Acrylic painting by Wendelin Russell. Artist Wendelin Russell is secretary of ORA: Northwest Jewish Artists.
Wendelin Russell will be one of 24 juried artists displaying their creations at this month's Celebration of Art at the Mittleman Jewish Community Center.
In addition to being an artist herself, Wendelin is the secretary of ORA: Northwest Jewish Artists, which presents the 13th annual art party and exhibit in collaboration with the MJCC and Jewish Federation of Greater Portland.
The party Saturday evening brings together ORA's talented artists, plus free food and beverage tastings. Partygoers can meet the artists and see and buy new and affordable art including photography, fabric, fused and stained glass, jewelry, paintings, pencil drawings, pottery, wood sculpture and quilts. ORA's 13th annual holiday art show continues through Sunday. With Hanukkah beginning Dec. 2, the show is an opportunity to find many one-of-a-kind holiday gifts.
"We are all excited about the show this year," says Wendelin. "Our membership has been steadily growing. We have new artists who will show. ORA truly helps artists to expand themselves."
"I would encourage any Jewish artist in the Northwest to consider joining – it is a very supportive group," she says. Wendelin is also the coordinator of Jewish Arts Month held at the JCC every March. JAM is another opportunity for member artists to exhibit their work.
A member of Congregation Shaarie Torah, Wendelin says she feels art offers her a special connection with her Judaism and God.
"I experience art as a prayer – it is a visual prayer and experience," she says, noting she primarily paints with acrylics but also paints 'Light Writings' on silk. "All my paintings have berakhah of shalom. My greatest desire is when one sees my paintings it allows a person to inhale and exhale deeply and allows the beauty to come in. It is very healing."
"Before I begin every painting, I place my hand on the canvas and say a little prayer," she adds.
Wendelin studied art and business at East Carolina University.
"Although I paint abstractly, I enjoy pondering questions like: What if light had a language, what would it look like? What did the Hebrew letters look like as they were forming? How did the Siforet form and how did that look? I paint my landscapes in a way that looks meditative: Is the sun setting or rising?"
Recently, I have been playing with photography. I was inspired last spring when I went back home to the South Carolina beaches and walked along the shoreline at sunrise. Now I go to the Oregon coast and riverbanks and find sand images. I enlarge the prints and the sand begins to look like drawings.
She invites the community to come to the Celebration of Art to see the diversity of creative expression that she and all her fellow ORA members will have on display.
Celebration of Art
WHEN: Party, 7-9:30 pm, Oct. 27; Exhibit, 10:30 am-4:30 pm, Oct. 28
WHERE: MJCC 6651 SW Capitol Hwy., Portland
ADMISSION: Free
CONTACT: northwestjewishartists.org | choosearttoday@gmail.com