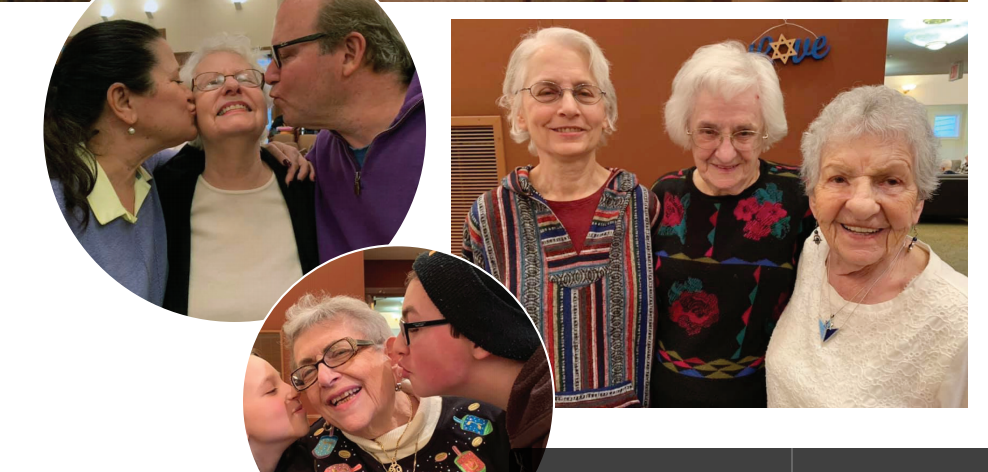 2020 is a big year for the Portland Jewish community. It marks the 100th anniversary of significant initiatives undertaken by Jewish leaders that came before us. In 1920, the community came together and formed the Jewish Federation in Portland. That same year, leaders also opened a home for elders in need.
Originally called the "Jewish Old People's Home," then Robison Jewish Home and now Cedar Sinai Park, the organization founded in 1920 has been serving the changing needs of Jewish elders for a full century. Today, Cedar Sinai Park offers a wide variety of services, including post-hospital rehabilitation, long-term nursing care in small group settings, adult day services and in-home care. While Cedar Sinai Park's services are broad, a core part of the campus is Rose Schnitzer Manor (RSM), the assisted living community nestled among the trees on the 27-acre campus just off Beaverton-Hillsdale Highway.
Rose Schnitzer Manor: Assisted Living to Meet a Variety of Needs
Many people don't know that RSM stands as the largest assisted living community in the state, offering 157 private apartments amid winding pathways through idyllic gardens, ponds and fountains. RSM provides a lovely setting with as much privacy or support as residents need or desire. Many residents are active and independent and moved to RSM to enjoy a lively social life, restaurant-style dining and freedom from typical household chores. Others need help with activities of daily living and benefit from the support of RSM's caring staff, many of whom have been with RSM for many years.
Because of the size of the campus, RSM is able to offer an unparalleled number of activities for residents to choose from. From Tai Chi and yoga to art classes, museum tours and on-site lectures, there are over 75 activities offered each week. Rose Schnitzer Manor's Zidell Hall also often hosts significant community events and speakers that are open to the public.
Celebrating Jewish Traditions
While the amenities at RSM are attractive to a broad group of seniors, Jewish elders find special meaning and comfort there. RSM is unique in Portland in that it celebrates and shows reverence for the traditions, customs and values of the Jewish community. From weekly Shabbat services and special holiday celebrations, to kosher meals and traditional games and activities, Jewish residents benefit from an environment that honors their way of life, just as its founders intended.
The campus has undergone many changes over the decades, one of the most significant being the major expansion in 2016 and 2017. The expansion added The Harold Schnitzer Center for Living, which encompasses small group homes for long-term care and renovation of the original Robison Jewish Health Center to a state-of-the-art rehabilitation center. While recent growth proved challenging, the organization has hit a new stride and recently introduced new leadership.
Leading the Way into the Next Century
Kimberly Fuson returned July of 2019 as the organization's new Interim Chief Executive Officer. As a former 13-year senior staff member, Kimberly was recruited to bring her expertise as well as recent experience gained from leading other non-profit senior care facilities and critical access hospitals after leaving Cedar Sinai Park as Chief Operating Officer in 2013.
This month, under Kimberly's leadership, Cedar Sinai Park has announced three new senior appointments:
Dru Rosenthal, long-time philanthropy, community relations and events management professional, will lead Cedar Sinai Park's Development and Communications Department.
Vivian Villegas brings over 20 years of successful community-based care experience will lead Rose Schnitzer Manor as Administrator.
Ray Younger, has joined the team as Cedar Sinai Park's Building Services Director and will bring his experience managing facilities and construction projects for other senior living communities.
"With the addition of these three consummate professionals, our leadership team looks forward to 2020; each new day will be a new opportunity to enrich the lives of our residents and those who serve them," says Kimberly Fuson.
As Cedar Sinai Park begins to celebrate its 100th anniversary year and new beginnings, they wish to thank the current and past staff, board and dedicated volunteers for the decades of service to the community.