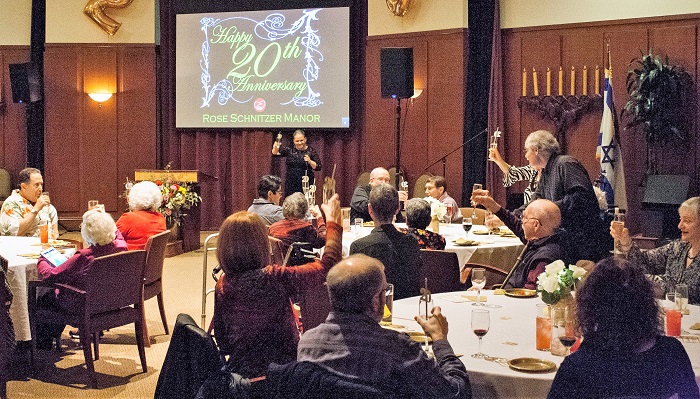 PHOTO: Rose Schnitzer Manor residents and friends toast the 20th anniversary celebration of Cedar Sinai Park's assisted living complex last month. During the "Homecoming" celebration in May, visitors will be able to explore the refurbished RSM, as well as the recently completed Harold Schnitzer Center for Living and renovated Robison Health & Rehabilitation Center.
This year Cedar Sinai Park's Annual Gala is just part of the three-day celebration May 4, 5 and 6. In addition to the festive gala at the Hilton on Saturday night, the weekend will feature the dedication of the new Cedar Sinai Park chapel and a family carnival on the CSP campus (see below).
Cedar Sinai Park invites friends and family to visit the "new" CSP during "Homecoming, a Three-Day-Long Celebration." Explore the campus with its recently completed Harold Schnitzer Center for Living, renovated Robison Health & Rehabilitation Center and refurbished Rose Schnitzer Manor. The weekend's experiences feature something for everyone.
Two of the events are on the campus. On Friday, join the parade of the Torah scrolls from Zidell Hall at Rose Schnitzer Manor across the street to formally dedicate the Sara Glasgow Cogan Memorial Chapel. Enjoy live Klezmer music, drinks and nibbles leading up to Kabbalat Shabbat services.
The Homecoming Carnival on Sunday offers campus visitors a free afternoon of games, treats and fun.
"It's so exciting to celebrate Cedar Sinai Park with the opening of our rehab center and how much it offers to our community," says Michelle Eastern Gradow, who is co-chairing the gala with her mother. "I hope the community will join us all weekend to celebrate. The Friday night service will be lovely. It is being coordinated by Eddy Shuldman and Jemi Mansfield. Our Saturday night gala will be lovely and delicious at the Hilton Hotel, and our Sunday family carnival on campus will be fun for all. Please come and support Cedar Sinai Park."
Proceeds from the annual gala benefit the residents of Cedar Sinai Park.
"We hope that the community will support Cedar Sinai Park so that our elders will always be able to live with the care and support they so richly deserve," says Beverly Eastern. "It is my pleasure to serve again as co-chair, with my daughter, Michelle Eastern Gradow, for the Cedar Sinai Park annual benefit."
The mother-daughter duo reunites to chair this year's benefit for the third year. Michelle previously served as the longtime chair of the event with a variety of co-chairs. Her parents, Bev and Stan Eastern, had chaired the event many years ago.
This year's gala features cocktails, dinner, music and a hypnosis show. Portland-based band The Bylines will perform their sophisticated, jazz-inspired, story-driven pop music. Created by Reece Marshburn and Marianna Thielen, the duo blends their skills for a fun show whether performing as a Thielen/Marshburn duo or with a larger band. Marianna brings her background in composition, classical vocal work and musical theater for a playful vocal show. Reece accompanies her on the piano with a symphony of intricate melodies rooted in a combination of classical, jazz and pop music. Their website says, "The Bylines musical cocktail goes down easy, and emphasizes something that is so often forgotten when such prolific songwriters present their craft: listening to music is, above all, supposed to be an experience… and a fun one."
After gala attendees soak in the jazz-inspired music of The Bylines, they will be mesmerized by comedy hypnotist Justin James. Justin founded The Hypnosis Company in 1994, never dreaming of becoming a stage entertainer. Justin travelled coast to coast doing hypnosis demonstrations and teaching hypnosis classes. Called to do a stage hypnosis show many years ago, Justin reluctantly agreed. The show was a hit and started everything down a wildly different path that wends its way to the Hilton on May 5.
CEDAR SINAI PARK CELEBRATION
Chapel Dedication
Sara Glasgow Cogan Memorial Chapel
6 pm, Friday, May 4
Robison Health & Rehabilitation Center
6125 SW Boundary St., Portland
RSVP at cedarsinaipark.org/giving/homecoming
CSP Annual Gala
Presented by the Harold & Arlene Schnitzer Family Fund at Oregon Jewish Community Foundation/Arlene Schnitzer & Jordan Schnitzer
6:30 pm, Saturday, May 5
Hilton, Portland Downtown
921 SW 6th Ave., Portland
Cocktail attire suggested
Tickets $140 at cedarsinaipark.org/giving/homecoming
Homecoming Carnival
Presented by R&H Construction
2-5 pm, Sunday, May 6
Cedar Sinai Park Main Campus
6125 SW Boundary St., Portland
No RSVP necessary
For information about tickets and sponsorships, contact CSP Development and Events Coordinator Keiley Baldwin at 971-717-7186 or kbaldwin@cedarsinaipark.org.